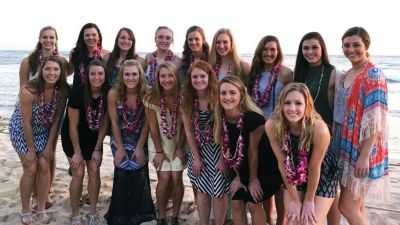 The island lifestyle has come to an end for the second-ranked Concordia University women's basketball team. The stay in Honolulu provided the perfect opportunity to play two high-level opponents and then recharge the batteries at what is essentially the halfway point of the regular season.
More than the victories over No. 17 Indiana Tech and No. 8 College of the Ozarks (Mo.), members of the team will likely hold onto the many other memories that were made. Among other activities, student-athletes spent time on the beach, swam in the ocean, surfed, took in a luau and visited Pearl Harbor.
Eleventh-year head coach Drew Olson discussed aspects of the journey on Wednesday in an interview for the weekly Bulldog Coaches Show that airs Thursdays on 104.9 Max Country. Said Olson, "I'm really excited for our kids. For a lot of them it's a once-in-a-lifetime experience. It's great to be here. It's great to be out of the cold weather at home. Last night was awesome to be done with our games and just kick back and relax. We went to a luau, which was an incredible experience for our kids. Today we went to Pearl Harbor and learned a lot about the history of our country and World War II.
"I know a lot of them are going to lay on the beach today and some of them are going to try to surf. Tomorrow we'll probably go to the North Shore. I'm really excited for them to be here and be able to experience this stuff."
Olson and his coaching staff, Tae'lor Purdy-Korell and Alexis Akin-Otiko, as well as athletic trainer Randy Baack, flew to Hawaii along with 16 student-athletes. Due to flight postponements, the team was splintered into three travel groups and did not arrive in Hawaii until the day before Concordia's 68-57 victory over Indiana Tech.
From a playing perspective, one of Olson's most positive takeaways was the way in which his team responded despite a lack of prep time. The Bulldogs had originally planned to sneak in a practice session in Hawaii before their first day of the Hoop N Surf Classic. Those plans were nixed.
"I was really proud of our kids for finding a way to win that (Indiana Tech) game with some of the things that went against us," Olson said. "Our travel to get to Hawaii was kind of a disaster. We spent too many hours in planes and at the airport. We hadn't touched a basketball in 72 hours. We had a very sluggish start, but credit to our kids. They just find ways to win."
In the Indiana Tech win, both Philly Lammers (14 points, 12 rebounds) and Quinn Wragge (12 points, 10 rebounds) recorded double-doubles and Mary Janovich totaled 16 points, five rebounds, four assists and four steals. The next day (Dec. 20), Janovich (16 more points) took over in the fourth quarter and helped her team pull away for a 78-68 victory over College of the Ozarks.
With 14 games remaining in the regular season, the Bulldogs are a confident bunch now riding a 15-game winning streak. (This marks the fourth time during Olson's tenure that the program has won 15 or more games in a row). Concordia is 8-0 and sits alone atop the always loaded GPAC.
But for a few days in Hawaii, thoughts of the conference race were miles and miles away. Many Concordia players spent time on the island with family members who also made the trek. Senior guard Devin Edwards even celebrated her birthday in Hawaii.
"They're having a blast," Olson said. "We have a really good following with our families and parents. A lot of them are here so they're doing some things with them. We get together and do stuff as a team as well. It's a time for them to explore and to relax. It kind of starts their Christmas break. Then we'll come back on the 30th and get back after it. It's definitely a relaxing time for them."
Conference action heats back up on Wednesday, Jan. 4 when the Bulldogs welcome Briar Cliff (7-7, 4-3 GPAC) for a 6 p.m. CT tipoff inside Walz Arena. As part of Fan Appreciation Night, attendees will be admitted free of charge.
TWITTER CHATTER
Aloha! Pre-game warm-up. Game starts at 12:30 vs. Indiana Tech! pic.twitter.com/WNuKGq88fe

— Concordia-NE WBB (@CUNEwbb) December 19, 2016
Just saw @AdamSandler on our beach in Ko Olina and instantly started quoting "Just Go With It".

— Brenleigh (@BrenleighDaum) December 20, 2016
Concordia Women's Basketball CUNE ranks #2 in the Nation NAIA pic.twitter.com/11r9rclVNw

— Erik Vieselmeyer (@ErikVieselmeyer) December 20, 2016
It's GAMEDAY in Hawaii! Bulldogs take on College of the Ozarks at 1230! pic.twitter.com/M1E1HBK2jp

— Concordia-NE WBB (@CUNEwbb) December 20, 2016
I can officially check off seeing whales dolphins and swimming with turtles on my bucket list! #hangloose #hawaii

— Devin Edwards (@devinedwards_) December 22, 2016
Had a great time visiting Pearl Harbor and the USS Arizona Memorial.#remember pic.twitter.com/l7fwGxH3bW

— Concordia-NE WBB (@CUNEwbb) December 21, 2016
@devinedwards_ had a Hawaiian Birthday!pic.twitter.com/81UpnJx5t5

— Concordia-NE WBB (@CUNEwbb) December 23, 2016
Mahalo Hawaii! After two great wins and island adventures we are headed back to Nebraska for Christmas break!pic.twitter.com/IsPMGkDsXe

— Concordia-NE WBB (@CUNEwbb) December 23, 2016