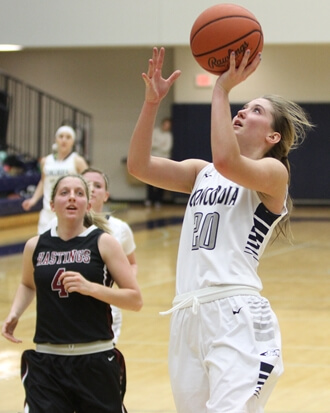 Bulldogs host Midland on Tuesday, search for fourth straight win
Coming off a huge 74-65 win over then 5th-ranked Morningside College on Saturday, the Bulldog women's basketball team looks for its fourth straight win on Tuesday evening in Seward. The Bulldogs host Midland University in an 8 p.m. contest at the Walz Human Performance Complex.
Concordia improved to 16-2 overall and 9-2 in GPAC play with the road win over Morningside. The Bulldogs avenged an earlier season loss to the Mustangs and stayed atop the GPAC standings with the victory. Concordia is now tied with Northwestern with 9-2 conference records. Several players had big games in the victory over Morningside. Sophomore guard Kristen Conahan poured in a career-high 25 points on 9-of-12 shooting from the field. Freshman reserve guard Bailey Morris (Roseland, Neb.) added a career-best 16 points off the bench, while senior Amber Kistler also reached double figures with 10. Defense again was a big factor, as Concordia forced 19 Mustang turnovers in the contest.
Despite playing two of the GPAC's top defensive teams in the past week, Concordia continues to rank second in the conference in scoring offense with 76.8 points per game. The Bulldogs lead the GPAC in scoring defense (57.7) and scoring margin (+19.1) while also ranking first in rebounding offense. Individually for the Bulldogs, Conahan has moved up to fifth in the GPAC with 15.7 points per game. Kistler currently ranks 11th with 13.2 points per game, while Lori Laboda is sixth in rebounding with 7.1 per game.
Scouting the Warriors – Midland enters Tuesday's contest with a 7-13 overall record, but it has been a tough year in the GPAC for the Warriors. Midland is 0-11 in GPAC games so far this year, and the Warriors have lost three of their last four overall entering Tuesday's matchup. Jamilah Johnson leads the way for Midland with 11.6 points per game. Tricia Hoffman (10.2 ppg) and Jami Thramer (10 ppg) also average double figures in scoring for a team that ranks eighth in the GPAC in scoring offense (64.9).
Broadcast – The Concordia Sports Network will provide a live audio and video webcast. Mike Grosz will call all the action from the Walz Complex.
Up next – The Bulldogs continue conference play at home against Dakota Wesleyan on Saturday with tip scheduled for 2 p.m. at the Walz Complex.