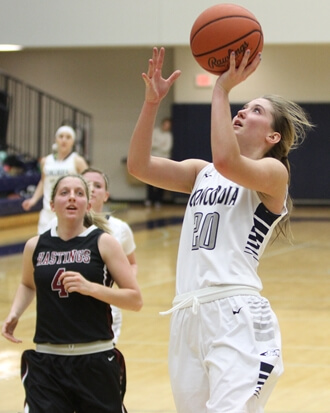 Bulldogs hang on for 66-62 win over Bethel College
Concordia University held on for a 66-62 women's basketball win over Bethel College on Tuesday evening. Three players scored in double figures to lead the Bulldogs to the victory. Concordia improved to 4-2 on the year with the win.
The Bulldogs were 23-of-64 (35.9 percent) from the field in the win. Concordia was 9-of-22 (40.9 percent) from deep and 11-of-18 (61.1 percent) at the charity stripe on the night. Kat Ommen (Jefferson City, Mo.) had a big double-double of 12 points and 18 rebounds to lead the way. Ommen struggled from the field (4-of-13), but was a force rebounding. She also added four steals. Lori Laboda (Parker, Colo.) also had a double-double for the Bulldogs with 15 points and 11 rebounds. Kristen Conahan (Omaha, Neb.) added 15 points off the bench on a perfect 5-of-5 from long distance.
Angela Wood scored a game-high 17 points for Bethel College. Rachael Bachman added 13, and Jessica Muckenthaler delivered 12 for the host Threshers in a losing effort.
"Tonight was definitely a sloppy performance," said Drew Olson, head coach of the Bulldogs. "Kristen got it going from deep which was good to see, but it wasn't a great performance by our team. We need to play a lot harder and smarter as we get set to enter GPAC play."
Concordia hosts Morningside College on Saturday. Tip is scheduled for 2 pm at the Health, Human Performance and Athletic Center.