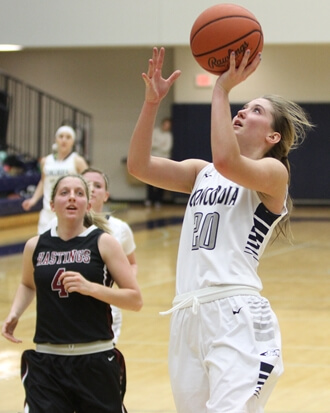 Bulldogs frustrate Dordt into 45 turnovers, earn 11th-straight win
SEWARD, Neb. – In a contest that turned into a foul fest inside Walz Arena, the third-ranked Concordia University women's basketball team ran away in the second half from a pesky Dordt squad for a 103-74 conference win on Saturday afternoon. The Bulldogs turned the Defenders over 45 times with its annoyingly persistent press to extend its win streak to 11.
Ninth-year head coach Drew Olson's squad now sits at 16-1 overall and 9-1 in league play halfway through its GPAC slate. The Bulldogs overcame some sloppy play early to claim their sixth-straight win in matchups with Dordt. The victory also pushed the senior class to 100 career wins. It has gone 100-19 over the past four seasons.
"It was a grind," Olson said. "In the first half we did not play well. Dordt did a great job of fighting. We started the game out by fouling them and not moving our feet and playing poor defensively. We were able to iron that out in the second half."
A strange statistical game saw Dordt (8-9, 0-8 GPAC) go a perfect 5-for-5 from the field before missing for the first time at the 11:09 mark of the first half. The Defenders shot 60.5 percent (23-for-38) from the field, but it wasn't near enough to overcome a massive 53-10 Concordia advantage in points off turnovers. Seven different Bulldogs had two or more steals, led by freshman Mary Janovich's seven thefts.
Janovich hardly missed a beat after sitting out most of Tuesday's win over No. 9 Friends University due to feeling under the weather. Her defensive tenacity has been a welcome addition to this year's Bulldogs.
"I've been sick for a while so I came out ready to go and ready to be back at it," Janovich said. "Coach was a little frustrated in the beginning so we came out second half ready to play."
The Defenders, who remain winless in conference play, actually pulled even at 54-54 when Emily Neuman dropped in a bucket in the paint with 14:49 left in the game. Senior point guard Bailey Morris responded with four of her 20 points and Tracy Peitz came alive in the second half, pouring in 16 of her 20 points over the final 20 minutes.
A 16-3 run provided a 70-57 Concordia lead with 10:01 remaining. The Bulldogs, spurred by their smothering defense, ended the game on 22-3 splurge, marking the seventh-straight contest Janovich and company have won by 22 points or more.
"It's great. Hopefully we can keep it up," Janovich said.
Janovich added 15 points and four rebounds to go along with her seven steals. Morris, 9-for-19 from the field, dished out three assists, including one in the paint on a pretty feed to Peitz. Freshmen Brenleigh Daum (10 points, six steals) and Laurel Krohn (10 points) made for five Concordia double figure scorers.
Krohn nailed two of her three 3-point field goals in the final seven minutes to help the Bulldogs pull away for a season sweep of Dordt. Concordia went just 6-for-27 from beyond the arc as a team, but it got off 48 more shots than the visitors.
Dordt got 26 points and 12 rebounds from Cassidy Vredevoogd, who went 9-for-11 from the field and 8-for-12 from the free throw line. The Defenders took advantage of 28 fouls on Concordia by making 24 of 34 (.706) free throws.
The Bulldogs continue a stretch of four-straight home games when they host Midland (7-9, 2-5 GPAC) at 6 p.m. on Wednesday. Concordia has won each of the last 12 meetings with the Warriors. Last season the Bulldogs defeated Midland three times by a combined total of 11 points. The Warriors will have momentum coming off Saturday's 72-50 win over No. 9 Friends.