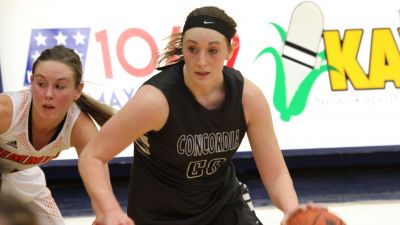 SEWARD, Neb. – The No. 4 Concordia women's basketball team defeated No. 6 University of Jamestown in the final matchup of the Cattle Classic, 86-69 on Saturday afternoon. Senior Becky Mueller and freshman Quinn Wragge received all-tournament honors for the Bulldogs.
Head coach Drew Olson said, "I knew Jamestown was a really good team. They made us struggle in the first half. In the second half, we did some things a little bit better offensively. We found Becky Mueller for a stretch that really go things going. To me, I thought it was more of a defensive pressure and making defensive stops."
Olson's team improved to 2-0 on the season while the Jimmies fall to 3-2 this year.
As a team, the bulldogs shot .405 (30-74) from the field and .429 (9-21) from the 3-point range. Mueller contributed nearly half of the 3-pointers with four. The senior had a point total of 25, which led the team, and added four rebounds and one block to her line.
"I'm not surprised by our team, I'm just really proud of them," Olson noted. "Becky was on fire and is a really good player and versatile. We can post her up, but if we have a bigger player in we can stretch the defense. To me, that was the difference in a four or five point game and then she goes off for a couple threes in a row."
Wragge and sophomore Mary Janovich each added 15 tallies to the Bulldogs total. Wragge grabbed seven rebounds and one steal while Janovich had three boards and two steals. After coming off a double digit scoring performance on Friday, Brenleigh Daum put up eight points, three rebounds and dished out four assists.
The largest lead for either team throughout the first half was four with the score tied eight different times. Late in the second quarter, the 'Dogs went up by four after a Mueller second chance bucket. The Jimmies were able to cut the lead to two with a pair of free throws with 1:33 left in the second period. The Bulldogs went to the locker room with a two point lead, 38-36.
After two quarters, Concordia held the advantage in field goal percentage. The Bulldogs shot .410 (16-39) while the Jimmies shot .400 (12-30) from the field.
The third period saw a similar fashion in score changes. CUNE's largest lead was eight points that came late in the frame. In the fourth quarter, however, the Bulldogs pulled away going on a 10-1 run. Concordia held Jamestown to just 13 points in the final period.
The No. 4 Concordia women's basketball team will be back in action after a week and a half break. The Bulldogs will open GPAC play at Hastings on Wednesday, Nov. 18 and then play at home on Saturday, Nov. 21 in Seward.
On upcoming play Olson said, "When we start in conference, it'll be a tough stretch, both are good teams being in the final four, but I'm really proud of our kids to start the season off 2-0."