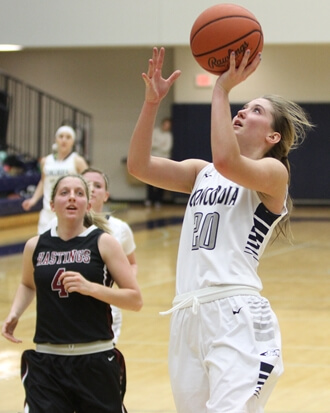 Bulldogs fight through tough shooting night, pick up 65-54 win over Dordt
Despite a tough shooting night, 7th-ranked Concordia picked up a 65-54 women's basketball win over Dordt College on Saturday evening in Seward. The Bulldogs managed just 36.9 percent shooting overall and 15.4 percent shooting from deep in the win. Concordia's defense came up big, however, forcing 27 Dordt turnovers on the evening. With the victory, the Bulldogs improved to 14-2 overall and 7-2 in conference play. Dordt slipped to 6-11 and 2-8 in the GPAC with the loss.
Concordia led by as many as eight on multiple occasions in the first half and took a 29-22 lead into halftime. The Bulldogs were just 12-of-35 from the field but took 16 more shots than the Defenders, who committed 19 turnovers in the opening 20 minutes. Katie Rich (Tilden, Neb.) scored seven points off the bench for the Bulldogs in the first half of play.
The Bulldogs really never pulled away in the second half. Concordia maintained a lead of at least seven for the final 10 minutes of the contest. Concordia took its largest lead of the game (53-40) with just over six minutes to play and secured the 11-point victory.
Offensively, Concordia was just 24-of-65 from the field overall and 4-of-26 from long range. Free throw shooting was pretty solid at 13-of-16 for 81.3 percent. The Bulldogs held a slim 39-37 rebounding advantage and totaled 13 offensive rebounds in the win. Turnovers and bench play were keys. Concordia capitalized on Dordt mistakes and finished with 25 points off turnovers. The Bulldog bench also played a key role, outscoring the Dordt bench 36-23.
Three players reached double figures in scoring. Kristen Conahan (Omaha, Neb.) scored a game-high 16 points. Rich chipped in with 13 points and four steals, while Bailey Morris (Roseland, Neb.) added 12 points and three steals. Amber Kistler (Minatare, Neb.), Concordia's second leading scorer, managed just three points, but came through in other areas with nine rebounds and a career-high eight assists. Concordia finished with 18 assists on their 24 made field goals.
"We didn't shoot the ball very well tonight, but our depth really helped us out," said Bulldog sophomore Kristen Conahan. "Our bench play was huge tonight, as both Katie and Bailey came in and gave us a big lift offensively."
Brianna Spronk scored a team-high 10 points for Dordt in the loss. Kayla Broekhuis added eight.
Concordia faces a challenging week ahead. The Bulldogs travel to 8th-ranked Hastings College on Wednesday with a rematch against 5th-ranked Morningside College looming next weekend. Morningside handed Concordia a 69-66 loss in Seward in early December.
"We need to keep improving with our shooting and maintain our discipline defensively," added Conahan. "We know we have some challenges coming up, so we need to play better on both ends of the floor. Defensively, we need to continue moving our feet without getting into foul trouble. Offensively, we need to continue moving the ball and just be active."