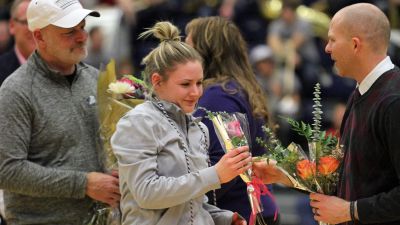 SEWARD, Neb. – It hasn't exactly been pretty when the Concordia University women's basketball team and Doane have gotten together this year. Despite a closer-than-expected clash between rivals, the second-ranked Bulldogs emerged as outright GPAC regular-season champions for the second year in a row. On Wednesday night (Feb. 14), Concordia fended off the Tigers, 68-59, inside Walz Arena.
Even if the latest outing was less than a work of art, the big picture looks pretty swell for 12th-year head coach Drew Olson's squad. For the fifth time in in program history, the Bulldogs can call themselves GPAC regular-season champs. Concordia has moved to 28-1 overall and to 18-1 in conference play.
"That's a pretty impressive feat," Olson said of the program's run of four conference regular-season titles in a seven-year span. "It takes a lot of hard work from those kids. They come in with a lot of talent, but they work really, really hard to achieve that success."
In both meetings this season, Doane has taken a one-point lead to the fourth quarter. Offensive woes plagued the Bulldogs, who missed numerous layups that were a big factor in the team's cold 34.3 percent shooting from the floor. In several instances, the Tigers just seemed to have more energy. Their relentlessness helped them earn a 49-38 advantage on the boards.
This one was uncomfortable for the better part of 38 minutes. Breathing room existed only in the final few minutes. Concordia built its first double-digit lead of the game with under a minute remaining. An 11-2 run turned a one-point deficit into an eight-point lead in the fourth quarter.
"It's a little frustrating to be in that situation again," Olson said. "We're a team where we feel like we should be better than that. We have to keep getting better, improving and learning and having that focus and killer instinct going into every game, regardless of the opponent."
The Bulldogs did just enough behind Philly Lammers (15 points, 11 rebounds) and Colby Duvel (12 points), who went 8-for-8 from the free throw line. A loss just wasn't happening on senior day.
"They came out ready to play," said senior guard Mary Janovich. "We didn't necessarily come out playing the way we need to play, but we found a way to win. That says a lot about our team."
There's just something about a feisty Doane team that has given Concordia fits. Up 38-30 in the third, the Bulldogs surrendered a 16-6 run that allowed the Tigers to gain a 46-44 lead. Ultimately, Doane couldn't overcome its 33 turnovers and a rash of fourth quarter miscues brought about in part by a more aggressive Concordia defense. The Tiger standouts on this night, McKenna Dodd (16 points) and Alea Shaner (12 points, 10 rebounds), were not immune to mistakes. They combined for 15 giveaways.
Although one home regular-season game remains, the Bulldogs chose Wednesday to honor their four seniors: Brenleigh Daum, Sydney Feller, Dani Hoppes and Janovich. Over the past four seasons, the program has gone a combined 119-17 with four total GPAC championships.
With the end still hopefully well off in the distance, it's difficult to put all the achievements into perspective – or to comprehend the fact that this is the last stand.
Said Daum, "I thought about it today. It was a little sad, but we still have a month left. I think it will hit me when the season is completely over."
The Bulldogs will close out the regular season on Saturday when No. 10 Dakota Wesleyan (25-4, 16-3 GPAC) visits Walz Arena for a 2 p.m. CT tipoff. Concordia clipped the Tigers, 70-66, in Mitchell, S.D., on Nov. 18. In Wednesday's action, Dakota Wesleyan ran away with an 81-60 win in a clash with ninth-ranked Northwestern at the Corn Palace.