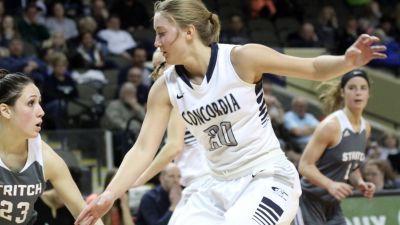 SEWARD, Neb. – Senior Mary Janovich made her season debut and the third-ranked women's basketball team faced little resistance in its efforts to extend a home win streak that has now grown to 25. The Bulldogs stifled one of the nation's most prolific 3-point shooting teams and built a 50-18 halftime lead on the way to an 84-42 win over visiting Mount Marty on Tuesday night (Nov. 21).
Five wins for 12th-year head coach Drew Olson's squad have come by margins of greater than 20 points. Concordia kept its unbeaten record intact at 7-0 overall and 3-0 in conference play.
"We had really good focus and good maturity coming into this game," Olson said. "We took every possession and valued it. I thought defensively we were awesome in that first half. We held them to 18 points and that's a really, really good shooting team. I thought we did a great job."
On this night, the Bulldogs were without the services of junior Quinn Wragge, but a focused squad didn't seem to miss a beat. Concordia's defensive pressure bullied another opponent that shot only 27.3 percent (15-for-55) for the game. The Lancers (5-3, 0-3 GPAC) entered the night ranked second nationally for most 3-point field goals per game, but they made only 4-of-20 (.200) attempts from long range on Tuesday. They also committed 26 turnovers.
It made for a Bulldog feast. Mount Marty enjoyed a 4-1 lead out of the gate, but any actual enjoyment was short lived. A Sydney Feller bucket in the paint ignited a 10-1 run to end the opening quarter. Feller also drained a triple to cap the first 10 minutes. Concordia then tallied the first eight points of the second stanza and it was a walk from that point on.
There was not even a hint of a letdown just three days after a significant 70-66 win at No. 8 Dakota Wesleyan. The 2017-18 Bulldogs are showing the same game-to-game focus that the 2016-17 edition displayed.
Said sophomore Colby Duvel, "We were coming off a big win, but our motto is, we win, we lose, we go home and we get ready for the next game. We have five days off here to just rest after this game so we wanted to give our all and get this win."
Duvel contributed nine points and six rebounds as part of the bench mob that comes after opponents in persistent waves. Philly Lammers (13 points, eight rebounds, four blocks) and Feller (13 points, 5-for-11 shooting) topped the team in scoring. Also off the bench, freshman Rebecca Higgins chipped in 10 points in just seven minutes of action. Janovich made 3-of-4 shots and totaled eight points in her first action of the season.
Janovich's health will be a key moving forward, especially when going up against other highly rated foes late in the season.
"It was good to see that she was aggressive and got to the basket a couple times," Olson said. "I think she would agree that she probably looked a little out of shape at times. She's going to get there and she's going to make a big impact for us."
The Lancers got a team high 12 points from guard Karlee McKinney. Mount Marty has also suffered conference losses to No. 10 Morningside and No. 20 Hastings in a grueling start to GPAC play.
The Bulldogs will have seven days off from competition before returning to action next Wednesday (Nov. 29) when they will host College of Saint Mary (0-8, 0-3 GPAC) at 7 p.m. CT. The Flames fell on their home court, 74-69, on Tuesday.