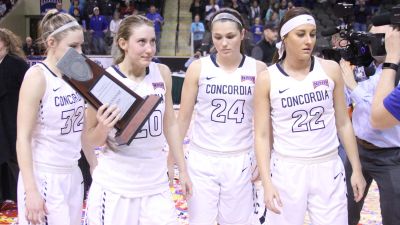 SIOUX CITY, Iowa – It was an inopportune time for the Concordia University women's basketball team to get swept up by a perfect storm. The second quarter turned into a disaster and the second-ranked Bulldogs never recovered while making their second appearance in four seasons in the NAIA Division II Women's Basketball National Championship Game. When the confetti streamed from the rafters, it was GPAC rival Dakota Wesleyan that celebrated an 82-59 victory on Tuesday night (March 13).
This one will sting for a while for 12th-year head coach Drew Olson and a 2017-18 team that leapt almost every hurdle it faced. Concordia went 36-2 overall and equaled a program record for wins in a season while up against a brutally challenging schedule.
"We're really disappointed and it really hurts right now," Olson said. "But I know in a month, two months, whatever it's going to be, that we'll realize what an amazing season it was."
For a program that had come up agonizingly short of a title in 2015 and since then made another semifinal appearance in 2017, anything less than a national championship was going to feel like something of a letdown. Through the first four rounds of the 2018 national tournament, Philly Lammers and Quinn Wragge dominated while leading the Bulldogs on a mostly smooth journey to the final game.
Concordia had every right to believe it could cut down the nets at the Tyson Events Center for the first time ever. The Bulldogs had already beaten Tuesday's opponent three times this season. At the very least, the championship collision between the all too familiar foes figured to be wire-to-wire like it was in the GPAC title game, a 90-88 Bulldog win.
It just wasn't to be. Dakota Wesleyan (32-6) was lights out. The Tigers dealt Concordia blow after blow by going 15-for-31 (.484) from beyond the arc. The game turned on its face after Taylor Cockerill's trey brought the Bulldogs within four (23-19) at the 9:12 mark of the second quarter. Concordia did not score again until Quinn Wragge's long 3-pointer 1:10 into the third quarter. By that point, Dakota Wesleyan had shocked the Bulldogs by building a lead as large as 24 points.
"I thought we had a decent fight in the first quarter and then it kind of got away from us in the second quarter," Olson said. "Uncharacteristically we started playing selfishly in a way that made us frantic. We started doing some things that we don't normally do. Part of that is they just out-played us. They shot incredibly. Defensively, they were awesome. We got out of sorts a little bit."
It's hard to believe that this Tiger team was the same one that scored only 42 points in the regular-season contest that took place in Seward. Dakota Wesleyan drained five of its first seven shots from 3-point range. Tournament MVP Kynedi Cheeseman went off for 26 points on 8-for-14 shooting from the flour. Five different Tigers knocked down two or more 3-point shots. Concordia really hadn't seen a performance like this from an opponent all season. It was shell-shocked.
Cockerill was one of the only consistently reliable scoring options for the Bulldogs. She scored 17 points in 31 minutes of action. It was a little too late before Lammers got rolling in the second half. She totaled 23 points on the night and became the fifth Concordia player this season to hit the 1,000 career point mark. Hoppes went 4-for-5 from long range and put up 12 points. Wragge struggled, going 1-for-9 from the floor. As a team, Concordia shot 35.1 percent (20-for-57) from the floor.
Dakota Wesleyan, which claimed its first-ever national title in its second appearance in a championship final, got 21 points from Ashley Bray and 12 from Chesney Nagel. The Tigers shot 47.5 percent from the field.
Olson and the program will say goodbye to four seniors: Brenleigh Daum, Sydney Feller, Hoppes and Mary Janovich. Four-year varsity contributors in Daum and Janovich were part of teams that went a combined 127-18 since the start of the 2014-15 season. They were also members of the 2015 national runner-up squad.
"I feel so bad for them," Olson said. "We all know what we felt their freshman year (losing to Morningside in the national championship game). I wanted it so bad for them to win a national title. Again, they set the school record for most wins and it's just an incredible group of kids that worked so hard."