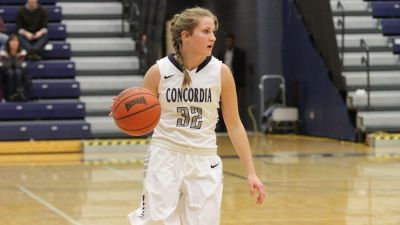 YANKTON, S.D. – Behind star guards Alex Kneeland and Raquel Sutera, Mount Marty completed a dream week in which it upset a pair of top-five ranked teams. Kneeland and Sutera combined for 41 points to send the fifth-ranked Concordia University women's basketball team to a 81-60 defeat inside Cimpl Arena in Yankton, S.D., on Saturday afternoon.
Tenth-year head coach Drew Olson's squad had entered the game with wins in 11 of its previous 12 outings. The Bulldogs fell to 15-5 overall and 10-5 in conference action.
"We weren't good enough to beat a team that's red hot," Olson said. "They just beat the No. 1 and No. 5 teams in the country. They hit 29 threes in a week's span.
"We got caught in a buzz saw. They played really well plus it was a combination of us not playing well. We were a bit out of rhythm."
Kneeland and company ended the first half with five-straight points to put the Lancers (14-8, 8-6 GPAC) up by a dozen (46-34). Concordia fought back to get within five (55-50) in the third quarter, but Mount Marty tore it up in the fourth quarter. Back-to-back triples from Sutera and Logan Wagner in the closing minutes sealed the latest upset for the Lancers, who went 14-for-27 (.519) from beyond the arc.
On the other end, Concordia shot just 33.3 percent in the second half when it made only nine field goals. The Bulldogs went without a field goal for more than seven minutes during a stretch that began in the third quarter and ran into the final stanza. Concordia made six of its first 13 3-point attempts, but then went 2-for-11 from beyond the arc the rest of the way. It shot 35.5 percent (22-for-62) overall from the field while Mount Marty shot 50.9 percent (27-for-53).
Playing less than 15 miles from her hometown of Crofton, Neb., freshman Quinn Wragge put together another solid performance despite fouling out in the final two minutes of the game. She topped the Bulldogs with 16 points and eight rebounds in front of a strong group of supporters. No other teammate reached double figures, though sophomore Jade Gottier gave good minutes in a starting role. She had eight points, three rebounds, three assists and just one turnover. Junior Erin Vieselmeyer chipped in nine points.
The firepower just wasn't there to stay with the prolific combo of Kneeland (21 points) and Sutera (20 points).
"I thought we did a much better job in the second half (on Kneeland)," Olson said. "We decided to face guard and deny her, let somebody else beat us. I thought we did a great job defensively. We'd just have little breakdowns. We'd help off Sutera. We'd give her an inch and she would knock it down. I just don't think we did enough to claw back into the game."
Saturday completed a big week for Mount Marty, which also went to top-ranked Morningside and handed the Mustangs an 84-77 loss. The Lancers have won seven of 10 games since dropping a 77-59 contest at Concordia on Dec. 12. Mount Marty's latest win snapped a 10-game series losing streak against Olson's squad.
The Bulldogs will return home and host Doane (12-10, 5-9 GPAC) on Wednesday. Tipoff is slated for 6 p.m. from Walz Arena, where Concordia is 66-8 since the start of the 2011-12 season. The Bulldogs have won each of the last nine meetings with the Tigers.