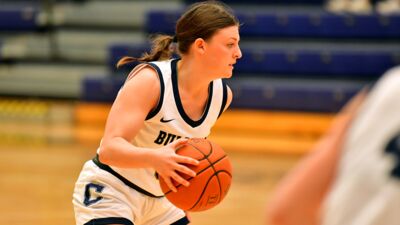 SIOUX CENTER, Iowa – In another significant road challenge for the Concordia University Women's Basketball team, 2022 national runner up Dordt showed it's a bit farther along at this point in the season. Macy Sievers enjoyed a big performance off the bench as the 13th-ranked Defenders held off the Bulldogs, 76-65, in Sioux Center, Iowa, on Saturday (Nov. 19). The 22 turnovers committed by Concordia limited its ability to rally back in the second half.
Head Coach Drew Olson's squad now stands at 3-2 overall (1-2 GPAC) with both defeats coming on the road to teams either ranked or receiving votes nationally.
"It felt kind of similar to the Briar Cliff game (a week earlier)," Olson said. "You've got to do a lot of things right to be able to win that game. We fought and showed a lot of toughness and never let up. I felt like we were right there. At the same time, that second half we were not sharp offensively and did not share the ball as much as we need to. We had some great opportunities and had missed layups or missed great looks at threes. If you're going to beat a great team on the road, you have to come up with those. We had 16 turnovers in the second half – that's not like us."
Dordt capitalized and built a 13-point lead (63-50) by the end of the third quarter. In that final period, the Bulldogs got back within seven (68-61) when Taysha Rushton (trey) and Sadie Powell (two-point basket) scored on back-to-back possessions. That was essentially the last gasp for Concordia from an offensive perspective. Turnovers and missed chances down the stretch helped the Defenders (7-0, 2-0 GPAC) remain undefeated.
Even without 2021-22 GPAC Player of the Year Ashtyn Veerbeek, Dordt has a lot of weapons. Sievers came off the bench to notch 18 points. She was equaled in that department by teammate Janie Schoonhoven, who totaled 18 points and eight rebounds. Veteran standouts Karly Gustafson (14) and Bailey Beckman (11) also scored in double figures. Dordt shot 49.1 percent (28-for-57) from the floor and made 14-of-16 free throws.
Rushton and Kendal Brigham led the charge for the Bulldogs with 15 points apiece. Brigham went 7-for-10 from the floor and grabbed five rebounds off the bench. Powell finished with 11 points, seven rebounds and three assists. Rushton went 5-for-14 from the floor and added three rebounds to her stat line. Mackenzie Toomey turned in a strong day that included eight points, six rebounds and three assists. Concordia shot 44.4 percent (24-for-54) from the floor but could not overcome the turnovers.
Said Olson, "On one hand, I feel good about what we're doing. I really like our team. I feel like we are close. But we have to make those plays to prove that we're with these teams. I think we are – we're really good. You have to go prove it. You have to earn it. I'm excited to see how we respond. We have to get over that hump."
The Bulldogs will return home to host Jamestown (4-1, 2-0 GPAC) at 5 p.m. CT on Tuesday. Once again, Olson will go up against former teammate Thad Sankey, the head coach of the Jimmies. Jamestown made a splash earlier this week when it upset No. 7 Dakota Wesleyan, 71-64. The Bulldogs and Jimmies split their two matchups last season.