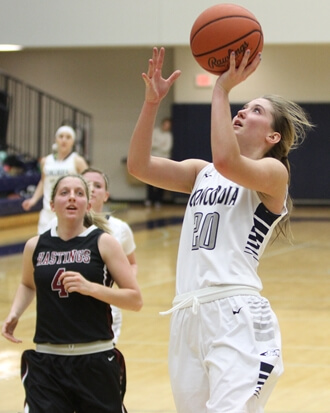 Bulldogs cruise in season opener at No. 17 Mayville State
MAYVILLE, N.D. – Following the lead of senior Tracy Peitz, the ninth-ranked Concordia women's basketball team raced out to a 13-0 advantage on the way to a season-opening 89-79 win at No. 17 Mayville State University on Friday night. Concordia's frenetic pace resulted in 40 Comet turnovers to fuel the comfortable victory.
Ninth-year head coach Drew Olson's Bulldogs won their season opener for the fourth-straight season.
"Defensively we were really good," Olson said. "We were really in tune. They had some freshmen guards that probably weren't used to that kind of pressure. We were able to turn them over a lot, which is a good thing. We were just as bad on the other end. We can't do that tomorrow (at Jamestown) against a team with more experienced guards."
Peitz, a third team All-American last season, exploded for nine of her team high 20 points in the game's opening 13-0 splurge. She also added six rebounds, four steals and four assists for a Bulldog squad that picked up its first road win over a ranked team since an 80-72 win at No. 12 Briar Cliff on Nov. 23 of last season.
But the story of the night was Concordia's relentless pressure defense. The Bulldogs showed off their increased depth, playing all 14 players that made the trip to North Dakota. Ten of those individuals collected at least one steal, led by reigning GPAC player of the year Bailey Morris and her five thefts.
While Peitz dominated early on, freshman Mary Janovich sparkled in her collegiate debut. She went for 12 of her 18 points in the second half. As good as the Gretna native's play was on the offensive end, her work wreaking havoc on the Comet backcourt stood out even more.
"Mary was a menace defensively," Olson said. "She was forcing them into some tough passes that led to steals for other players. Offensively, she knocked down shots. She played very efficiently."
Leading 50-33 at the half, the Bulldogs ballooned the lead to as large as 29 points with another big spurt to begin the second half. Concordia blitzed Mayville State (1-1) with a 22-10 run that made it 72-43 after freshman Brenleigh Daum's triple with 14:42 left in the contest.
Daum, who Olson says has taken off lately in practice, finished with 10 points on 4-for-6 shooting. The talented freshman trio of Daum, Janovich and Jade Gottier (five points) combined for 33 points. Said Olson of the three rookies: "They were awesome."
Those contributions were big on a night when Concordia committed 33 turnovers of its own. Morris and Peitz uncharacteristically combined for 16 giveaways. Olson believes the fix is simple.
"Both Tracy and Bailey were almost too passive," Olson said. "Most of our turnovers happened when we were trying to make an extra pass. We have to be more aggressive and take those opportunities."
Two other Bulldogs reached double figures in scoring in addition to Daum, Janovich and Peitz. Morris posted 13 points to go along with seven assists and three rebounds. Jericca Pearson, making her return from an ACL tear she suffered in the middle of last season, came off the bench to post 10 points and four boards. Senior Kelsey Hizer equaled Peitz's four steals.
Mayville State, a member of the North Star Athletic Association and 2014 national tournament qualifier, got as close as nine points in the final minute. The Comets actually ended the game on a 22-6 run spearheaded by Liza Hoglo, who poured in a game high 27 points on 8-for-14 shooting.
Concordia shot 47.1 percent compared to 44.8 percent shooting for Mayville State. The Comets won their season opener a week earlier, defeating Brandon University, 92-80, in Mayville.
The Bulldogs face another stiff test on Saturday when they remain in North Dakota to take on seventh-ranked Jamestown (N.D.) at 1 p.m. The Jimmies are off to a 2-1 start. Last season Jamestown defeated Concordia, 77-74, inside Walz Arena in a game played on Nov. 8, 2014.