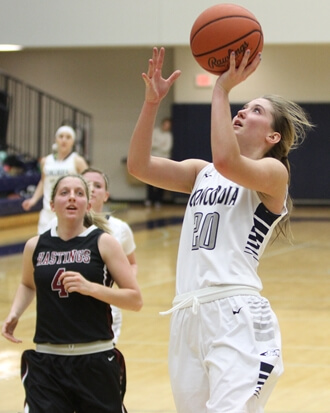 Bulldogs cool off hot Chargers with dominant second half
SIOUX CITY, Iowa – A 14-2 run to begin the second half stomped out host Briar Cliff's momentum and helped carry the third-ranked Concordia University basketball team to a 76-60 win in Sioux City, Iowa, on Saturday afternoon. The Bulldogs trailed by as many as eight points in the first half before taking command with a dominant second half that saw them outscore the Chargers, 44-24.
Ninth-year head coach Drew Olson's squad won for the 14th-straight time while improving to 19-1 overall and 12-1 in conference action. Concordia remained unbeaten on the road (9-0) while picking up its seventh victory over a ranked opponent.
Like several recent contests, the opposition hung tight for a half before seeing the Bulldogs run away in the second half.
"I think we're doing a good job of adjusting and our players are figuring out what they need to do differently," Olson said. "We have good depth and we just kept pounding away and wearing them down. Eventually we went on a big run."
The Chargers (15-6, 7-4 GPAC) went into the halftime locker room up four and on the high of a 6-0 spurt. But the second half was all Bulldogs. Olson switched to a 2-3 zone to help protect three starters in foul trouble and Concordia responded. The Bulldogs shot 51.7 percent in the second half compared to 27.0 percent shooting by Briar Cliff.
Sophomore Becky Mueller, who tallied a game high 18 points, helped Concordia exercise control by scoring four early points out of the halftime break. She then nailed a trey and then a bucket in the paint on back-to-back possessions to make it 63-49 with 6:12 left. For good measure, she added another late triple that crushed any faint hope the Chargers still held.
"She came up pretty big," Olson said of Mueller. "She's been shooting the ball well in practice and our team did a good job of getting her open looks. She came through with some big threes. I thought she played really well defensively, too."
Mueller and company forced 26 Briar Cliff turnovers and held the Chargers to 31.3 percent shooting overall. Even while playing a second half zone, the stifling Bulldogs managed 13 steals – three from senior Bailey Morris and two apiece from Mueller and freshman Mary Janovich.
A slow offensive start by Concordia helped Briar Cliff build a 21-13 lead, powered by an 11-0 Charger run. The Bulldogs responded with a 7-0 run capped by Rachel Royuk's triple. They eventually regained the lead late in the half with a Morris shot from distance. Concordia trailed just 36-32 at half despite shooting only 29.7 percent over the first 20 minutes.
Morris joined Mueller as the only two Bulldogs in double figures in scoring. Morris posted a line of 14 points, eight rebounds, four assists and three steals in 31 minutes. Senior Tracy Peitz chipped in eight points and seven rebounds. Janovich added nine points.
For the Chargers, who had won 10 of their previous 11 games, Kaylee Blake led the way with 14 points on 5-for-9 shooting. Slone Masters turned in nine points and 13 rebounds as Briar Cliff held a 50-40 advantage on the boards.
The Bulldogs can tie for the second longest winning streak during Olson's tenure by toppling No. 17 Hastings (13-6, 7-4 GPAC) on Wednesday. Tipoff is set for 6 p.m. from Walz Arena, where Concordia owns a record of 52-7 since the beginning of the 2011-12 season. In this season's first meeting with the Broncos, the Bulldogs won, 68-65, over then No. 5 Hastings inside Lynn Farrell Arena on Nov. 25.
Morris watch: With 14 points on Saturday, Morris pushed her career total to 1,748, moving her past Stephanie Schilke (1,736) for fourth on the program's all-time scoring list. In Morris' sights are Whitney Stichka (1,765), Kari Saving (1,773) and Sarah Harrison (1,800).