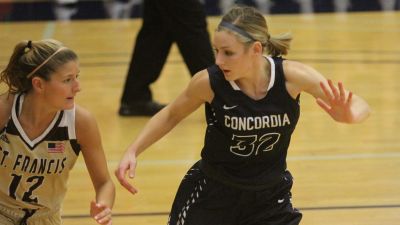 MAYVILLE, N.D. – A day after a tense overtime win at No. 9 University of Jamestown, the third-ranked Concordia University women's basketball team continued its North Dakota swing with a thumping of host Mayville State University. The Bulldogs buried the Comets early while throwing in 16 treys on their way to a breezy 93-58 win on Saturday afternoon (Nov. 11).
Twelfth-year head coach Drew Olson's squad is working on an impressive early-season résumé that includes two victories over top 10 opponents and now one over a Mayville State team situated just outside the national poll in the preseason. Concordia is 4-0 after another crisp performance.
"They play the exact same we do so we kind of figured some things out that hurt us and did it back to them," Olson said. "It obviously helped that we were just red hot. Dani (Hoppes), Sydney (Feller) and Brenleigh (Daum) just could not miss in that first half."
This contest was over early. It really wasn't even fair. The Bulldogs drilled six triples in the opening nine minutes while rolling up a 30-9 lead. During that stretch, Hoppes dropped in three treys and Feller knocked in 3-point field goals on back-to-back possessions. By halftime, the lead ballooned to 63-28. Daum ended the half by rattling off eight points in the closing three minutes before the break.
Hoppes went 5-for-7 from 3-point range and topped all players with 15 points. Feller (4-for-5), Daum (3-for-9) and Shelby Pollman (2-for-4) also chipped in multiple triples as part of the flurry. Feller posted 14 points while Daum and Pollman added 11 apiece. Off the bench, Colby Duvel registered six points and six rebounds. Concordia shot 47.9 percent (34-for-71) overall.
But it wasn't just about offense. The nasty Bulldog defense pestered Mayville State (4-1) into 32.7 percent (17-for-52) shooting and 29 turnovers. Five Concordia players plucked two or more steals with three coming from sophomore guard MacKenzie Helman.
"I just thought our kids had really good focus to just come off a game that was really emotional and draining," Olson said. "Then we get back on the road and drive another hour and stay in a hotel. We came ready to play and did what we're capable of doing – taking care of the basketball, knocking down shots and playing really good defense."
After playing 40 minutes and racking up career highs of 31 points and 14 rebounds at Jamestown, sophomore Philly Lammers enjoyed much more of a breather on Saturday. Though she played in only 18 minutes, she still managed another double-double (12 points and 10 rebounds). With Lammers controlling the paint, the Bulldogs again dominated on the boards, 53-27, in an all-around sparkling team performance.
Members of the North Star Athletic Association, the Comets are hardly a slouch. Last weekend they polished off home wins over Dordt and No. 17 Northwestern. Nothing went right for them on Saturday. Fresh off a 28-point performance in the victory over the Red Raiders, Andi Gayner went just 3-for-10 from the field and had 10 points while faced with Concordia's intense pressure defense. Mayville State had scored 88 points or more in each of its first four games this season.
Next week will bring about the start of conference play. Midland (2-1) will visit Walz Arena for a 6 p.m. CT tipoff on Wednesday (Nov. 15). The Bulldogs own a 23-game home win streak.