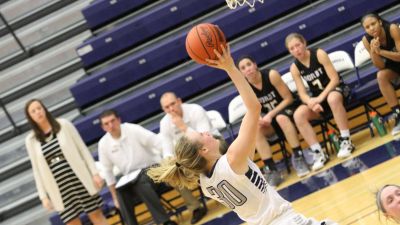 SEWARD, Neb. – The No. 14 Concordia women's basketball team breezed by the Dordt Defenders on Wednesday evening. The 86-54 victory came thanks to a stiff Bulldog defense, forcing 31 Defender turnovers. CUNE also helped themselves with a 41.9 shooting percentage.
Drew Olson's squad improves to 5-3 overall and 3-3 in the GPAC. The Defenders fall to 4-8, 1-5 GPAC.
"It was good to get a win," said Olson. "I thought we could've done some better things but overall, I'm really pleased with how we played, we had great energy and we always play tough. You just want to get back in there and get that confidence again, that's kind of what we were able to do tonight, everybody got in the scoring column."
Concordia had three players score in the double digits. Sophomore Mary Janovich led in the scoring column with 13. Janovich also dished out three assists and grabbed four steals. Sydney Feller scored 12 points, tying her season high, going 4-5 from behind the arc. Freshman Quinn Wragge put up 10 points for the Bulldogs.
Feller said, "It was good team basketball, we really had good team chemistry and flowed really well tonight. That's what we've been working on in practices and so we really emphasized that in the game."
The team shot .419 from the field (31-74), .300 from 3-point range (9-30) and .882 from the free throw line (15-17). The Bulldogs combined for 15 steals and 37 rebounds. Concordia was able to hold the Defenders to a .375 field goal range (18-48) and .133 percent from behind the 3-point line. The Bulldog defense also forced 31 turnovers, the most by any of the Bulldogs' opponents so far this season.
"It was a lot of run and gun and traps," Feller noted. "That's what we want to do—get a lot of turnovers."
Throughout the 40 minutes, the Bulldogs never trailed and got out to an early lead. In the first three and a half minutes of play, CUNE went on a 12-3 run featuring five points from Wragge. Through the first half, the Bulldogs' smallest lead was four, ending with a 23 point lead going into the half.
In the final quarter, the Bulldogs found their largest lead of 34 after a 10-3 run in which five reserves scored. In fact, all 14 members of Olson's crew scored at least one bucket and had at least eight minutes of action throughout the game.
"We want to pressure," Olson said. "But we need to keep people off the foul line, which I think we did a pretty good job doing tonight. Hopefully that continues. I feel like if we make teams earn baskets, we'll be in really good shape."
The No. 14 Bulldogs will have a very quick turnaround and will play again tomorrow night, Dec. 10. The Bulldogs will welcome York College to Walz Arena Thursday night for an 8 p.m. tipoff.
Feller said, "Game days are our favorite, we come focused and with a lot of energy…we absolutely coming out on the floor in our home jerseys with our home crowd behind us."