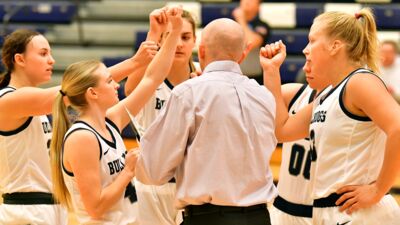 WATCH: Mackenzie Koepke makes return
SEWARD, Neb. – The full-court pressure caused the opposition headaches and the offensive playmaking of the backcourt took a step forward as the Concordia University Women's Basketball team picked up its first conference victory of 2022-23. Three Bulldog guards reached double figures in scoring in what amounted to an 85-59 win over Midland on Wednesday (Nov. 16). Concordia enjoyed a plus-16 turnover margin and knocked down 10 treys.
Head Coach Drew Olson's squad has won all three of its home games this season and now stands at 3-1 overall (1-1 GPAC). The Bulldogs bounced back after this past weekend's 87-76 defeat at Briar Cliff.
"I thought overall our game was well-played," Olson said. "Our focus was on our offensive efficiency and our press – and I thought we did both of those things really well. Our guards are really good. When they play with intelligence and are making good decisions in the lane, they're a really tough group. I'm really proud of them."
The likes of Abby Krieser, Taysha Rushton and Mackenzie Toomey controlled the flow of the game. Midland regularly struggled to get into any kind of offensive rhythm as it was swimming up creek against the pesky press. Toomey shined on both ends in piling up 17 points and three steals while contributing mightily to the Warrior turnover count of 24. Meanwhile, Krieser's offensive game (14 points on 6-for-9 shooting) continues to take off and Rushton (12 points, six assists and one turnover) played within herself.
Concordia led by as many as 15 points in the first half before boosting the lead up to as large as 26 points (74-48) in the fourth quarter. In part because of the turnovers, Midland shot only 40 times from the floor (although it went 21-for-31 from the foul line). The Warriors (2-3, 0-1 GPAC) also saw Toomey at her best. She was just as aggressive on the offensive end on this night as she always is defensively.
Said Toomey of the group of guards, "I think our press is coming along well because our team is full of really quick and athletic players. I think we've shown in practice that it's going to be really hard to get past it. I love when you just run around in basketball, if you can't really tell. I think a lot of other girls on our team feel that way. Everyone has a good sense of where the ball is going."
The frontcourt is still being seasoned as the Bulldogs look to Sadie Powell to shoulder a good deal of scoring in the paint. She notched nine points in the victory. Off the bench, Kendal Brigham chipped in with nine points and Kristin Vieselmeyer added six points and seven rebounds. A feel good moment came in the waning moments when Mackenzie Koepke returned from injury and knocked down her first shot attempt of the season, a trey from the top of the key.
Koepke missed all of last season and had not played since March 20, 2021, in the NAIA national quarterfinals. Said Olson of seeing Koepke back out there, "Joy was going through my mind. I'm just so happy for her. She's gone a long way and for her to come back for this season meant a lot to me. This is just a small step. I know she's got more in her as she continues to gain confidence in her knee."
Midland was led by the 12 points from Emma Shepard off the bench. The Warriors owned a 37-26 advantage in rebounding.
A tall task awaits on Saturday when the Bulldogs will play at No. 13 Dordt (6-0, 1-0 GPAC). Game time is set for 2 p.m. CT from Sioux Center, Iowa. As part of their national runner up campaign in 2021-22, the Defenders won both regular season meetings with Concordia.