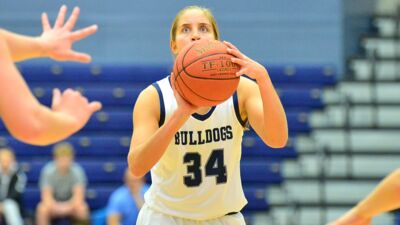 SEWARD, Neb. – Like many Jamestown opponents so far this season, the Concordia University Women's Basketball team found the Jimmies to be a tough nut to crack. Even on a night when the Bulldogs bothered Jamestown into committing 23 turnovers, they couldn't muster enough offense. CUNE alum Thad Sankey's squad came away from Friedrich Arena with a 66-49 win on Tuesday (Nov. 22) evening. The Bulldogs went just 5-for-28 from 3-point range.
Head Coach Drew Olson's squad has endured some bumps in the road in a challenging slate to begin conference play. Concordia slipped to 1-3 in the GPAC (3-3 overall).
This will be one the Bulldogs will try to quickly flush. The third quarter represented the only real stretch where Concordia gained a bit of traction. A steal and layup by freshman Destiny Shepherd got the Bulldogs within 13 (51-38) at the close of the third quarter. To begin the fourth, Kendal Brigham splashed home a trey and Hailey Kleinschmit dropped in two points in the paint. There was life for the home team as Jamestown's advantage was trimmed to eight (53-45).
Concordia never got any closer as it went cold once again. The Bulldogs shot only 30.2 percent (19-for-63) overall. There will be better days for standouts Sadie Powell and Taysha Rushton, who combined to go 3-for-19 from the floor and total eight points. Considering those statistics, Concordia did well to get back within eight in the final quarter.
A real positive for the Bulldogs was the play of the 5-foot-11 sophomore Kleinschmit. The Norfolk, Neb., native notched 13 points (6-for-12 from the floor) and grabbed four rebounds. She saw 24 minutes of action. Two other Concordia players reached double figures: Abby Krieser (11) and Brigham (10). The best thing the Bulldogs had going for them was their press. Powell and Mackenzie Toomey swiped three steals apiece.
Other than the turnovers, Jamestown (6-1, 4-0 GPAC) couldn't have asked for a much better outing. The Jimmies enjoyed a massive rebound advantage, 51-25, and shot 47.3 percent (26-for-55) from the floor. Star Hannah DeMars collected 19 points and 12 rebounds while Audrey Rodakowski (12) and Kia Towers (10) joined her in double figures. Sankey has the Jimmies out to a 4-0 start in conference play with a win over No. 7 Dakota Wesleyan included in that run.
Concordia will have the remainder of Thanksgiving week off from game action. Next up on the slate will be a trip to Sioux City, Iowa, to take on No. 12 Morningside (3-3, 1-2 GPAC) at 6 p.m. CT. The Mustangs won at Doane, 97-93, on Tuesday.