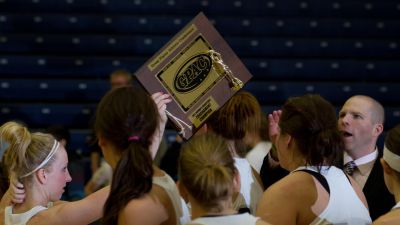 On March 17, 2015, a crowd of 6,684, one of the largest ever to witness a Concordia women's basketball game, gathered inside the jam-packed Tyson Events Center in Sioux City, Iowa, for a historic event. The Bulldogs had reached the national championship game for the first time in program history. In a classic tussle between two conference rivals, top-ranked Morningside held off then third-ranked Concordia, 59-57, in the title clash.
It was an agonizingly close call for head coach Drew Olson's squad, arguably the best in school annals. It was another step for a program that had already established itself as a national player while competing within the toughest, most competitive conference in NAIA Division II women's basketball. For the fourth time in 13 seasons, Concordia had eclipsed the lofty 30-win plateau.
Followers of NAIA women's basketball have grown accustomed to seeing the Bulldogs appear near the top of the national poll. Their presence among the nation's elite was a long time coming. Consider that the advent of women's basketball at the school occurred 59 years after Concordia Teachers College opened its doors (or door) to students in 1894. It took another 39 years – or nearly 100 years after the school's founding – before the program made its first appearance at a national tournament.
In the early years of women's basketball, things looked nothing like they do now.
The early years
Like institutions all over the country, women's sports at Concordia were slower to take hold. The attitude in regard to women's collegiate athletics has changed dramatically since the 1950s when Concordia began offering women the opportunity to play basketball. While Concordia's school yearbook, "The Tower," predicted that "girls' basketball is here to stay," its details on the initiation of women's basketball in 1953 used terms that would be deemed inappropriate by any reasonable standard. Wrote The Tower, "CTC's lassies exerted considerable determination and energy to acquire their own basketball team. Initiating the whole movement, the girls met early in the year, selected their coach, and a dream became a reality."
In the early years, there was very little stability or organization within the program and the schedules consisted of fewer than 10 games per season. Between 1953 and 1960, nine different head coaches guided the Concordia women's basketball program, which operated more like a club or intramural affair. Finally, JoAnn Degner, who became head coach immediately after graduation, held down the position for more than just a single year (1960-63).
By 1955, The Tower wrote that women's basketball was "still in its infancy and fighting for recognition." A year later, the yearbook provided more insight: "After three years of activity, girls' basketball is fast gaining recognition." Though the grind of a schedule of more than 30 games now days is much more challenging, the program found some footing in the late 1950s. The 1957-58 team won the "Class A" league championship during Eleanor Glass' one year as head coach.
The revolving door of head coaches stopped spinning when Eunice Goldgrabe took the reins in 1967. According to records in the Concordia archives, 1967-68 marked the first official season of intercollegiate competition for the women's basketball program. Goldgrabe held down the fort until passing the baton to Carl Everts in 1981. It was during the Everts era (1981-92) that the sport really took off in the NAIA. Suddenly the Bulldogs were consistently playing 30 or more games each season. In 1992, Everts' squad qualified for a national tournament, marking the first trip to nationals in school history. But the golden age of the program was yet to come. The Great Plains Athletic Conference hadn't even been formed, nor been dreamed up.
The Game
Head coach Todd Voss couldn't believe it. No joke, tailgaters were out in force when Voss brought his No. 1-ranked Bulldogs to Hastings for a big-time conference clash with the second-ranked Broncos on Feb. 12, 2003. "That just doesn't happen in women's college basketball," Voss said of the pre-game festivities complete with tailgating. Hastings officials estimated that 2,500 fans made their way to Osborne Family Sports Arena to watch the defending national champion Broncos. Concordia had already defeated Hastings in Seward earlier that season. The Broncos wanted revenge. It was No. 1 versus No. 2. It had all the appeal anyone could want.
It didn't disappoint. Recalled Voss, "We got there and we got booed even before we got to the arena because there were people lined up. I had the good fortune to coach in a number of great arenas and in big venues in big games at various levels. As far as game atmospheres, that game at Hastings that 2002-03 season was as good or better than any atmosphere I was ever part of in my coaching career."
The Game lived up to the hype. Though the Broncos built an 11-point lead in the first half, a Concordia squad led by the likes of Sarah Harrison and Elizabeth Rhoden never flinched. The Bulldogs went on a 12-0 second-half spurt and grabbed a late lead in a pulse pounder that earned its place in program folklore. With her team down one, Harrison nailed a 10-foot turnaround jumper with 3.2 seconds left.
The Bulldog faction of the audience exploded. A photographer at the game captured the moment in an image that somehow ended up as a massive poster inside the arena at Hastings. Recalled Voss, "From the spot where the picture was taken you can see all of these hands up in the air. Well those are actually Bulldog fans, not Bronco fans behind our bench."
Harrison ended up with 17 points and seven rebounds in a battle etched in her memory for life. Said Harrison, "I can remember when we were running out for warmups their crowd was booing us. Naomi Laune looked at me and said, 'That's when you know you're good – when the other fans care enough to boo.' I think that's the memory that sticks out the most. I don't know if we actually knew how good we were until a moment like that."
All over the nation, people knew. This wasn't the 1950s anymore.
Rise to national prominence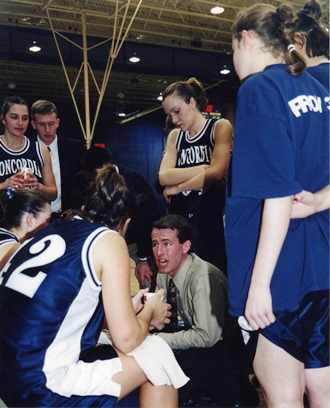 The Game occurred during a storybook 2002-03 season. It was Todd Voss' first season as a collegiate head coach after he had spent three years assisting Micah Parker. It was the duo of Parker and Voss that began building a monster. Parker served as an assistant for eight years under Concordia head men's basketball coach Grant Schmidt. At first, Parker was reluctant to make the switch to the women's side. When Dr. Parker agreed to become head coach prior to the 1998-99 season, he inherited a program that had won back-to-back Nebraska-Iowa Athletic Conference titles while reaching the national tournament in consecutive years under Mark Lemke's direction.
In the late 1990s, Lemke elevated women's basketball to heights it had not previously reached. The 1996-97 group made a splash at the national tournament by defeating Taylor (Ind.) in the first round before stunning top-ranked Shawnee State (Ohio) in the round of 16. The Bulldogs vaulted as high as No. 14 in the national poll. It was the start of bigger things to come.
Just one starter returned for that 98-99 campaign as Parker began molding Concordia women's basketball. Parker hit the recruiting trail hard. The fruits of his labor really began to show prior to the 2001-02 season. In came a class of freshmen that would forever alter the fortunes of a program that had never been considered a national championship contender. The headliners of the group of rookies included eventual Concordia Athletic Hall of Famers Sarah Harrison and Kari Saving, along with the likes of Keyna Kobza, Naomi Laune and Kayla Luehmann.
Says Parker, "Todd and I worked very hard on that class. I didn't know they'd be that good that quick. To win 28 games with mostly a freshman team is kind of ridiculous. Kari Saving was a big recruit for us. We decided we had to go get athletes that were turning down Division II schools. We felt like if we were getting athletes that were turning down NCAA Division II schools then we'd be really good. That's really what happened. The more we got into the recruiting process with those young ladies the more we started really liking their character and work ethic. It all fell into place. It was a God thing."
Parker laughs when thinking about Harrison's commitment. He recalls her turning him down five times during the recruiting process. Once on board, the native of Stratton, Neb., was all in. The fab five freshman class teamed up with sophomore Elizabeth Rhoden and juniors like Dani Adams, Jonie Ficken, Rachel Kirchner and Amy Streuter as the nucleus of the 2001-02 squad. Continued Parker in regards to that group of freshman, "I don't know if anyone can say they had as good of a recruiting class as that."
There were certainly hints before the arrival of Harrison and Saving that Parker was about to make waves. His 1999-2000 bunch ended up 19-10 overall with its most thrilling moment being a 66-65 upset at No. 1 Northwestern in late January. The fans in Orange City howled when a Concordia player basically tackled a Red Raider on an out-of-bounds play in the final seconds. The horn sounded and Parker hustled his team to the locker room. He didn't want the officials to have any chance to reconsider the no-call. Parker's squads made it a habit of beating top-ranked opponents. The 2000-01 Bulldogs also toppled a No. 1-ranked Northwestern team and then did the same to No. 1 Hastings the following season.
The road upset of Northwestern in the final year of the NIAC will be stuck in Parker's memory forever. He knew exactly what play famed head coach Earl Woudstra was going to run in the game's waning moments. Parker called timeout with his team up one point. The Red Raiders had the ball underneath their own basketball with six seconds left. "I'll walk home if they don't run this play," Parker told his team in the huddle. He also informed one of his players to "tackle" someone. Though he did not mean it literally, his player didn't realize it. "This was at Northwestern. By some act of God, they did not call the foul," Parker said. "Their coach and fans went absolutely nuts … We had a big celebration in the locker room. That was a really fun trip" despite a six-hour, white-knuckle drive home through a snowstorm.
After the 28-6 season in 2001-02, Parker had Concordia positioned to make not just waves, but tsunamis across the national landscape. The vaunted recruiting class still had three years remaining, but Parker got the opportunity to serve as director of operations at the University of Nebraska and took it. Looking back, Parker, currently the Director of Athletics at California Baptist, offers, "I can't say that I've had any better time than those four years coaching the women at Concordia."
What comforted Parker was the fact that the keys to this Lamborghini were being tossed to his right-hand man, Voss. A Concordia alum just like Parker, Voss had been a successful coach at Davenport High School in Davenport, Neb., where he won a girls' Class D state championship in 1999. He was the perfect leader to cultivate the talent already on hand. To date, the best season in school history was just over the horizon.
The 2002-03 year was a thrill ride. The Game was part of a 33-game unbeaten roll to open up the season. Voss had trouble finding playing time to go around. To understate it, this team had depth. Harrison and Rhoden both averaged 13.7 points while Saving came in next at 10.1 per contest. From the beginning of January all the way to the opening of the national tournament in March, Concordia held down the No. 1 ranking as the most dominant team in all of NAIA Division II.
It hardly seemed to matter if the starters or second wave took the court, the Bulldogs kept on winning. In the season's first meeting with defending national champion Hastings, Concordia blew past the Broncos, 81-64, in Seward. There was no doubt which team was most impressive throughout the balance of the regular season. Heartbreakingly, Hastings got its revenge in the season's most consequential meeting. The Broncos tripped up the Bulldogs, 66-60, in the national semifinals on March 17, 2003. During a 36-2 season, the only discontent was over the fact that Voss' group could not close out what would have been the first national championship, for any sport, in school history.
That one loss doesn't define the 2002-03 team. It was an unforgettable journey. The Lincoln Journal Star even came out at one point during the season for a photoshoot that captured the entire team, smiling faces and all. The outlet splashed the photo in the sports page with a headline that read, "All grins no losses." Said Voss, "That team was obviously a national championship caliber team. The thing that was so amazing about that team was I doubt there's ever been a team at Concordia that's been as deep. I know there have been a lot of good teams. We could go 11 or 12 deep and not miss a beat. That's rare. We were a team that could just wear the opponent down."
The next two years were similarly successful with Harrison and Saving leading the way. Their final two years also saw the arrival of a new top assistant coach in Angela Folkerts (now Angela Muller). The Bulldogs went 28-8 in 2003-04 and then 31-5 in 2004-05. The seniors that made up the 04-05 squad finished with a four-year record of 123-21 with one GPAC regular-season title, one GPAC tournament championship, two national semifinal advancements and four national tournament appearances. In terms of winning percentage and overall number of wins, there's never been a better four-year stretch in program history.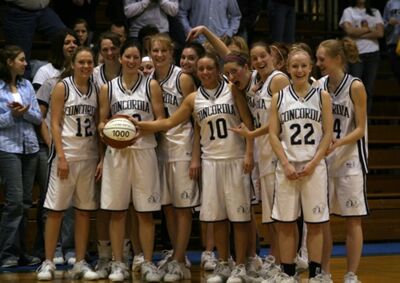 "That was an amazing run and it really spoils you as a coach, especially when you're just getting started at the collegiate level," Voss said. "It's usually not that easy. We just had some great kids, great chemistry and great work ethic. When you put those three things together, that's how we got the results that we did. There was so much unselfishness. The team was placed above all else. John Wooden said it, 'It's amazing what you can accomplish when no one cares who gets the credit.'"
Following a 13-17 mark in 2005-06, Voss left the program to become an assistant coach for the Drake University women's basketball program. When Parker left, there was an obvious replacement waiting in the wings. This situation would be different. The program had come so far in such a short time. Now what?
Enter Olson
Drew Olson played his final three seasons of collegiate ball for Grant Schmidt after transferring from Hastings. A 2003 graduate, Olson assisted the men's basketball team at Bellevue University for three seasons, but his time there came to an end upon the completion of his master's degree. Olson really just wanted a full-time job in coaching. The son of Rich Olson, who has enjoyed rousing success as a high school girls' coach, Drew possessed the right pedigree. "I applied to 100 different places and no one would interview me," said the former three-year Bulldog starter.
Finally, College of Saint Mary granted Olson an interview. Afterwards he called Schmidt, then the AD and men's basketball coach at Concordia, and asked if his former coach could put in a good word. Olson doesn't believe Schmidt ever provided a recommendation. That's because Schmidt thought enough of the wet-behind-the-ears Olson to make him an offer. How would you like to take over the women's program at Concordia? Olson had never before coached women. "It was really right place, right time," Drew says. "I jumped at the chance to come back here and have a full-time job. I'm very thankful to Coach Schmidt for that."
Olson's first team at Concordia was not bad. It went 19-13 overall, but he felt like he needed to be better as a coach. The following two years, the Bulldogs went a combined 54-16 with back-to-back appearances in the national quarterfinals. Both the 2007-08 and 2008-09 squads featured superstar guard Whitney Stichka (more on her later). Things were going well, but Olson dealt with his first and only losing season in 2010-11. Concordia dipped to 15-17 overall and their GPAC mark was an unsightly 6-12. These struggles came soon after the university christened a brand new arena inside the state-of-the-art Walz Human Performance Complex. How would Coach Olson respond? Was this the end of the program's run as a national player?
Not a chance. Holdovers in junior Katie Rich and sophomore Kristen Conahan were on the verge of breaking out. Then were was the addition of impact transfer Amber Kistler and the incoming of a group of freshman that would eventually give the holy grail 2004-05 class a run for its money. It all came together to wipe away the memory of Olson's most trying season as a coach. "That was an awesome year, awesome team," Olson said. "We had some things go our way. Kristen Conahan wasn't heavily recruited so we snuck in late and got her and she turned into an All-American. Amber Kistler was a junior college kid where a lot of her teammates were going Division I. In a sense, she settled for us. I drove all the way out (to western Nebraska) to have lunch with her and all the way back. It was a bout a 10-hour trip for 30 minutes of talking. It paid off. We had some growing pains from the previous year about buying into the system and being good teammates."
Conahan (14.7) and Kistler (14.2) were the primary scorers for a team that sat at 13-2 overall after a loss at Northwestern on Jan. 4. The Bulldogs then proceeded on a run that made them appear unstoppable. They won 21-consecutive games, captured GPAC regular-season and tournament titles and vaulted to No. 2 in the national poll. Off the bench, Olson unleashed freshman Bailey Morris. She averaged 8.5 points as a rookie and looked like she might become a star one day. The likes of Conahan, Kistler, Morris and Rich drove Concordia back to the national semifinals where it fell, 74-70, to College of the Ozarks.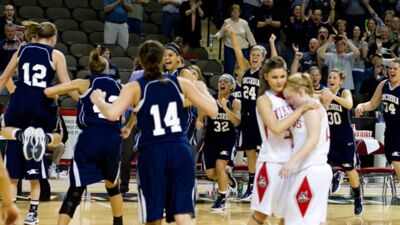 Role player no more, Morris was the ringleader behind back-to-back 25 win seasons in 2012-13 and 2013-14 (the latter saw Concordia share the GPAC regular-season championship with three other teams). Morris found her way to Seward along with Kelsey Hizer, Jericca Pearson and Tracy Peitz. They entered their senior campaigns with a sparkling combined three-year record of 84-18. But their national tournament shortcomings fueled them. They suffered first-round exits in both 2013 and 2014.
The 2014-15 Bulldogs were something else. Not just talented, they were experienced and seasoned and led by the nation's best player in Morris. Olson might even go as far to dispute Parker's claim that the 2004-05 seniors were the best class of recruits in school history. Ten years later, Concordia was ready to make noise like never before. "He had a very good class," Olson said of Parker. "But I'll take mine with Bailey Morris, Tracy, Kelsey and Jericca. We'll let the numbers speak for themselves."
The 2014-15 season produced memorable Concordia-Morningside battles. The Mustangs were ranked No. 1 all season. They topped the Bulldogs in both meetings during the regular season, but a confident Concordia team went to Sioux City on March 3 and took down its nemesis in the GPAC tournament championship game. All year long, the two teams seemed destined for a collision course in the national title tilt. That's exactly what happened when the Bulldogs won each of their first four national tournament games, all by double digits, to set up another date with Jamie Sale's Mustangs. "We had a good crowd, but it was basically playing in front of a Morningside crowd," Olson recalls. "You're on the road for a national championship game. That atmosphere was really cool."
Concordia owned a lead into the final minute of the national championship, but another opportunity to claim the ultimate team prize slipped through its fingers. Once again, a Bulldog team capable of hanging the banner had come up excruciatingly short of the only thing missing from Olson's résumé. But with 10 years as head coach under his belt entering 2016-17, Olson has proven himself. A decade ago, Olson felt bad for the mistakes he felt he made in his first season. "I couldn't really sell myself because I had no credentials," he said of his early years. "I was selling the success of the previous coaches. They had done so well. It was just about selling kids on, 'That's where we're going again.' Thankfully, players like Katie Rich bought into the program."
Olson began 2016-17 with a career record of 248-88. He's the school's all-time wins leader. Beyond that, he's been a pillar for what Concordia stands for and has displayed intense loyalty towards his alma mater.
Star power
If you didn't know her already, you knew her after the 2013-14 season. On Feb. 15, 2014, almost exactly 11 years after The Game, The Bailey Morris Game happened. A junior at the time, the 5-foot-4 Morris never scored more than 19 points in any prep contest while starring at Silver Lake and Sandy Creek high schools. Under Olson's tutelage, the shackles came loose and Morris set about tearing opponents apart.
That's precisely what she did that mid-February day when No. 7 Concordia hosted third-ranked Northwestern in a matchup billed as the NAIA Division II game of the week. By halftime, Morris had piled up 28 points. With 20 minutes to play, Morris was only nine points away from the program's single-game scoring record held by Amber Kistler. The dynamic Bulldog guard went 12-for-26 from the floor and 17-for-18 from the free throw line while shattering the record in a legendary performance. Her final tally: FORTY-FIVE points. Concordia won, 89-78. Said Morris after the game, "I was pretty happy with my performance. My shots were falling. Their type of defense is one that we can attack a lot. We had a lot of people step up."
A native of Clay Center, Neb., Morris grew up rooting for rival Hastings. She didn't much care for the outcome of The Game as a child who admired many of the Broncos' star players. Joked Morris, "Looking back, I'm like, 'Wow, I hated Concordia. I can't believe I ended up here.'" By career's end, Morris' tone had been forever changed. She wrote, "I'll graduate and move on with my life, but the pride of being a Concordia Bulldog will be with me wherever I go."
For a program that has had many mega stars during the GPAC era, Morris has been the brightest, most high profile, most compelling and most entertaining. At times it appeared that Morris had the basketball on a string. She remains the only player in program history to earn national player of the year honors and she concluded her career as the school's all-time scoring leader (2,054) while ranking second in steals (394) and fourth in assists (502).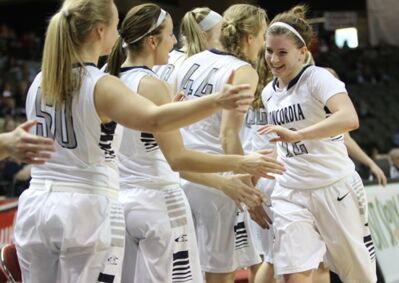 The rise of Concordia women's basketball has been spurred by standouts such as Morris. In recent years, Kari Saving (2013), the 2002-03 team (2014), Sarah Harrison (2015) and Whitney Stichka (2016) have all gotten the call to enter the Concordia Athletic Hall of Fame. Harrison, Morris, Saving and Stichka happen to be the top-four scorers in the history of the program. All four were All-Americans and each of them steered their respective teams to national tournament glory.
Morris had the 45-point game. Harrison had the game winner in The Game. Stichka also had her own signature moment on the hardwood. Sometimes embarrassed by her own success, Stichka never backed away in crunch time. At the 2009 national tournament, Concordia trailed, 73-72, with :8.1 seconds remaining in a second-round game. Then a fifth-year senior, Stichka proceeded to go the length of the floor before sinking a highly contested driving layup to lift the Bulldogs to a dramatic win over Cornerstone (Mich.). The play-by-play announcer beamed, "You knew she was going to take it, and Cornerstone couldn't stop it." Said Stichka, "I remember that I didn't want it to be my last game. I just didn't want to be done. I loved to play basketball. I had that motivation. We were down by one and I knew I needed to score in the few seconds we had."
The 2002-03 team was blessed to have three stars in particular in Harrison, Savings and Rhoden. Harrison and Saving were Nos. 1 and 2 on the program's all-time scoring list until Morris came along. Meanwhile, Rhoden checks in at No. 11 on the scoring list. Five players on that 02-03 squad wound up with more than 1,000 career points.
Prior to the GPAC era, Stephanie Schilke shined for Lemke's national tournament teams in 1997 and 1998. She amassed 1,736 points and 1,204 rebounds in her career. A few years earlier, Lynda Beck (one of two players in school history with more than 1,000 points and 1,000 rebounds) broke new ground by leading Concordia to its first national tournament appearance. During the Olson era, Morris has been one of many stars. If not for an ACL tear during her senior year, Kristen Conahan would likely rest at No. 2 on the school's scoring list. Tracy Peitz also appears on lists for scoring, rebounding, steals and assists.
The names of Bulldog greats rattle on. If you ask the coaches, it's difficult to get them to single out just a select few players. Says Olson, "I'll think of a lot of them (when I look back years from now). It's not just the star players. Obviously Bailey will come to mind and Connie (Conahan) and Tracy, but there are so many others. I think of Katie Rich as a catalyst for getting the program back to an elite level, as far as the kids I brought in. Whitney was here and Tink (Melissa Tinkham) was here. They gave me credibility in their success. Getting Katie Rich sustained us at that level and then we were able to bring in a whole bunch of others.
"There have just been so many that are so fun to coach and have great personalities."
Special season in the making
It takes a special team to race out to an 11-0 GPAC record in the most unforgiving conference in NAIA Division II. The 2016-17 team has done just that. To this point, Olson's 11th Concordia team is 18-1 overall and is running roughshod through the league. It's not supposed to look this easy.
Says Olson, "It's a really special group. You can't get ahead of yourself because they haven't accomplished the things that the great teams have. I'm confident in saying this is one of the best defensive teams I've ever seen. The 2011-12 team was really good defensively and probably had better athletes. But this new style that we're playing feeds into this group's talent and athleticism. This is a very good group."
Years from now, Bulldog fans will invoke the memories of current players like juniors Dani Andersen and Mary Janovich, sophomore Quinn Wragge and freshman Philly Lammers. The ingredients are there.
In some ways, the 2016-17 edition is a product of what's come before. Twenty years ago, the program had just one national tournament appearance to its credit. Through the hard work of many, Concordia women's basketball is feared by many. A monster lurks at 800 North Columbia Avenue.