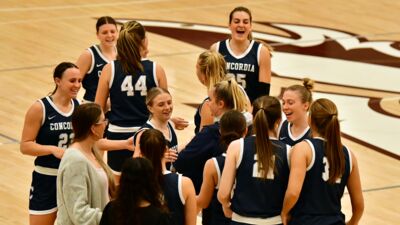 SIOUX CITY, Iowa – A little road grit combined with some zone-busting 3-point shooting paved the way for the most significant win so far this season for the Concordia University Women's Basketball team. The Bulldogs got tougher on the boards while upsetting No. 25 Morningside, 71-64, in Sioux City, Iowa, on Wednesday (Nov. 30). The outcome marked the first Bulldog win at Allee Gym since the 2019-20 season.
Head Coach Drew Olson's squad effectively shook off the rust from Thanksgiving break and claimed its first road win of the season. Concordia stands at 4-3 overall (2-3 GPAC).
"It was a really big win for us, just really proud of our team," Olson said. "We responded well. We responded from our last game and also tonight. I felt like defensively we were great throughout. In that third quarter they came back from our eight-point lead to tie it on us. Our team showed a lot of toughness and character."
The latest Concordia-Morningside clash came with remarkably few turnovers considering the way both teams normally like to go up-tempo. The Bulldogs showed enough patience to rotate the ball enough to find the open perimeter shooters. Concordia drained nine first-half 3-point field goals and went to the half leading 34-26 after Sadie Powell curled in three points from the left corner.
The Bulldogs will be a tough team to beat anytime Powell showcases this type of offensive game. The Cedar Rapids, Iowa, native went 6-for-8 from the floor, including 3-for-3 from 3-point range, on her way to a game high 18 points. Powell came through with a key bucket in the fourth quarter to push the advantage to 63-55 with just over three minutes remaining. Every time the Mustangs threatened to seize momentum, Concordia responded. The only element that left the door open just a bit for Morningside was the Bulldogs' 13-for-21 foul shooting.
In the backcourt, Kendal Brigham and Taysha Rushton were rock solid. Brigham notched 16 points (3-for-5 from 3-point range) and committed only one turnover in 23 minutes. Meanwhile, the sharpshooting Texan knocked in two triples at the close of the third quarter and finished with 15 points and five assists. Off the bench, Megan Belt rained in three long balls on five attempts. As a team, Concordia went 12-for-26 from long range.
The rebounding was much improved as compared to last week's effort in the loss to Jamestown. The Bulldogs held a slight rebound edge over Morningside, 36-34, while turnovers were mostly even. Abby Heemstra pulled in seven boards to top Concordia while Abby Krieser recorded six. Krieser and Mackenzie Toomey are always catalysts for the Bulldog press and defensive tenacity.
Said Olson, "I felt like our team was really focused and locked in defensively. We just played really hard and I thought did a really good job of mixing things up at times. I think that caused them to get a little off rhythm … I think the break was good for us to regroup. When we came back, we worked really hard. We had some tough practices. Our players handled it well and they were ready for tonight."
Reigning GPAC Player of the Week Chloe Lofstrom paced the Mustangs (3-4, 1-3 GPAC) with 14 points. Fellow standout Sophia Peppers contributed 10 points and seven assists. All three Morningside GPAC losses have come at home.
The Bulldogs will return to Friedrich Arena to host No. 16 Northwestern (9-0, 4-0 GPAC) at 2 p.m. CT on Saturday. The Red Raiders jumped from 25th to 16th in this week's NAIA coaches' poll thanks to their hot start. Concordia and Northwestern split last season's two regular season meetings with the home team winning in both instances.