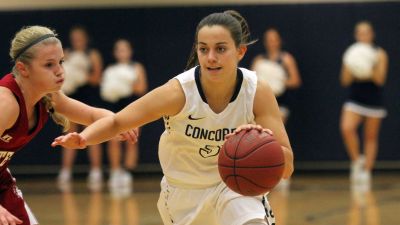 SEWARD, Neb. – The second-ranked Concordia University women's basketball team will end a stretch of more than a week off when it takes the floor at the Shannon Center on Thursday for the Saint Xavier University Classic in Chicago, Ill. During their stay in the Windy City, the undefeated Bulldogs will take on two members of the Chicagoland Collegiate Athletic Conference, Robert Morris University (Thursday) and host and top-ranked Saint Xavier University (Friday).
Saint Xavier Holiday Classic
Thursday, Dec. 28 vs. Robert Morris (5-8), 3 p.m. CT
Friday, Dec. 29 at No. 1 Saint Xavier (11-1), 12 p.m. CT
Both of this week's games can be viewed live online via Saint Xavier's Stretch Internet portal. The same site will also disseminate live statistics.
Twelfth-year head coach Drew Olson will advise his team not to overlook Thursday's matchup, which precedes another road battle with a top-10 opponent. Concordia (13-0) entered the Christmas week having played the most difficult schedule of any NAIA women's basketball program, according to Massey Ratings. As part of the team's most recent road trip, Dani Hoppes and Quinn Wragge totaled 22 points apiece in an instant classic 103-101 overtime victory at No. 2 College of the Ozarks on Dec. 19. Olson's squad has slayed seven teams currently ranked nationally, including five away from home.
Two Bulldogs are approaching milestones that are likely to be reached after New Year's. Earlier this season, Wragge (currently at 1,076 points) eclipsed 1,000 career points. Teammate Mary Janovich (950 points) should be next to join the program's 1,000-point club. Meanwhile, Olson needs five more victories to become the second basketball coach in school history to reach 300 in a career. The only other is Grant Schmidt (443 wins in 23 years as men's coach), who coached Olson from 2000-03. Janovich, who averages 8.6 points, ranks fifth on the team in scoring behind Wragge (14.8), Philly Lammers (12.6), Taylor Cockerill (12.5) and Hoppes (10.5).
Janelle Hughes is in her second season as head coach at Robert Morris, a program that last reached the national tournament in 2015. The Eagles feature 6-foot senior forward Jannah Mahmoud, who averages 15.3 points and 11.8 rebounds per game. Mahmoud and Robert Morris outrebound their opponents on average, 49.2 to 41.8, for a more frontcourt-oriented squad. The Eagles shoot only 25.8 percent from 3-point range. They average 66.6 points and allow 74.4 points to their opponents.
The Cougars took over the No. 1 spot in the national poll on Nov. 28 and have held it ever since. Head coach Bob Hallberg's squad jetted out to a 10-0 start before an 84-77 neutral court loss to NAIA Division I fifth-ranked Wayland Baptist University (Texas) on Dec. 19. The next day, Saint Xavier rebounded with a 55-52 victory over NAIA DI No. 21 Carroll College (Mont.). The Cougars also own a win over then 10th-ranked Morningside. The headlining performer for Saint Xavier is star guard Kara Krolicki, who earned NAIA Division II National Player of the Year accolades last season. She dropped 26 points in the Cougars' 91-83 win over Concordia in the 2017 national semifinals.
The Bulldogs will return to conference play after finishing up action at the Saint Xavier Classic. Concordia will play at Doane (5-9, 1-7 GPAC) on Jan. 3.
Projected lineups
Concordia (13-0)
G – MacKenzie Helman: 5.0 ppg, 3.6 apg, 2.6 rpg, 1.6 spg, .451 fg%, .447 3-pt fg%
G – Dani Hoppes: 10.5 ppg, 1.6 spg, 1.5 rpg, 1.5 apg, .420 fg%, .423 3-pt fg%
G – Mary Janovich: 8.6 ppg, 3.3 apg, 2.0 rpg, 1.7 spg, .523 fg%, .428 3-pt fg%
F – Quinn Wragge: 14.8 ppg, 5.0 rpg, 2.1 apg, 2.1 spg, .624 fg%, .833 ft%
F – Philly Lammers: 12.6 ppg, 8.5 rpg, 2.5 spg, 1.7 bpg, .466 fg%, .709 ft%
Robert Morris (5-8)
G – Alondra Chavarria: 4.5 ppg, 3.8 rpg, 1.7 apg, .297 fg%, .538 ft%
G – Shamara Glover: 8.3 ppg, 1.8 rpg, 1.3 apg, .376 fg%, .655 ft%
F – Champale Grays: 10.0 ppg, 7.0 rpg, 2.8 spg, 1.0 bpg, .381 fg%
F – Jannah Mahmoud: 15.3 ppg, 11.8 rpg, 2.8 bpg, 0.9 spg, .452 fg%, .633 ft%
F – Linsey Masnari: 7.6 ppg, 5.2 rpg, 1.2 apg, .343 fg%, .793 ft%
Saint Xavier (11-1)
G – Chanel Fanter: 13.6 ppg, 6.1 rpg, 3.7 apg, 1.8 bpg, .481 fg%, .366 3-pt fg%
G – Kara Krolicki: 21.3 ppg, 5.4 rpg, 5.1 apg, 2.6 spg, .490 fg%, .456 3-pt fg%, .842 ft%
G – Maddie Welter: 11.9 ppg, 3.3 rpg, 2.0 apg, 1.3 spg, .416 fg%, .375 3-pt fg%
F – Janie McCloughan: 3.4 ppg, 2.4 rpg, 0.8 spg, .400 fg%
C – Brittany Collins: 13.9 ppg, 12.3 rpg, 3.8 bpg, 1.4 spg, .528 fg%, .700 ft%