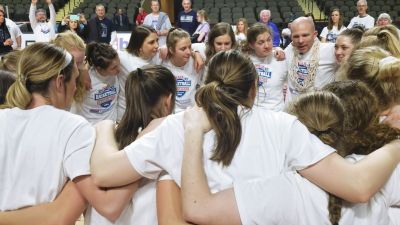 As a competitor, it ate at Drew Olson. His program had earned a sparkling national reputation. There was just one thing missing. The Concordia women's basketball program had never accomplished the ultimate goal. It had never cut down that final net.
By now you've heard the news. Olson's Bulldogs were crowned NAIA Division II women's basketball national champions on March 12, 2019. After years of coming up just short of a title, the celebration was on.
So what exactly has changed a few short months later in the aftermath of those hugs and tears of joy? Said Olson, "I don't think it changes a whole lot." Even had the outcome been different in that 67-59 national title game triumph over Southeastern (Fla.), Olson and his program would not have flinched. Bulldog women's basketball serves a greater purpose than what you see for 40 minutes of fast-paced action on hardwood flooring.
"We have a banner that we're going to be able to hang up that will last forever," Olson told the crowd that gathered inside Walz Arena a day after the national championship game. "It will be something special that our players will get to look at during practice next year and when they come back here many years from now. They get to say, 'We accomplished that.' There's a song that kept ringing in my head throughout the day. It says, 'I don't want to leave a legacy. I don't care if they remember me. Only Jesus.' It's through Him that we were able to accomplish this. It's through Him that we have all of these gifts."
It's one thing to say such words. It's another thing to live them out on a daily basis. That is exactly what Olson and his program are built upon. The foundation is rock solid – and the evidence goes beyond a national championship banner or trophy. The 2019 national championship team is one of Christ followers who excel on the court (obviously) and academically. The Bulldogs led all NAIA women's basketball programs for number of Scholar-Athletes this past academic year.
For the team's only senior, Quinn Wragge, that final game was going to be an emotional one – win or lose. When the final buzzer sounded and the confetti engulfed the scene at the Tyson Events Center, Wragge was swept up in one big group hug of teary-eyed teammates. It was a moment Wragge probably never wanted to see come to an end. Concordia and this program will be with her forever.
"When I met the team and Coach Olson, I came away feeling like they all really cared about each other," Wragge said in an interview just before the national semifinals this past March. "That was the main thing I picked up on. I came here and that has rang true throughout my whole time at Concordia. Everything is a lot bigger than basketball. It's been everything that I wanted. Then from a campus perspective, it's been awesome. I love Concordia and every part of it. I've loved meeting the people and making those relationships. I knew that God was telling me I needed to go here. I'm here for a reason."
Wragge will go down as a beloved Bulldog who represented what the program is about. Others have taken notice of the manner in which Wragge and company conduct themselves. The word often uttered by opposing coaches to describe Concordia women's basketball is "class" or "classy."
Said Southeastern head coach Tim Hays, "We know how good of a team they are … It's a great program, a classy program." In a congratulatory tweet, Midland head coach Shawn Gilbert wrote, "Truly a great season by a class act program. So happy for you all!"
That reputation precedes members of the team throughout the Seward community and beyond. In a moment that exemplified their character, the players took the time to clean up the locker room immediately after celebrating a national title. Furthermore, they are active in the community and are viewed as rock stars by aspiring young girls in Seward. On more than one occasion in recent months, several players attended birthday parties for Seward area youth girls.
One woman in the community felt compelled to tweet the following message: "This team walked the walk and talked the talk. The true definition of role models. These players are heroes in the eyes of the 10-year-old girls that cheer them on. Can't wait for the future of @CUNEwbb."
The ways in which the community gravitated toward the team became obvious. The local library invited the team to speak, Mayor Josh Eickmeier presented it a proclamation at a city council meeting and the game day crowds grew as the season wore on. In her final home game (a GPAC tournament title win), Wragge cut down the net of the west hoop while chants of "Quinn! Quinn! Quinn!" rang out.
Stars like Wragge found the spotlight without ever seeking it. That type of approach fostered an environment that would allow a team of stars to thrive. A program that already had All-Americans in Philly Lammers and Wragge acquired the final piece to the puzzle when point guard Grace Barry transferred in via the University of Nebraska-Kearney. Barry found the atmosphere to be everything she hoped for. Concordia would not have won a national championship without her. When Barry was announced as the MVP of the national championship tournament, her teammates went wild with glee.
In reflection upon winning the national title, Barry wrote, "I am so thankful and blessed to be able to play with such a hardworking and enthusiastic group of women, who are servant minded. This team is unique in a number of different aspects, but in particularly this team's ability to come together and develop lifelong relationships is what truly separates this team. The love and fellowship between the individuals of this team is what I believe influenced our success at the national tournament."
The team made a point of spreading such love and fellowship to fans, students and alumni of the Bulldogs. This was a title to be shared with everyone. Olson had several teams in the past he knew were capable of hoisting the glitzy NAIA trophy. In some ways, it hurt that the greats of yesteryear never felt the same euphoria. Olson made sure they were not forgotten.
As Olson told the Lincoln Journal Star, "I feel like a huge reason why we were able to win this season was because of some of the things that we learned along the way. Past teams and past players have raised the bar of our program to now expecting to be in the final four, expecting to do really well. We wouldn't be in this position if it wasn't for them.
"Maybe they didn't feel the same accomplishment at the time that this team did, but this championship is as much theirs as it is ours."
It's these types of words and actions that made it easy for alums to latch onto this team. Several alums made social media posts including photos of themselves sporting Concordia gear as they prepared to watch the national championship game on ESPN3 – or showed off their Bulldog pride the following day at work.
There are little girls who want to be the next Quinn, the next Grace, the next Philly or the next Taylor Cockerill. Maybe they never expected to be looked at as heroes or role models, but that's the type of impact they have had.
A freshman on the 2018-19 squad with big potential, Mackenzie Koepke wrote, "I think this team is so special because of how much the community of Seward supports us and shows us so much love. We have the best fans in the GPAC and without a question the best fans in the nation. Families in Seward invite us over for lunch or dinner and we are so thankful, and we feel so loved when we get these opportunities. I can't explain how much the community means to us and how much their support actually helps us."
Yes, winning a national championship was a ton of fun. It would have been heartbreaking had the Bulldogs come up short again. But some things are bigger than basketball, as Wragge put it. According to Koepke, Wragge "reflected Christ in anything she did." Is so many ways, this was a true championship team – and not just because the scoreboard said so.
The banner that now hangs from the Walz walls will not change the model for this program, and Olson remains grounded. On the drive back from Sioux City, athletic trainer Randy Baack reminded Olson that he had bowling class to teach the next day. Not only that, some still misspell his name as "Olsen." The 13-year head coach simply smiles and shrugs it off. He's not one to make it about himself anyway.
Says Olson, "Just seeing the fun and the joy that they had accomplishing that together is another thing that I'll never forget."
Did Wragge mention she loves Concordia? Said Wragge in a postgame interview this past season, "I love this team. I love all of the players I got to play with over the past four years. I just really love Concordia basketball."