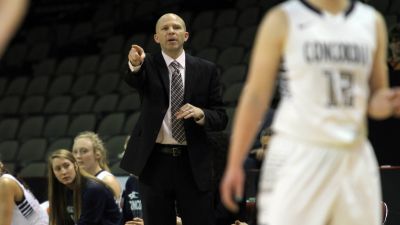 Head coach Drew Olson believes his 2016-17 squad's nonconference schedule is as challenging as any he's gone up against in his previous 10 years leading the women's basketball program. Concordia couldn't have picked a much more appetizing season-opening matchup. On Friday the 2016-17 Bulldogs debut versus No. 1 Marian University (Ind.), the defending NAIA Division II national champion.
Both teams bring back a wealth of players from 2016 national tournament qualifiers. The Bulldogs possess 11 varsity returners while the Knights welcome back eight players from the squad that cut down the nets in March. Foremost among the Marian holdovers is senior guard Jessica Almeida, who garnered NAIA honorable mention All-America honors last season.
Almeida was placed on the Crossroads League's preseason all-conference first team. Two others represented Marian with Crossroads preseason recognition: junior guard Joana Soeiro (second team) and senior guard Jenna Sullivan. The big name missing from this year's roster is Lakan Hasser-Smith, a first team All-American as a senior in 2015-16. Even without Hasser-Smith, fourth-year head coach Katie Gearlds' squad has an incredibly talented backcourt.
"This team is hungry," Gearlds said in a season preview on muknights.com. "Last year was fun, but it was last year. It's as simple as that. Now we're on a new mission and we've got new goals."
Olson will counter with a well-rounded team headlined by returners in sophomore Quinn Wragge (14.8 ppg, 6.6 rpg) and junior Mary Janovich (10.4 ppg, 2.0 spg). In addition, 5-foot-6 transfer Dani Andersen and 5-foot-11 freshman Philomena Lammers will make their highly-anticipated debuts. The Bulldogs expect more of themselves this season thanks to more experience, more depth and more size.
The last time Concordia defeated a team ranked No. 1 occurred on March 3, 2014, when it went to Morningside and knocked off the Mustangs, 80-72, in the GPAC tournament championship game. The Bulldogs defeated 13 ranked opponents during their 2014-15 national runner up season. They also beat five top 25 foes last season.
Olson's bunch garnered a No. 14 national ranking in the preseason coaches' poll released on Tuesday. Concordia has been ranked in 67-straight national polls dating back to the 2011-12 preseason rating.
Friday's game versus Marian will take place on the Johnson & Wales University (Colo.) campus. It will tip off at 1 p.m. CT. Concordia will also take on the host at 6 p.m. CT on Saturday.