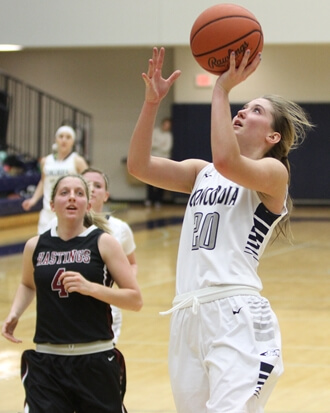 Big second half lifts #22 Concordia to 86-70 win over William Penn
Concordia University used a big second half to pull away for an 86-70 women's basketball win over William Penn in the opening night of the Cattle Classic Tournament. All 10 of Concordia's players scored in the victory that moved the Bulldogs to 4-0 on the young season. William Penn remained winless at 0-5.
In the first half, Concordia jumped out to a quick 10-2 lead, forcing a quick timeout by the Statesmen. However, cold shooting hurt the Bulldogs as the half went on, and William Penn managed to hang in the game. Concordia held a slim 31-28 lead at halftime despite hitting just 11-of-37 shots overall (29.7 percent) and 2-of-19 3-point attempts (10.5 percent). William Penn shot it well in the first half (11-of-18 for 61.1 percent), but the Bulldog defense forced several turnovers in the half.
"Even when we struggled offensively in the first half, our defense was still good," remarked Bulldog head coach Drew Olson. "We weren't hitting our shots early, but our defense kept us going through the cold spell."
Things changed dramatically in the second half for the Bulldogs offensively. Concordia connected on 21-of-37 shots overall for 56.8 percent. The Bulldogs were also 4-of-9 (44.4 percent) from deep in the final 20 minutes. The Concordia depth also proved to be too much for the Statesmen to handle, and multiple scoring runs by the Bulldog reserves proved to be a key in the Concordia win.
"We really settled down in the second half," said Bulldog guard Amber Kistler. "We played tough defense all night, and we're blessed to have a deep and talented bench. With that depth, we're able to play hard and play with great tempo throughout the game."
Kistler (Minatare, Neb.) paced the Bulldogs with a game-high 18 points on the night. The senior was 7-of-14 from the field overall. Kistler also added eight rebounds and five assists, something that Olson noticed just as much as her points.
"Amber scored well for us tonight, but her effort is what stands out to me," noted Olson. "There are nights when Amber is going to put up points for us, but she's always willing and able to do the little things that don't always show up in the box score. Our team feeds off of her energy, and it also helped that she hit a few 3-pointers tonight to get her going."
Kristen Conahan (Omaha, Neb.) and Britney Birtell (Madison, Neb.) also reached double figures with 10 points apiece. Lori Laboda (Parker, Colo.) added nine, while a total of four other Bulldogs scored seven points each in the victory. Concordia totaled 19 assists and 17 steals in the win. The Bulldogs also forced 32 William Penn turnovers, marking the third straight game a Concordia opponent has finished with 30+ turnovers.
A total of four players reached double figures for William Penn. Jessi Kreuser and Sam Abens each scored 11, while Orielle Thomas and Janay Pritchett chipped in with 10 apiece for the Statesmen.
Earlier in the evening, Doane College picked up an easy 82-57 win over Bethel College. The Tigers led 48-21 at half and were led by Cheryl Braithwait's 13 points. Brittany Luettel and Morgan Dubas added 11 points apiece, while Hannah Dostal poured in 10 off the bench for Doane.
Jess Muckenthaler scored a game-high 17 for Bethel in the loss. Chelsea Harris scored 15 to go along with eight rebounds, and Payton Walker added 11 for the Threshers.
The Cattle Classic Tournament will conclude on Saturday with games scheduled for 2 and 4 at the Walz Human Performance Complex. Doane and William Penn will square off at 2, with Concordia and Bethel in action at 4.