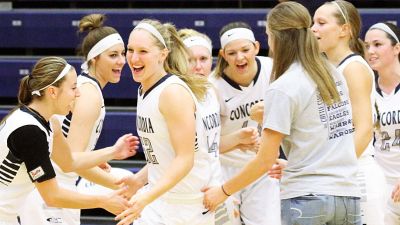 ORANGE CITY, Iowa – Any win in Orange City, Iowa, is a good one for the Concordia University women's basketball program. On Wednesday night the Bulldogs went into what's typically been a house of horrors and emerged with an 88-81 victory over host Northwestern, which had entered the week undefeated.
Eleventh-year head coach Drew Olson's Bulldogs have now won two of their last three trips to Orange City. It's a place where the program is just 3-12 since the GPAC formed in 2000. Concordia is now 4-1 overall after its conference-opening victory.
"They are a very good team and great at home," Olson said. "It's really tough to win here. It's been very few times that we've won here. I'm so proud of our group with how hard we played. They kept battling and our kids kept stepping up and making plays on both ends to find a way to win."
Using their patented pressure defense, the Bulldogs gave the Red Raiders (4-1, 0-1 GPAC) fits, turning them over 16 times in the first half that ended with Concordia leading, 48-37. But Northwestern rallied behind star sophomore Kassidy De Jong and Paige Danner. The duo combined for 47 points as part of a two-person wrecking crew.
De Jong's third 3-point field goal with :25.1 remaining got Northwestern within three (84-81). Concordia all beat sealed it up when Shelby Quinn followed by making a pair of free throws and Haley Birks' 3-point attempt on the other end misfired and caromed out of bounds.
Concordia countered De Jong and Danner with not just one or two contributors, but with many. All five starters scored in double figures, including GPAC-ready freshman Philly Lammers, who posted a line of 16 points, seven rebounds and six steals. When Northwestern charged back within three (68-65) early in the fourth quarter, Concordia promptly bumped the lead back up to nine with buckets by Quinn Wragge, Mary Janovich and Lammers in continuing an early-season theme of balanced scoring.
Olson's squad passed a big early-season test in which it rolled with the punches thrown at it by Northwestern, a program that appears poised to return to the national tournament.
"Our kids have really bought into what we're doing with our zone and our press," Olson said. "We've got kids that really do a great job controlling the ball and forcing the opponent into bad situations. Then we have others that do a great job of reading and rotating. It's a group that has really figured things out with this kind of defense."
Janovich and Quinn paced the team with 17 points apiece while matching Lammers' 16. Dani Andersen added 14 points (4-for-6 3-point shooting) and Wragge chipped in 12 points and seven rebounds. Off the bench, Devin Edwards made 5-of-6 free throw attempts and totaled seven points.
It was an offensive clinic in the first quarter as Concordia put up 28 points on 10-for-19 shooting from the field. Janovich was especially hot early. She had 11 points and drilled a trio of triples over the game's first 10 minutes. Northwestern was sloppy during that stretch and committed 16 of its 23 turnovers in the first half.
Northwestern, picked fifth in the GPAC preseason poll, has been a perennial league power that has missed out on the national tournament two years in a row. That could change this season. The Red Raiders already own a win over No. 12 University of Jamestown (N.D.).
The Bulldogs will be idle now until next Wednesday (Nov. 16) when they hit the road for conference action at Midland (4-0). Tipoff is set for 6 p.m. CT. Concordia has been dominant in the series, winning 16-straight meetings with the Warriors.