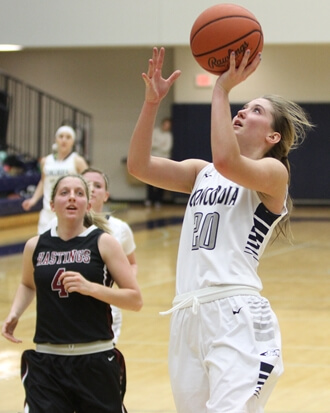 Backcourt stars fuel win at No. 5 Hastings
HASTINGS, Neb. – This was the GPAC player of the year version of Bailey Morris. Coming off a 2-for-16 shooting effort in Saturday's win over Briar Cliff, the Bulldog point guard regained her shooting touch to lead the ninth-ranked Concordia University women's basketball team to a 68-65 victory over host and fifth-ranked Hastings inside Lynn Farrell Arena on Tuesday night. In doing so, Morris and company stayed unbeaten (4-0) on the road by claiming their third away win over a top-20 foe.
Ninth-year head coach Drew Olson's squad is now 8-1 overall and 3-1 in GPAC play.
"I thought we executed really well. We made the plays when we needed them," Olson said. "Hastings is a good team. We really had to work to score. A lot of that came from Bailey. Then we buckled down defensively. I thought Kelsey (Hizer) was amazing on (Jamie) Van Kirk. It was more of a defensive effort for us."
The Bulldogs built a lead as large as 10 points in the first half, but not surprisingly, Hastings (4-4, 2-3 GPAC) fought back to make it a tense second half. The Broncos got within one possession on several occasions, but Concordia responded down the stretch with efforts like Mary Janovich's trey and Morris' three-point play.
Then with 40 seconds remaining and Concordia clinging to a one-point lead, Morris made the game's biggest play by stealing a Bronco inbounds and then calmly sinking a pair of free throws. An errant Hastings pass on the ensuing possession led to two more Morris free throws that made it 68-63 with 24 seconds left, providing all the scoring the Bulldogs needed.
Concordia's star guard finished with a game high 31 points while draining all 13 free throw attempts and 4 of 6 shots from beyond the arc. Tuesday marked Morris' fourth-career game with 30 or more points and the 25th time she has surpassed 20 points as a Bulldog.
"She played awesome," Olson said of his senior floor general. "She had a layup early and then got going by knocking down some threes. She had the confidence that she could go score whenever we needed it. I thought she did a great job with her decision making, knowing when to attack or pull back. She had an overall great game."
Janovich also put forth one of the best performances of her young career. She went on her own 5-0 run late in the game that pushed a one-point lead to a six-point advantage. The Gretna, Neb., native recorded 15 points, four rebounds and three steals in 30 minutes of action. Said Olson, "It was a good breakout game for her. She had an aggressive mindset that she was going to score."
Defensively, Concordia managed to limit star Hastings guard Jamie Van Kirk to 14 points – roughly 10 below her season average entering the night. As a team, the Broncos (4-4, 2-3 GPAC) shot only 36.2 percent on the way to falling for the third time in conference action.
"They fought hard," Olson said. "It felt like they gave us everything they had. They played well and they were physical. I don't know if we played our best, but I feel like our 'A' game will usually win."
Olson's squad also owns road wins over No. 7 University of Jamestown and No. 17 Mayville State University, in addition to a home victory over No. 6 Saint Xavier University. The team's only blemish was a 78-70 home loss versus No. 2 Morningside on Nov. 15.
The Bulldogs take the Thanksgiving weekend off prior to returning to action to host Doane (5-4, 4-1 GPAC) at 6 p.m. on Wednesday, Dec. 3. Concordia has won each of the last six meetings with the rival Tigers, who have triumphed in three-consecutive GPAC games behind standout Hannah Dostal.