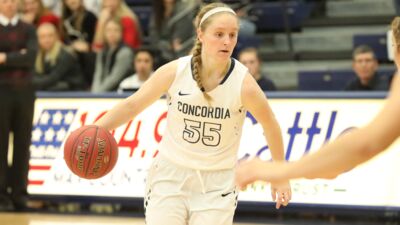 Honorary captain of the Omaha World-Herald's All-Nebraska team. Super-State selection by the Lincoln Journal Star. Point guard of the 2016 Class A state championship girls' basketball team. Those are some of the many accolades that followed Lincoln East High School graduate Grace Barry to the University of Nebraska-Kearney.
There's a reason why young girls held up signs displaying the words "Amazing Grace" as Barry made her run through the 2016 state tournament. It was one of the best memories of her life to date, but not because of the limelight that suddenly illuminated her game.
"It was a truly incredible experience," Barry said. "You talk about it throughout your childhood and say, 'I want to win a state championship someday.' When you finally reach that goal, yes, it's awesome but the reason it's awesome is because of all the work and the relationships that were built. We achieved something great because of what we put in it. I was able to do it with a great group of girls and have a lot of fun playing basketball."
In the midst of her first season as a catalyst for head coach Drew Olson's 2018-19 squad, Barry appears to be having plenty of fun as Concordia's new point guard. The Bulldogs have let Barry loose to do the things she did as a prep. She ended her high school career as Lincoln East's all-time leader in assists and steals. She's the current national leader in both of those categories, averaging 6.7 assists and 4.17 steals per game.
Fittingly, a Barry pass led to the game-winning basket in the state title game her senior year. Even at that time, she was described by the Lincoln Journal Star as someone with a "flair" to her game. Lincoln East coach Dennis Prichard commented that Barry "sees the floor better than any player I've ever had." Olson was similarly impressed.
"I loved her in high school with the type of player she was and her fierce competitiveness," Olson said. "What she did in the state finals was really, really impressive. We were very interested at that time. We had talked, but ultimately she was going to Kearney. Right about national tournament time (March 2018) their season was done and I was told she would be interested in coming here. I was immediately like, 'Yes, we would definitely be interested.' She's a phenomenal player."
Barry spent her first two collegiate seasons as a Loper. She came off the bench and played in 54 of a possible 56 games at the NCAA Division II level. She may have been in line for more playing time as a junior, but she wanted something different or a "better fit" as she put it. Whatever reservations Barry may have had about playing at Concordia out of high school have vanished.
With Barry leading the way, Lincoln East closed the deal and won it all. She will certainly do everything she can to make the same happen for the Bulldogs, who have been excruciatingly close in recent seasons. Her work in the summer, which included time spent getting to know her teammates, has paid dividends.
"It hasn't been too difficult honestly," Barry said of the transition. "I came into such a great program already and everyone was so welcoming. I lived here this summer, which was supper helpful. Coach and I were able to do workouts and Taylor Cockerill, Philly Lammers and Quinn Wragge were able to do workouts with me. Taylor and I spent the entire summer playing one-on-one and working out together. It's been a great experience because everyone is so welcoming and nice."
With All-Americans Lammers and Wragge returning, Concordia already figured to have one of the top frontcourts in the nation. The arrival of Barry has elevated the backcourt to elite status. The biggest question mark this 2018-19 squad faced was how it would replace guards Dani Hoppes and Mary Janovich, particularly defensively.
Barry is a different type of player, but exactly what this year's team needed. A stellar offensive player, Barry has been better than advertised defensively and is a major reason why the Bulldogs and their pesky zone press force an average of 35.1 turnovers per game.
"It's awesome. I absolutely love playing super intense defense," Barry said. "I love the offensive end and I love passing and scoring, but when you can get steals and layups all day – that is the most fun kind of basketball. I hadn't played full-court pressure since high school. It's been a little bit of an adjustment, but when you're able to bring that fire with your teammates and camaraderie around defensive intensity, it's just so much fun. That's probably my favorite part about our team."
In turn, Barry is quickly becoming a fan favorite. She's the closest thing the program has had to a Bailey Morris since Morris graduated in 2015. Barry's teammates must be on their toes at all times, especially in transition. It's not just for show when she drops a no-look or behind-the-back dime, it's part of her game.
When the time is right, Barry can get her own buckets. However, she proved in last week's 99-68 win over Mount Marty how thoroughly she can dominate a game without scoring. She had only six points on 3-for-5 shooting, but dished out a career high 13 assists and swiped seven steals.
Said Olson, "She controls the game now because of what she does defensively. That's a credit to her and her work ethic this summer. She had to change her game a little bit defensively. She's really worked hard at it and her hands are phenomenal. She's always been great offensively, but she's really added to the other parts of her game."
Though basketball was not necessarily a favored pastime within her family, Barry began hooping at an early age. Her competitiveness was fueled initially by one-on-one driveway battles with her older brother Andrew.
Also a four-year soccer player at Lincoln East, Amazing Grace is still that same competitor, but with a much more advanced game. She may be the missing ingredient in the program's continued quest for the ultimate prize, but her contributions will eventually leave an impression beyond basketball. Just listen to the way she gushes about her new surroundings.
Says Barry, "I absolutely love Concordia because of the welcoming nature of all the people, including the staff outside of basketball. Specifically in basketball, they brought me in like I was part of the family. When I talk to my parents, I tell them that this is my second family. They care about basketball and who you are as a person. The combination of those two is how you become the best basketball team you can be."