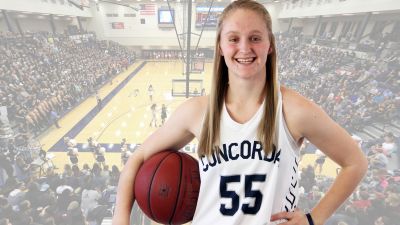 She's the first point guard to ever lead the Concordia University Women's Basketball program to a national title. She's also the first Concordia student-athlete to ever be named the NAIA's Academic All-America® Team Member of the Year by College Sports Information Directors of America (CoSIDA). That distinction goes to 'Amazing' Grace Barry, MVP of the 2019 NAIA Division II Women's Basketball National Championship Tournament.
CoSIDA announced Barry as the NAIA award winner on Monday (July 20). Previous Bulldogs have garnered CoSIDA Academic All-America® Team Member of the Year accolades within their respective sports, including Chandler Folkerts (2017), Samantha Liermann (2018 and 2019) and Josiah McAllister (2019). Barry went a step further by winning a vote amongst the 2019-20 Academic All-America® Team Members of the Year across all 12 CoSIDA All-America sport programs within the NAIA. This is just the second year that the award has existed for NAIA student-athletes.
Wrote Barry, "I am grateful and honored to receive this award because of what it stands for and knowing the numerous other tremendous student-athletes throughout the country that excel both in their respective sports and in the classroom. This award stands for not one or the other, athletic success or academic excellence, but a culmination of them both. It stands for the realization of one's desire to be the best one can possibly be in all facets of life. This award is also a testament to the incredible people who have guided and supported me throughout my collegiate athletic career and academic career."
Barry proved to be the missing ingredient in the recipe that enabled Concordia to cook up a national championship. She will long be remembered in the community for what she did over a seven-day period in March of 2019 when she averaged 14.2 points, 4.8 assists and 3.4 steals per game as part of the thrilling national tourney run. In both of her seasons in navy and white, Barry led teams that ended their campaigns ranked No. 1 in NAIA Division II. Concordia went a combined 67-5 with Barry at the controls.
The 5-foot-7 Barry never felt intimidated. In an exhibition game at Creighton University, a Big East member, Amazing Grace posted 26 points, eight assists and three steals in 41 minutes of action while nearly spurring what would have been a memorable upset (the result was an 85-83 double overtime loss). Between her time at the University of Nebraska-Kearney and Concordia, Barry piled up more than 1,000 career points. Despite only playing two seasons as a Bulldog, she holds school all-time rankings of seventh in assists and 11th in steals.
The product of Lincoln East High School has been so much more than just a good basketball player. Soon after the 2020 national tournament was called off due to the COVID-19 pandemic, Barry tweeted a heartfelt message that caught plenty of attention. In her words, she was "heartbroken" but also expressed concern for others and a willingness to sacrifice "for the greater good of all people."
Head Coach Drew Olson will always have a special place in his heart for Barry, but not just because she helped engineer a national title. Wrote Olson, "Grace Barry is an amazing human being. Her special talent on the court is obvious after watching her only a few minutes – her vision, ball handling ability, her flair. But she is so much more than that. She has a constant positive spirit that connects everyone around her, on and off the court. She has love, compassion, and understanding of others and their needs. Her and her teammates' competitive greatness spurred our team to the program's first national championship. And her message after losing her final season to COVID showed her values, maturity and perspective. I am truly blessed to have had the opportunity to be her coach."
Barry earned the moniker of Amazing Grace because of that flair and creativity on the court. She could dazzle the crowd with her highlight reel passing. She could score too. She did more of that as a senior as Concordia graduated Quinn Wragge after the title run and then lost Taylor Cockerill to injury in the exhibition at Creighton.
Olson mentioned on multiple occasions that his team showed the "heart of a champion." Barry embodied that trait. For example, in the comeback at Dakota Wesleyan this past season, Barry totaled the team's final nine points of the contest to eke out a 69-67 win after Concordia had trailed by nine in the fourth quarter. Barry also did something no other Bulldog had ever done – record a triple-double. She did so at Morningside with a 20-point, 10-assist, 10-steal performance.
Not only that, Barry was also the MVP of another dominant CIT outing in Chicago. She was named first team all-conference and a second team All-American. She also won a state championship in high school. In the classroom, Barry achieved a near spotless 3.99 grade-point average while studying secondary education. Perfection is what she strives for in all aspects.
Amazing Grace and Concordia were right for each other. Said Barry during her junior season, "I absolutely love Concordia because of the welcoming nature of all the people, including the staff outside of basketball. Specifically in basketball, they brought me in like I was part of the family. When I talk to my parents, I tell them that this is my second family. They care about basketball and who you are as a person. The combination of those two is how you become the best basketball team you can be."
Barry interviewed by Stacey Dales
In recognition of her CoSIDA Academic All-America® Team Member of the Year award, Barry was interviewed last week by Stacey Dales, a former WNBA player and current television reporter with Fox Sports. Barry discussed her reaction to winning the award, being a national champion, her own servant leadership and future aspirations, among other topics. Barry was asked about the tweet referenced above and the emotion of having her senior season cut short. Said Barry, "It was definitely tough. I definitely cried a lot with my teammates and family. It was really hard because I've worked 20-ish years for that opportunity. Yes I got to compete for a national championship the year before, but I want it again. When you're a college athlete that's what you're there for. That's what you live for – those awesome challenges."
Added Barry on her decision to come to Concordia, "I was looking for a school where I could be surrounded by great people who could help me grow in basketball, grow in academics and grow in life. I wanted to grow in all different avenues of life. I felt like Concordia was the place to be at. It's the place where I could grow and become the best I could possibly be."