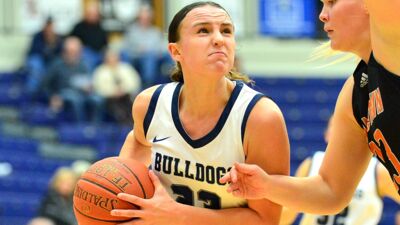 SEWARD, Neb. – A challenging start to GPAC play will resume in the middle of this week for the Concordia University Women's Basketball team. The Bulldogs have been off since their home loss to Jamestown on Nov. 22. Head Coach Drew Olson's squad is still working on putting the pieces together as it sits at 3-3 overall (1-3 GPAC). They will try to do so this week while up against two top 25 foes within the league: No. 12 Morningside and No. 25 Northwestern.
This Week
Wednesday, Nov. 30 at No. 12 Morningside (3-3, 1-2 GPAC), 6 p.m.
--Live Webcast | Live Stats | Max Country | Location: Rosen Verdoorn Sports Center (Sioux City, Iowa)
Saturday, Dec. 3 vs. No. 25 Northwestern (8-0, 3-0 GPAC), 2 p.m.
--Live Webcast/Stats | Max Country | Location: Friedrich Arena (Seward, Neb.)
By the numbers
· The only outing of last week was one Concordia would like to put behind it. The Bulldogs managed to fluster Jamestown into committing 23 turnovers, but they could not overcome their shooting woes. Concordia shot only 30.2 percent (19-for-63) overall and went 5-for-28 (.179) from beyond the arc. Hannah DeMars and the visitors from North Dakota took advantage and emerged from Friedrich Arena with a 66-49 victory. DeMars finished with 19 points and 12 rebounds. Three Bulldogs reached double figures in scoring: Hailey Kleinschmit (13), Abby Krieser (11) and Kendal Brigham (10). Standouts Taysha Rushton and Sadie Powell combined to shoot 3-for-19 from the floor.
· Kleinschmit stepped forward as a clear bright spot in last week's loss. She came to Concordia via Norfolk Senior High School and is studying Exercise Science. The Norfolk, Neb., native was rewarded for her play last week with 24 minutes of action. She went 6-for-12 from the floor while totaling 13 points and four rebounds. The 13 points represented a career high for the 5-foot-11 Kleinschmit. Last season as a freshman, Kleinschmit saw action in 12 games and notched 20 points and 14 rebounds. Her season high was eight points – also versus Jamestown.
· There's been no easing into conference play. The Bulldogs played just two nonconference games prior to their road trip to Briar Cliff in mid-November. According to the official GPAC ratings released on Nov. 14, Concordia will have played four of the league's top five teams by the end of this week. That doesn't include Jamestown, which is due for a ratings jump thanks to a 4-0 start to conference action. As of the most recent NAIA national poll (unveiled on Nov. 16), there are four GPAC teams ranked in the top 25: No. 7 Dakota Wesleyan, No. 12 Morningside, No. 13 Dordt and No. 25 Northwestern. In addition, Briar Cliff is listed as receiving votes. The Bulldogs' most recent top 25 appearance came in late January of last season when they landed at No. 23.
· The athleticism and experience in the backcourt has allowed Olson to turn his team loose with more full-court pressure this season (as observers were used to seeing with some of the best teams in program history). The yields have been an average of 19.7 turnovers per game by Concordia opponents. Meanwhile, the Bulldogs are averaging the fewest turnovers per game (11.0) offensively of any team in the GPAC. Individually, Mackenzie Toomey ranks No. 5 in the GPAC for steals per game (2.3). However, rebounding has worked to cancel out Concordia's turnover advantage. The Bulldogs rank last in the GPAC in rebound margin (-12.2).
· Rushton and her fellow third-year classmates will continue to have a large say in where this season goes for Concordia. Four of the team's top five scorers are academic juniors: Rushton (14.8), Brigham (10.8), Toomey (9.2) and Powell (8.3). Collectively, those four Bulldogs combine to average 43.1 points per game (out of 69.7 as a team). A sophomore out of Lincoln North Star High School, Krieser has also increased her scoring significantly and is averaging 8.8 points per contest. Some of those early returns are encouraging as Concordia attempts to lessen the onus on Rushton, who has already passed 1,000 career points.
· Drew Olson has pushed his career win total to 426 as he is in the early stages of his 17th season as head coach. According to the official list published by the NAIA, Olson ranks 14th among active NAIA women's basketball coaches for career victories. This week, he'll go up against one of the coaches listed above him: Morningside's Jamie Sale, who is No. 3 with an all-time record of 648-182 (entering the 2022-23 season). There are three active GPAC coaches who have won an NAIA national championship: Olson, Sale and Dakota Wesleyan's Jason Christensen. In addition, Dordt's Bill Harmsen led the Defenders to a national runner up finish in 2022.
The opponents
League champions in 2020-21 and 2021-22, Morningside opened this season ranked at No. 3 in the NAIA coaches' poll. In the midst of a challenging slate, the Mustangs have endured three losses to ranked opponents this season: No. 13 Sterling College (Kan.), No. 12 Dakota Wesleyan and No. 15 Dordt. Head Coach Jamie Sale's program returned First Team All-GPAC forward Sophia Peppers and second team all-league honoree McKenna Sims. The glaring loss from last season is Sierra Mitchell, a former GPAC Player of the Year who played five seasons for the Mustangs. Included in Morningside's starting lineup is former Bulldog Chase Pfanstiel, who is averaging 10.2 points per game. As a team, the Mustangs are averaging 77.7 points and allowing 75.7.
Northwestern will ride an 8-0 start into this week. The Red Raiders are fresh off an 88-59 rout of NCAA Division II Chadron State College this past weekend. In her first season as head coach of the program in 2021-22, Kristin Rotert guided Northwestern to a 24-9 overall record and an appearance at the national tournament. The headlining returner for the Red Raiders is First Team All-GPAC performer Molly Schany, who averages 16.3 points and 7.3 rebounds per game. Schany is the leader for a strong rebounding team (+8.0 rebound margin). In the backcourt, senior Maddie Jones leads the way while averaging 15.5 points and 2.9 steals per game. Northwestern will host Briar Cliff on Wednesday before heading to Seward on Saturday.
Next week
The Bulldogs will host Mount Marty on Dec. 7 and then travel to play at Hastings on Dec. 10. The month of December will feature four conference games and two versus nonconference foes just prior to New Year's.