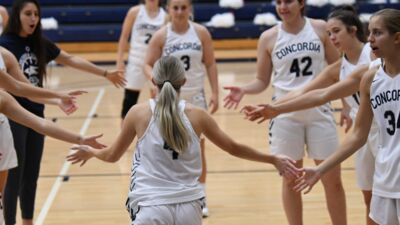 2022 WBB National Tournament Press Guide
SEWARD, Neb. – The Concordia University Women's Basketball team felt pretty comfortable that it was going to earn an at-large berth into the field of 64 national qualifiers. Now they know for sure. Officially on Thursday (March 3), the Bulldogs were tabbed with a No. 9 seed and were assigned to Bowling Green, Ky., for the opening round of the 2022 NAIA Women's Basketball National Championship. Concordia will go up against eighth-seeded Benedictine College (Kan.) on Friday, March 11 as part of the opening round.
Head Coach Drew Olson has led the program to an 11th-straight national tournament appearance (14 over the past 15 seasons). If the Bulldogs can get past Benedictine in their opening game at the tournament, a potential rematch with top-seeded Campbellsville University (Ky.) awaits. Campbellsville will play 16th-seeded Rochester University (Mich.) in its opening game. Concordia and Campbellsville played each other earlier this season in Hawaii.
At the time of release, tipoff times were yet to be announced. The 16 winners from each of the four-team pods will advance to play at the final site, the Tyson Events Center in Sioux City, Iowa.
How they got here …
When things go well, they go really well for the 2021-22 Concordia University Women's Basketball team. Take for example, the road win over then No. 3 Wayland Baptist University (Texas), the overtime victory over then No. 12 Northwestern and the 90-58 home thrashing of national tournament qualifier Dakota Wesleyan. Those victories were vital in regards to the Bulldogs extending the program's streak of consecutive national tournament appearances to 11 (and 14 appearances over the past 15 seasons).
The overall record of 16-13 won't jump off the page, but it's a bit misleading in that Concordia has played the fourth most challenging schedule of any team in the NAIA. Even with a young roster, Head Coach Drew Olson didn't back away from the program's mantra of playing anybody, anywhere.
Senior Rylee Pauli and company have already seen some of the best the NAIA has to offer. Said Pauli in mid-February, "It showed a lot of toughness (persevering through a challenging schedule). We have to be ready to go every single game. I feel like we've learned that this year. It's been a rollercoaster of a ride. It's gone up and down. Hopefully we can finish out on top."
Indeed, this '21-22 campaign has featured its share of twists and turns. Throughout the season, consistency has been a difficult concept to grasp. At one point, the Bulldogs won six GPAC games in a row and then followed that stretch with four-straight conference losses. In certain games, Concordia has looked like the vintage nationally prominent squads of recent seasons. After pummeling College of Saint Mary on the road in February, Olson commented that it looked like "really good Bulldog Basketball." If the Bulldogs can bottle up the type of performance they displayed in the blowout of Dakota Wesleyan, they can make some noise on the national stage.
Star guard Taysha Rushton has already proven she's ready for primetime. The Midland, Texas, native poured in 27 points in last season's win over No. 4 Marian (Ind.) that pushed Concordia into the national quarterfinals. Rushton enters the national tournament averaging 17.9 points per game and on the heels of a white-hot finish to the regular season. Pauli scored 17 points in that same victory over Marian and was a member of the 2018-19 national championship team.
Nine players on the postseason roster possess national tournament experience. Prior experience or not, this group has found out what it's like to go up against the best. The GPAC schedule is rigorous enough, but the Bulldogs also played teams ranked No. 1 and No. 2 (at the time) in Campbellsville University (Ky.) and Thomas More University (Ky.) as part of the Hawaii trip. In addition, it hosted top 25 foes Sterling College (Kan.) and Dakota State University (S.D.) at the Cattle Classic and ambushed highly rated Wayland Baptist on the road.
Said Olson late in February, "Our body of work, our resume has earned this opportunity. I'm excited about the chance to keep the season going."
From game-to-game, Concordia has found unique ways to put together another successful season. While Rushton is clearly the go-to player, others have taken turns stepping forward. Rushton has often been one of three second-year players in the starting lineup, in addition to Bailey Conrad and Sadie Powell. The Bulldogs have also broken in freshmen such as Abby Heemstra and Abby Krieser.
Olson regularly goes 10 deep while attempting to hit the opponents in waves. All 10 of those Bulldogs average at least 4.6 points and double-digit minutes per game. Each of the following players have produced at least one game with 19 or more points: Rushton (high of 32), Lauren Baker (24), Sadie Powell (21), Kayla Luebbe (20), Pauli (20), Kendal Brigham (19), Heemstra (19) and Toomey (19).
Even through some of the inconsistency, Concordia has made strides that provide optimism for not just the 2022 national tournament, but also the 2022-23 season. Said Pauli, "It's fun to see the growth of every player on this team. You can see it from last year to this year. Each one of them is stepping up when their name is called."
Barring a decision to return and use the extra 'COVID year,' Pauli and her classmates will end their careers at the national tournament. It provides at least one more chance to create lasting memories. The class includes Abby Aplaca, Mackenzie Koepke, Courtney Merryweather and Chloe Schumacher. Said Pauli, "It's been a very special bond. Us five have toughed it through the injuries and everything. I get to play basketball with my best friends. It's been a fun four years."
In conjunction with senior night back in February, Olson praised the seniors for helping lead a team with a lot of youth through the highs and lows that have been part of the journey. Said Olson, "It's a great group that has had incredible buy-in throughout their careers – very selfless people that love our program. They've been a huge part of our success."
National Tournament Facts
· In its first 20 appearances at the national championships, Concordia has posted a record of 37-18 with seven journeys to at least the national semifinals (three national championship game appearances). The Bulldogs are 14-6 in first-round games. All of the program's national tournament berths have come since 1992 – the same year the NAIA split into two divisions for basketball. The 2019-20 season marked the final one featuring two divisions. The 2019-20 squad had garnered the No. 1 overall seed in a tournament that was shut down in the middle of the first round.
· Nine of the 15 players on Concordia's national tournament roster have prior national tournament experience. That list includes Kendal Brigham, Bailey Conrad, Taylor Farrell, Kayla Luebbe, Rylee Pauli, Sadie Powell, Taysha Rushton, Chloe Schumacher and Mackenzie Toomey. Pauli has appeared at the national tournament in each of the past three seasons. She put together a memorable performance in last year's 73-67 win over No. 4 Marian (Ind.). In that victory, Pauli notched 17 points and six rebounds. Meanwhile, Rushton topped all players with 27 points in the win. Pauli, Schumacher and Mackenzie Koepke (out with injury) were each part of the 2018-19 national championship team. Koepke has totaled 61 career points in national tournament games.
· Head Coach Drew Olson has been at the controls for each of Concordia's past 14 national tournament appearances (including 2022). His record at the national tournament now stands at 26-11 with five trips to the final four, including three national championship game appearances (2015, 2018, 2019). The program raised its first-ever national championship banner in March 2019. Olson has won more national tournament games than any coach in school history (men's or women's programs).
· During the 2021-22 season to date, the Bulldogs played nine opponents that were ranked in the NAIA's final coaches' top 25 poll: No. 3 Thomas More (Ky.), No. 5 Campbellsville (Ky.), No. 6 Morningside (twice), No. 8 Wayland Baptist (Texas), No. 12 Sterling (Kan.), No. 21 Dordt (twice) and No. 24 Dakota State (S.D.). In addition, GPAC foes Northwestern and Dakota Wesleyan were situated just outside of the top 25. Heading into the national tournament, Concordia has played the No. 1 strength of schedule in the entire NAIA.
· Olson became the program's fifth coach to lead Concordia to the national tournament when he made his first appearance in 2008. Past coaches to take the Bulldogs to nationals were Todd Voss (three), Mark Lemke (two), Micah Parker (one) and Carl Everts (one). Voss guided two squads that reached the national semifinals.