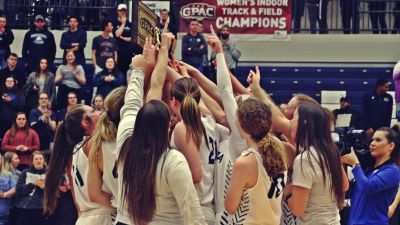 The abrupt ending to the 2019-20 season left members of the Concordia University women's basketball team heartbroken and in tears, but they can rest assured that this was another campaign that won't be forgotten. It could be argued that the public response of the Bulldogs to the cancellation of the national tournament stood out as something more impressive than anything that happened on the court. Being champions on and off the court is something head coach Drew Olson's program prides itself on.
It was a winter that began with a near upset of Creighton in a double-overtime exhibition loss and concluded with the shocking development brought about by the coronavirus.
"There were a lot of different emotions," Olson said in recounting the scene that took place when he informed the team of the NAIA's decision to cancel the remainder of the tournament. "A little bit of anger, a little bit of frustration, but a lot of sadness, especially for the six seniors who had done so much. This was going to be the big finish to their basketball career. I think we'll always wonder – what could we have done? Could we have repeated? It got very emotional for everybody."
Take a step back from the whole coronavirus pandemic. This was another remarkable campaign that saw Concordia open at and finish at No. 1 in the national poll. For an unprecedented fourth-straight year, the Bulldogs swept GPAC regular season and tournament titles. They went 32-2 despite graduating Quinn Wragge from the national championship team and despite losing Taylor Cockerill to a season-ending injury in that Creighton game.
When needed most, All-Americans Grace Barry and Philly Lammers proved fully capable of carrying the team on their backs. Among many memorable outings, Barry closed a near defeat and eventual win at the Corn Palace with her side's final nine points. Meanwhile, Lammers put together signature efforts of her own, such as her 21-point performance versus Hastings in the GPAC tournament title game.
Each additional member of the senior class, including Colby Duvel, MacKenzie Helman, Taryn Schuette and Riley Sibbel, enjoyed shining moments of their own in fueling a fourth season in a row of 30-plus victories. Said Olson of the record-breaking seniors, "I'm so blessed and thankful that they chose Concordia, that they trusted me and that I had the opportunity to coach them and be part of their lives for four years. The big memory was winning the national championship, but there's been a whole bunch of other big games and moments throughout the years. Each one of those seniors had huge impacts for us to be No. 1 at the end of the year."
The four-year statistics are mind boggling. Since the start of the 2016-17 season, Concordia has gone a combined 137-10 overall, 78-6 in GPAC regular-season games, 63-1 at home and advanced to at least the national semifinals each season until the current one was cut short. The Bulldogs had as good of a chance as anyone to cut the final net down again in 2020. When the tournament was canceled on March 12, Barry took to Twitter to share her thoughts.
Wrote Barry, "If by canceling the women's basketball national tournament we prevent one person from losing their sister, daughter, mother, father or son, that is a success in itself."
Lincoln TV stations 1011 and KLKN both visited with Barry and Lammers to collect their mature takes on what had transpired. A sidebar to this whole story had been Lammers' pursuit of the program's all-time scoring record of 2,054 points by Bailey Morris '15. Lammers wound up stuck on 2,033 (to go along with 1,026 rebounds) with Concordia's second-round matchup against Kansas Wesleyan left unplayed.
The current situation certainly provides time for reflection. As March 16-17 arrived (the dates of the national semifinal and championship games), Olson and his team were left to think about what it would have been like had they been playing on those nights. The Bulldogs had reason to believe they would have made it back to that point. They had beaten 14 nationally-ranked opponents and an NCAA Division II foe (on the road) and their lone two losses were suffered on the road against fellow national tournament No. 1 seeds. That's a season worth celebrating.
"I think the quote from Rudy Tomjanovich, 'never underestimate the heart of a champion,' fit our team," Olson said. "I'm so proud of them for continuing to fight. We had two big losses with Quinn Wragge and then Taylor Cockerill went down in the Creighton game. And yet, you look at what we still accomplished it's truly amazing. We were able to continue to win the conference regular season and tournament and be the No. 1 overall team going into the national tournament. Holy cow, what an awesome season. There are a lot of little fun memories along the way that I'll think about in the journey. I'm blown away by what we were still able to accomplish and very thankful for that."
The graduation of this senior class will open up a wealth of opportunities next season. This program has been adept at reloading. This winter, sophomore Mackenzie Koepke stepped into a starting role and was the team's third leading scorer at 8.2 points per game. Before an unfortunate injury at CIT, freshman Taylor Farrell had been shooting better than 50 percent from 3-point range. Others such as sophomores Elsie Aslesen, Claire Cornell, Delani Fahey, Rebecca Higgins, Rylee Pauli and Chloe Schumacher also served reserve roles.
Few teams in the country could boast that kind of depth. The result was the program's highest scoring team ever at 88.6 points per game. Concordia eclipsed the 100-point mark 11 times, including a school single-game record 127 in a blowout home win over College of Saint Mary. The Bulldogs led the nation in both turnover margin (+14.5) and steals per game (20.7).
Next winter, Olson will hope for the healthy return of Cockerill, who has GPAC Player of the Year type of ability. In a return to one division for NAIA basketball, the road to winning a national title will get more challenging, but this program is always up for a challenge.
"It's very unknown," Olson said. "That's the interesting thing with this pandemic going on. We don't know how long it's going to last or when we'll be able to resume. Hopefully it's sooner rather than later. We'll continue to communicate with our players. Hopefully they're finding time to continue to work on their game. I think we have a really good incoming class and a lot of really good returners. I think we're going to be a really good basketball team."