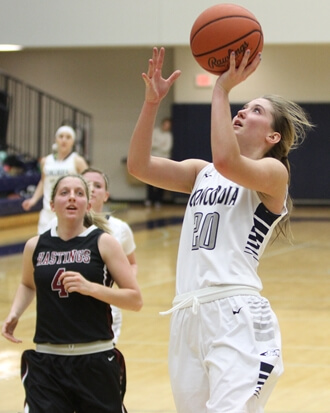 #7 Bulldogs travel to Dakota Wesleyan on Saturday
Following an impressive overtime win over #2 Briar Cliff earlier this week, the #7 Concordia University women's basketball team looks to keep things rolling at Dakota Wesleyan on Saturday. Tip is scheduled for 6 p.m. at the Corn Palace in Mitchell, S.D.
Concordia moved to 9-1 overall and 4-1 in conference play with the exciting win over Briar Cliff. It was the first conference loss of the season for the Chargers. The Bulldogs rallied from 13 down to pick up the victory. A 3-pointer by Lori Laboda (Parker, Colo.) forced the game into overtime, and Kristen Conahan scored seven of Concordia's nine points in overtime to lift the Bulldogs to the win. Both Laboda and Conahan scored 23 points in the Bulldog victory.
The Bulldogs average 78.6 points per game while allowing just 57.8 points per game so far this season. Concordia has struggled from the field at times, but solid rebounding and defense has put consistent pressure on Concordia's opponents so far this year. Conahan and Amber Kistler (Minatare, Neb.) have led a balanced Bulldog scoring attack. Conahan averages a team-best 15.3 points per game, while Kistler pours in 13.6 points per game on the season.
Hastings and Briar Cliff join Concordia at the top of the current GPAC standings. The Great Plains Athletic Conference currently has four teams ranked in the NAIA's top 10, while Northwestern College (20th) and Doane College (receiving votes) also made an appearance in the latest NAIA Top 25 Poll.
Dakota Wesleyan is 6-4 overall and 1-3 in GPAC play so far this season. The Tigers have played a tough conference schedule so far, however, so their 1-3 conference mark is misleading. DWU suffered a 96-70 loss to then #5 Briar Cliff to open conference play. The Tigers then defeated Dordt College by the score of 63-56 for their lone conference win. DWU then suffered losses to Hastings (64-59) and #5 Morningside College (73-64). All three of their conference losses are to teams currently ranked in the NAIA's top 10.
The Tigers average 65.7 points per game while allowing 61.5 points per game. Amanda Hart is the only Tiger player averaging double figures in scoring. Hart scores 14 points per game on the year, while a total of four other Tigers average six points or better on the season.
Fans unable to make the trip to Mitchell can catch a live audio broadcast as well as live stats from the game at the above links.