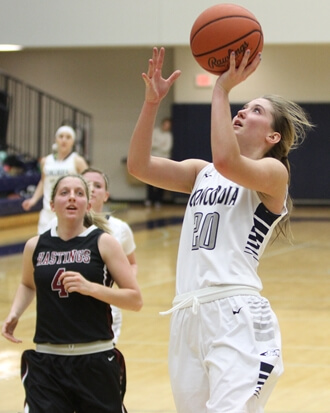 #7 Bulldogs set for Johnson & Wales Tournament on December 29-30
The Bulldog women's basketball team gets back to action on Thursday and Friday at the Johnson & Wales University Tournament in Denver. The seventh-ranked Bulldogs will take on Bethany College on Thursday and will conclude tournament play against the hosts from Johnson & Wales on Friday.
Concordia is 11-1 on the season following an 84-58 rout of Doane College last week in Crete. The Bulldogs continue to impress with balanced scoring, solid rebounding and pressure defense. Concordia still ranks in the top 10 in the NAIA in several categories including; first in offensive rebounds per game (19.5), first in steals per game (17.2), first in turnover margin (11.3), fourth in total steals (206), seventh in scoring margin (20.6), eighth in free throw percentage (75%), ninth in scoring offense (77.7), ninth in 3-point field goals per game (8.3) and 10th in total rebounds per game (45.3).
The Bulldogs open tournament play against Bethany College on Thursday afternoon. The Swedes have struggled this year with an overall record of 3-10. Bethany averages just 52.2 points per game while allowing 63.1 on the season. The Swedes have a four-game losing streak entering Thursday's contest.
The hosts from Johnson & Wales University bring a 9-7 record into this week's tournament. The Wildcats are 2-2 in their last four games and have been led this season by Caitlin Durkin. Durkin averages over 19 points per game and has scored over 20 points in five games this season, including a 40-point outburst in a 78-76 loss to Valley City State on December 17.
Johnson & Wales will provide live stats for all tournament games at the following link; http://denver.jwuathletics.com/sports/mbkb/2011-12/releases/5280_Classic
Concordia will return to conference play with a road contest at #20 Northwestern College on January 4.