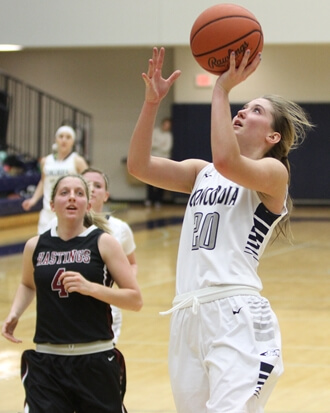 #6 Concordia travels to #14 Hastings on Wednesday
The 6th-ranked Bulldog women's basketball team looks for its second straight win on Wednesday evening. Concordia travels to Hastings College for a 6 p.m. matchup against the 14th-ranked Broncos.
Concordia is 14-2 overall and 7-2 in conference play following a 65-54 victory over Dordt College this past Saturday. The Bulldogs struggled offensively, but a solid defensive performance helped secure the victory over the Defenders. A total of three players scored in double figures for Concordia in the victory. Kristen Conahan led the way with 16 points, while Katie Rich and Bailey Morris combined for 25 points off the Bulldog bench. The Concordia bench totaled 36 points on the day.
As a team, Concordia still ranks in the NAIA's top 10 in six categories. The Bulldogs are first in steals per game (16.6) and turnover margin (10.3), second in offensive rebounds per game (18.3), third in total steals (266), fourth in scoring margin (20.2) and seventh in scoring offense (78.1).
Scouting the Broncos - Hastings College slipped from eighth to 14th in the latest NAIA Top 25 Poll. The Broncos are 14-4 overall and 6-3 in the GPAC. Hastings has won four straight including wins over Dordt College (75-48) and Mount Marty (67-56) last week. Alicia Statler averages over 14 points per game to lead the way for the Broncos offensively. Statler is the only player in double figures for Hastings on the year. Tanasia Uhrig and Brittney Wong average over eight points per game for the Broncos.
A live audio broadcast of the game can be found on AM 1230 or on the web at http://hastingslink.com/. Live video of the game can be found at http://hcmediaonline.org/index.php.
Up next for the Bulldogs - Concordia heads to Sioux City on Saturday for a matchup with 5th-ranked Morningside.