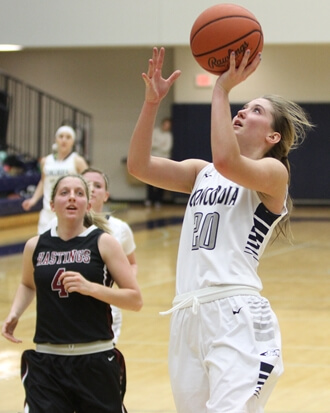 5th-ranked Bulldogs return to GPAC play, host Dakota Wesleyan Saturday
The 5th-ranked Bulldog women's basketball team will look for its sixth straight victory on Saturday. Concordia hosts Dakota Wesleyan in a 2 p.m. contest at the Walz Human Performance Complex.
Concordia kept rolling with a 68-60 win over NCAA Division I Nebraska-Omaha on Thursday evening. Three players scored in double figures. Bailey Morris scored 16, while Kristen Conahan knocked down five 3-pointers for 15 points on the night. The Bulldogs forced 29 UNO turnovers, the second most turnovers for the Mavericks this season. The victory improved the Bulldogs to 18-2 on the year. Concordia currently leads the GPAC with a 10-2 record.
Last meeting – Concordia earned a 62-49 win at Dakota Wesleyan on December 10. The Bulldogs led by just one (25-24) at the half but pulled away in the second half for the victory. Conahan scored a game-high 15 points, while both Beth Kohmetscher and Katie Rich added 11 points apiece for the Bulldogs. Elizabeth Lamb and Brittany Pritchard scored 13 points apiece for the Tigers in a losing effort.
Scouting the Tigers – DWU is 13-8 overall and 4-7 in GPAC play. The Tigers picked up a 50-47 upset win over then 14th-ranked Hastings College on January 15. DWU has won six of its last seven games entering Saturday's matchup with the Bulldogs. Dakota Wesleyan scores 69.4 points per game while allowing 62.3 points per game on the season. Amanda Hart (12.4 points per game) and Whitnee Clayton (10.3 points per game) lead the way offensively for the Tigers.
Broadcast – The Concordia Sports Network will provide a live audio and video webcast. Keegan Bloomfield will call all the action from the Walz Complex.
Up next – Concordia hosts Doane College on January 24.