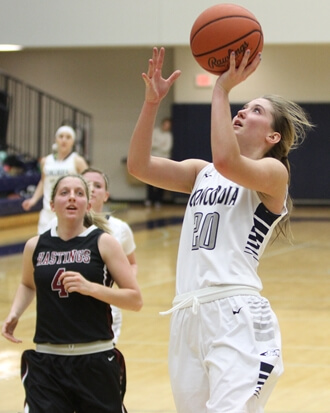 #5 Bulldogs pound CU-Wisconsin at Concordia Invitational Tournament
Concordia, Nebraska opened play in this year's Concordia Invitational Tournament with a convincing 98-58 win over CU-Wisconsin on Friday afternoon in Chicago. The 5th-ranked Bulldogs won their eighth straight game to improve to 21-2 on the year. CU-Wisconsin dropped to 12-7 with the loss.
The Falcons kept things close for the first seven minutes of the first half, but the Bulldogs took over from there. The Dogs took their first double digit lead (29-18) with just under 10 minutes remaining in the half. Over the next five minutes, the Bulldogs built their lead to 18 (45-27), and a 9-1 run to close the half gave Nebraska a 54-29 halftime lead. The Bulldogs were 18-of-31 (58.1 percent) from the field overall and 6-of-10 from deep in the opening half. The Bulldogs also connected on 12-of-13 free throw attempts in the first 20 minutes of action.
CU-Wisconsin pulled with 21 on two occasions early in the second half, but that's as close as the Falcons would get. The Bulldogs continued to shoot it well from the field, hitting 16-of-29 shots in the final half for 55.2 percent. A total of 13 players scored for the Bulldogs in the easy victory.
For the game, CU-Nebraska was 34-of-60 from the field for 56.7 percent and 21-of-25 at the foul line for 84 percent. From long range, the Dogs were 9-of-19 (47.4 percent) in the win. The Bulldogs dominated the glass and held a 42-25 rebounding advantage. Four players reached double figures. Kristen Conahan (Omaha, Neb.) knocked down three 3-pointers and scored a game-high 15 points. Tracy Peitz (Hartington, Neb.) added 11 points (5-of-6 shooting) and five assists, while Amber Kistler (Minatare, Neb.) and Beth Kohmetscher (Deweese, Neb.) added 10 points apiece.
Katie Luethe and Kendall Kerns scored 13 opints apiece for CU-Wisconsin in the loss. The Falcons finished 19-of-48 (39.6 percent) from the field and just 17-of-32 (53.1 percent) at the foul line.
With the win, the Bulldogs advance to Saturday's CIT championship game at 5 p.m. against either Concordia-Chicago or #6 Concordia-Ann Arbor. The Bulldogs will vie for their fourth CIT championship in the last five years.