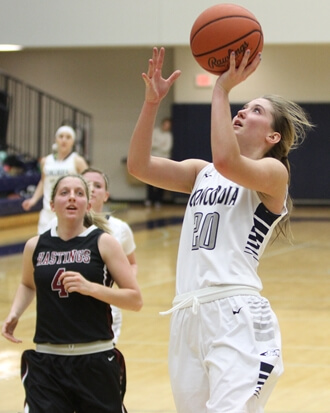 #22 women's basketball cruises past College of St. Mary, 82-52
Kristen Conahan and Amber Kistler combined for 35 points, and Concordia University picked up an easy 82-52 women's basketball win over College of St. Mary on Tuesday evening in Omaha. Concordia, who is currently 22nd in the NAIA Top 25, picked up its third straight convincing win to open the season. The Flames, who are receiving votes in the NAIA Top 25, dropped to 3-1 on the year with the loss.
The Bulldogs got off to a tremendous start in the opening half and raced out to a 56-35 halftime lead. Concordia was an even 50 percent from the field in the opening 20 minutes (19-of-38). The Bulldogs shot it well from all over in the first half, connecting on 10-of-18 from long range (55.6 percent) and 8-of-10 free throws. Conahan (Omaha, Neb.) scored 17 points on 6-of-10 shooting in the first half. She drained five 3-pointers in the half, while Kistler (Minatare, Neb.) chipped in with 12 first half points.
Both teams struggled offensively in the second half. Concordia was just 10-of-42 from the field for 23.8 percent, and CSM wasn't much better at 7-of-26 for 26.9 percent. For the game, both teams were right around 36 percent from the field. However, the Bulldogs nailed 13 3-pointers on the night compared to just three for the Flames.
Concordia held a slim 43-39 rebounding advantage in the contest. The Bulldogs pulled down 20 offensive rebounds on the night and finished with 22 assists compared to just 10 for College of St. Mary. Conahan finished with a game-high 19 points to go along with five assists and four steals. Kistler added 16 points and six rebounds. Bailey Morris (Roseland, Neb.) had a nice all-around game with eight points, five rebounds and a game-high six assists. Jericca Pearson (Gibbon, Neb.) and Katie Rich (Tilden, Neb.) added eight and seven points, respectively, off the Bulldog bench. Rich handed out five assists on the night. The Bulldog defense was once again the story. For the second straight game, Concordia forced 37 turnovers.
Theresa Elworth had a team-best 14 points on 5-of-7 shooting for the Flames. Karyn Bixler added 13 points, and Olivia Grigg chipped in with 10 points and 12 rebounds.
The 2011 Cattle Classic Tournament will be held in Seward on Friday and Saturday. Doane College, Bethel College and William Penn University will join the Concordia women in this year's tournament field. Games are scheduled for 6 and 8 on Friday evening and 2 and 4 on Saturday afternoon. All games will be held at the Walz Human Performance Complex.