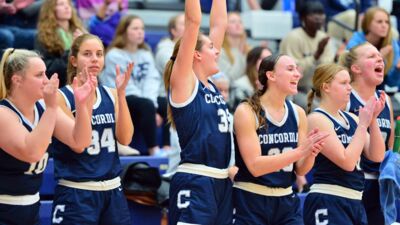 2023 WBB National Tournament Press Guide
SEWARD, Neb. – It's back to The Bluegrass State for Concordia University Women's Basketball. The Bulldogs learned of their national tournament draw on Thursday (March 2) when the NAIA revealed the 64-team bracket. The journey will lead the Bulldogs to Crestview Hills, Ky., home to Thomas More University. In first-round action, eighth-seeded Concordia will take on ninth-seeded Columbia College (Mo.) at 6:30 p.m. CT (7:30 p.m. ET) on Tuesday, March 7. Head Coach Drew Olson's squad earned at-large bid while going 19-11 and reaching the GPAC tournament semifinals. This will mark the program's 22nd all-time national tournament appearance.
First/Second Round Info (March 7-8)
-Host: Thomas More University
-Site: Connor Convocation Center (Crestview Hills, Ky.)
-Tickets: https://thomasmoresaints.com/sports/2022/8/31/hometown-ticketing.aspx
-Live Streaming Link: https://team1sports.com/thomasmore/
-Live Stats: Presto Stats
Game Schedule
2023 NAIA Women's Basketball National Championship Bracket (PDF)
Tuesday, March 7: (1) Thomas More (26-3) vs. (16) Point (23-8), 4:30 p.m. CT / 5:30 p.m. ET
Tuesday, March 7: (8) Concordia (19-11) vs. (9) Columbia (26-4), 6:30 p.m. CT / 7:30 p.m. ET
Wednesday, March 8: First round winners, 5 p.m. CT / 6 p.m. ET
(winner advances to the final site)
By the numbers
· In its first 21 appearances at the national championships, Concordia has posted a record of 37-19 with seven journeys to at least the national semifinals (three national championship game appearances). The Bulldogs are 14-7 in first-round games. All of the program's national tournament berths have come since 1992 – the same year the NAIA split into two divisions for basketball. The 2019-20 season marked the final one featuring two divisions. The 2019-20 squad had garnered the No. 1 overall seed in a tournament that was shut down in the middle of the first round due to COVID-19.
· Head Coach Drew Olson has been at the controls for each of Concordia's past 15 national tournament appearances (including 2023). His record at the national tournament now stands at 26-12 with five trips to the final four, including three national championship game appearances (2015, 2018, 2019). The program raised its first-ever national championship banner in March 2019 when it defeated No. 2 Southeastern University (Fla.), 67-59. Olson has won more national tournament games than any coach in school history (men's or women's programs).
· There have been bumps in the road (1-3 start to GPAC play), but the Bulldogs found an identity as a stout defensive team that paces the GPAC in both turnovers forced per game (19.6) and field goal percentage defense (.380). Those statistics come against a schedule that ranks as the 11th toughest in the NAIA. Offensively, Concordia has struggled at times, but it does sport NAIA national rankings of seventh in free throw percentage (.767) and 21st in 3-point field goal percentage (.344). During the 2022-23 season to date, the Bulldogs have played 17 games against teams that are included in the national tournament bracket. Concordia has defeated fellow national qualifiers in Dakota State, Dakota Wesleyan, Jamestown, Morningside (twice) and Northwestern.
· Eight of the 14 players on Concordia's national tournament roster have prior national tournament experience. That list includes Kendal Brigham, Taylor Farrell, Abby Heemstra, Mackenzie Koepke, Sadie Powell, Taysha Rushton, Hanna Spearman and Mackenzie Toomey. Koepke played in each of the national tournaments from 2019 through 2021 and is the lone player on the roster that was part of the 2018-19 national championship team. Koepke has totaled 61 career points in national tournament games. The only fourth-year senior on the roster, Farrell had her shining moment on the national stage in 2021 when she totaled 14 points on 3-for-4 3-point shooting in a 71-54 win over Loyola University of New Orleans. Rushton also played an instrumental role in that 2021 run to the national quarterfinals and has appeared in four games at the national tournament. She's averaged 14.8 points in those contests with a high of 27 in the 73-67 win over fourth-ranked Marian University (Ind.) in 2021.
· Rushton is now a three-time First Team All-GPAC honoree. On the season, the Midland, Texas, native is averaging 13.6 points, 3.3 rebounds, 3.1 assists and 1.6 steals per game. Her career best shooting percentages stand at 41.9 percent from the field, 40.2 percent from 3-point range and 77.9 percent from the foul line. Named the MVP of the Concordia Invitational Tournament, Rushton produced a season high 29 points in the win at Midland. In 90 career games, Rushton has totaled 1,368 points (15th most in program history), 261 rebounds, 248 assists and 147 steals. She's drained 211 3-point field goals as a Bulldog. Other All-GPAC award winners were Abby Krieser (second team), Sadie Powell (second team), Kendal Brigham (honorable mention) and Mackenzie Toomey (honorable mention).
· One more win would give the Bulldogs 20 for the season, a mark Drew Olson has hit in 13 of his first 16 seasons as head coach at his alma mater. The GPAC quarterfinal win at then 19th-ranked Jamestown marked No. 442 in the career of Olson. He's begun to sneak up on former Bulldog men's basketball head coach Grant Schmidt for the most wins ever by a Concordia basketball coach (or for any sport at Concordia). Schmidt compiled a record of 445-276 over his 23-year tenure. Olson played for Schmidt during the 2000-01 through 2002-03 seasons. Counting Olson's three seasons as a Bulldog student-athlete, he's been involved in 504 victories (62 wins as a player).
Thomas More site breakdown
(1) Thomas More University
Overall Record: 26-3
Location: Crestview Hills, Kentucky
Conference: Mid-South Conference
Head Coach: Jeff Hans
RPI: 5th
SOS: 22nd
O-PPG: 76.7
D-PPG: 56.4
All-Conference: Zoie Barth (first team); Courtney Hurst (first team); Emily Simon (first team); Alex Smith (honorable mention).
(8) Concordia University
Overall Record: 19-11
Location: Seward, Nebraska
Conference: Great Plains Athletic Conference
Head Coach: Drew Olson
RPI: 37th
SOS: 11th
O-PPG: 73.3
D-PPG: 63.5
All-Conference: Taysha Rushton (first team); Abby Krieser (second team); Sadie Powell (second team); Kendal Brigham (honorable mention); Mackenzie Toomey (honorable mention).
(9) Columbia College
Overall Record: 26-4
Location: Columbia, Missouri
Conference: American Midwest Conference
Head Coach: James Arnold
RPI: 20th
SOS: 136th
O-PPG: 75.5
D-PPG: 55.5
All-Conference: Mallory Shetley (first team); DeLaney Horstman (second team); Abby Backes (third team); Mackenzie Hess (third team); Lexi Miller (freshman team).
(16) Point University
Overall Record: 23-8
Location: West Point, Georgia
Conference: Appalachian Athletic Conference
Head Coach: Tory Worley
RPI: 49th
SOS: 131st
O-PPG: 65.5
D-PPG: 57.5
All-Conference: Mataea Boyd (first team); Marta Gimenez (Point); Mirial Cannon (second team); Ky'leo Worriels (second team).
Final site
The hopeful destination for the Bulldogs remains the Tyson Events Center in Sioux City, Iowa. The final 16 teams left standing will advance to that location for action from March 13-18. Sioux City first became the women's basketball national championship host for division II in 1998. It was awarded as the host location for the NAIA's one and only division beginning in 2021. Additional information about the NAIA Women's Basketball National Championship can be found via the NAIA website HERE.