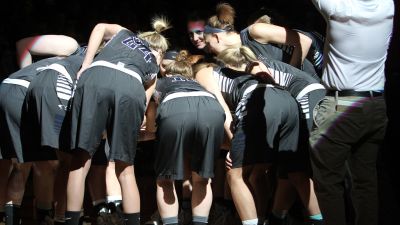 2014-15 Bulldog women's basketball delivered memories built to last
NOTE: A version of this feature story first appeared in the summer edition of Concordia University's Broadcaster magazine.
By Jake Knabel, Director of Athletic Communications
Since 1992, 14 Concordia women's basketball teams have appeared at the national tournament with four advancing all the way to the national semifinals. But in 2015, the Bulldogs reached new heights by motoring to the national title game for the first time in program history.
Just ask ninth-year head coach Drew Olson. The 2014-15 edition was the finest Concordia women's basketball team to date. That's saying something for a powerhouse program that has existed for more than 60 years.
Said Olson, "It was the most fun I have ever had coaching. It was an incredible group to work with all season. They were special. They had a togetherness and a collective toughness that is rare. They found ways to win. Most importantly, they were a great group of teammates that loved each other. It's bittersweet how it ended, but I think we will remember the greatness of the team more."
There's no denying the greatness of a team that went 35-3, defeated 11 ranked teams, won four-straight national tournament games by 10 points or more, upended No. 1 Morningside on the road for the GPAC tournament title and featured national player of the year Bailey Morris.
Named GPAC player of the year in each of her final two collegiate seasons, Morris justified the price of admission all by herself. The native of Clay Center, Neb., never stopped torching the nets. She killed opponents with her crossover, her did-I-really-just-see-that dimes and her sheer knack for putting points on the board. She ended her career with a program record 2,054 points over 136 games.
But this team was more than just Morris. It proved that when it knocked off No. 12 Hastings without Morris in the GPAC semifinals in late February. Morris simply stood out most amongst a special group of seniors that included second team All-American Tracy Peitz, defensive pest Kelsey Hizer and inside force Jericca Pearson.
Concordia possessed everything needed to be a championship team. It had character. It had confidence. It had flair. It had toughness. It had one of the nation's top coaches. In putting together perhaps the greatest senior class ever at Concordia, Olson melded a team that knew it would play deep into March. It was an impressive bunch on the court, but even more so in the manner in which it went about its business.
"I'll probably remember their personalities a whole lot more than them as players," said an emotional Olson following the title game loss to Morningside. "I'll remember how much joy I had coaching each one of them and how much better they made going to work every day. That's why they're such a special group."
The senior class completed its run with a four-year record of 119-21, two GPAC regular-season titles, two GPAC tournament titles, two national semifinal appearances and four-consecutive trips to the national tournament. The vaunted group of four-year players was complimented by the likes of second team all-conference choices in Becky Mueller and Mary Janovich, the GPAC freshman of the year.
So good was this Bulldog basketball team that it led top-ranked Morningside by as many as 12 points in the national title game. Excruciatingly, Concordia let a four-point advantage with under two minutes remaining slip away. It was a heart-wrenching ending in the closest NAIA Division II women's basketball national championship in history. Admitted Olson, "It's tough to lose when you felt like you had it."
A little perspective helps soothe the pain. In reflecting upon her career, Morris thanked her teammates and Olson for helping her develop into the star she became. Said Morris, "I'll graduate and move on with my life, but the pride of being a Concordia Bulldog will be with me wherever I go."
Olson won't soon forget the electrifying point guard that he refers to as "the best player in our program's history."
"She always did what we asked of her and did everything for the team," Olson said. "It's impressive to look back at the change from her freshman year to senior year. She is a perfect example of work ethic and determination resulting in reaching her potential."
In 2015 Morris came through with her best national tournament performance during her career. She scored 34 points in the second-round win over No. 14 College of Saint Mary and was named all-tournament along with Peitz.
As a whole, the 2014-15 Concordia women's basketball team provided a lifetime's worth of thrilling moments while capturing the sentiments of passionate Bulldog alums and fans that swarmed the national tournament in Sioux City in droves. The run to the title game was bigger than the team. It transcended the 94 feet of hardwood that served as its stage. Each national tournament victory triggered Bulldog pride that swelled like the sting of an angry hornet's nest.
A shade less than two months after the season came to an end and the confetti rained down from the Tyson Events Center rafters, Olson offered the following reflection:
"It still stings and I think it always will. And it should, if it means anything to you. However, when I look back on the season, I know it was an amazing journey. It was so fun. On the court, the team had maturity in their preparation, a toughness that never allowed them to lose composure in close games or tight situations, and the best part was how well they played together. They were an unstoppable force at times. And off the court, they were a blast. This team was fun to be around, and we have so many memories that 20 years from now will stick way more than the wins and losses."