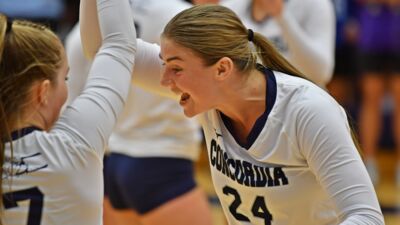 OMAHA, Neb. – Faced with perhaps its stiffest challenge yet, the second-ranked Concordia University Volleyball team showed its resolve on the road. Defensive grit ruled the day as the Bulldogs shook off a tight setback in the opening set and won at No. 9 College of Saint Mary, 25-27, 25-20, 25-16, 25-20. On the attack, right side Carly Rodaway struck for 14 kills on the strength of a .520 hitting percentage. Both teams entered the showdown with win streaks of 10 or greater.
Head Coach Ben Boldt's squad has moved to 11-0 (4-0 GPAC) after claiming its third win this season over an NAIA top 10 foe. Concordia is one win off the best unbeaten run since Ben and Angie Boldt took the reins of the program beginning with the 2018 season.
"College of Saint Mary's middles are really good," Boldt said. "We had to make some adjustments defensively after the first set. It was a big defensive battle. We competed well. Hats off to College of Saint Mary. They were bringing it today."
The adjustments paid off as the Bulldogs enjoyed impressive stretches in the second set (taking a 12-1 lead to begin it) and then in the third set while putting together a 15-5 run. Concordia celebrated the win when Ashley Keck hammered a kill for match point. Concordia managed to collect 62 kills against a team that makes life tough on opposing attackers. This was a match more about defense. Five Bulldogs notched at least 10 digs: Becca Gebhardt (23), Bree Burtwistle (20), Keck (12), Cassidy Knust (10) and Camryn Opfer (10).
For CSM (14-2, 3-1 GPAC), the lion's share of the offensive production came from middles Azaria Green and Kamryn Williams, who combined for 27 of the team's 51 kills. Concordia did a commendable job of containing virtually everyone else. The Flames hit only .168 as a team. They cooled considerably after the first set, which saw them pummel 18 kills with just four hitting errors. One of the GPAC's best liberos, Rachel Cushing posted a game high 24 digs.
These Bulldogs have so many ways to beat their opponent. Three hitters reached double figures in kills: Keck (16), Opfer (15) and Rodaway. The 2022 GPAC Freshman of the Year, Keck has blossomed into an even bigger star this fall. She added four blocks to her stat line. Meanwhile, Opfer hit a rock solid .265 from the outside and contributed two aces. The back-to-back GPAC Setter of the Week award winner Burtwistle totaled 50 assists as she continues to quarterback the NAIA's top-rated attack. Finally, Gabi Nordaker chipped in with seven kills and seven blocks. Blocks were even at 10 apiece.
Afterwards, Boldt lauded the efforts of the likes of Rodaway and Ashlyn Wischmeier. The latter landed three aces and contributed heavily to the 12-1 run to start the second set.
Said Boldt, "I thought Carly Rodaway really stepped up today. There were some moments where we were having a tough time getting a side out. We threw it up to Carly and she came through in the clutch. It was awesome to see that production. They were blocking our middles and our outsides, but we stuck with it. We didn't try to get outside of ourselves. We stayed true to our fundamentals and took it one at a time.
"That big run in the second set, Ashlyn Wischmeier ran a string of points there. Then Saint Mary came back in that set. It can be hard to keep your focus when you're up big like that. Late in that set, I was talking to our team – championship teams have to refocus and get back into it and stay aggressive. I thought we did that."
Concordia has won five consecutive meetings with CSM. The Flames had won 14 matches in a row since opening the season with a four-set loss at the hands of the current top-ranked team in the NAIA, Eastern Oregon University.
During homecoming week, the Bulldogs will welcome two GPAC opponents to Friedrich Arena. This coming Wednesday, Mount Marty (9-8, 2-2 GPAC) will visit Seward for a 7:30 p.m. CT first serve. The improved Lancers own conference wins over Doane and Hastings.