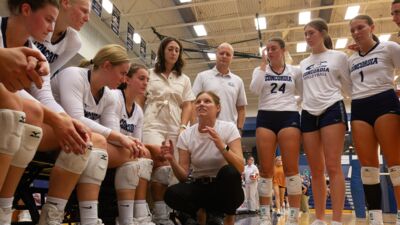 SEWARD, Neb. – The string of in-state opposition to begin conference play will continue this week for the second-ranked Concordia University Volleyball team. After knocking off No. 9 Midland in last week's lone outing, the Bulldogs are preparing to host Doane on Wednesday before shifting focus to a match at No. 12 College of Saint Mary on Saturday. Head Coach Ben Boldt's squad enters the week with a sparkling 9-0 record (2-0 GPAC). The rest of the regular season will feature exclusively GPAC foes.
This Week
Wednesday, Sept. 13 vs. Doane (2-8, 0-3 GPAC), 7:30 p.m.
--Max Country | Live Webcast | | Live Stats | Location: Friedrich Arena (Seward, Neb.)
Wednesday, Sept. 16 at No. 12 College of Saint Mary (13-1, 2-0 GPAC), 3 p.m.
--Live Webcast | Location: Lied Fitness Center (Omaha, Neb.)
By the numbers
· Long undefeated runs to begin seasons are nothing new during the tenure of coaches Ben and Angie Boldt. Since their first season at Concordia in 2018, the Bulldogs have started 9-0 or better four times. Concordia started 12-0 in 2018, 12-0 again in 2019, 10-0 in 2022 and now stand at 9-0 to begin 2023. The longest unbeaten run in program history remains the 18-0 record put together by the 2005 squad coached by Rachel Miller. As of the beginning of the week, the Bulldogs are one of eight remaining undefeated teams in NAIA volleyball. Concordia is the lone unbeaten squad remaining in the GPAC after Northwestern (10-1, 2-1 GPAC) was defeated last week by Jamestown in five sets.
· The junior varsity Bulldogs competed in a tournament at Nebraska Wesleyan on Sunday, but the varsity team has been off from competition since the straight sets win over Midland on Sept. 6. Concordia hit .342 in that match and defeated the Warriors, 25-16, 25-22, 25-21, in front of a whiteout crowd inside Friedrich Arena. Freshman Maddie Paulsen enjoyed the finest match of her young collegiate career in going off for 13 kills on 18 swings (.611) to go along with three blocks. Ashley Keck also added 12 kills, Bree Burtwistle accumulated 40 assists and Camryn Opfer led the back row with 13 digs. In combining with Paulsen in the middle, Gabi Nordaker produced eight kills on 15 attempts and chipped in three blocks. Concordia has won back-to-back matches over Midland having also beaten the Warriors in the 2022 GPAC tournament semifinals.
· The Stanton, Neb., native Burtwistle earned the third NAIA National Setter of the Week award of her career. The latest national award was announced on Sept. 5 after Burtwistle had led the Bulldogs to a 5-0 week that included a win over No. 6 Park University (Mo.). On the season, Burtwistle is averaging 11.17 assists per set, a figure that ranks No. 5 on the national leaderboard. Over five years of college volleyball, Burtwistle has totaled 2,402 assists, 665 digs, 92 aces and 90 kills in 93 matches. She facilitates an offensive attack that ranks No. 3 in the NAIA in terms of hitting percentage (.303).
· An NAIA Second Team All-American in 2022, Opfer has moved to No. 3 on the program's all-time kills list with 1,339. By year, Opfer amassed 316 kills in 2019, 238 in 2020, 394 in 2021, 320 in 2022 and 71 so far in 2023. The Seward High School product also ranks sixth on the school's career list for number of digs with 1,416. By week's end, Nordaker may join Opfer in the 1,000-kills club. Nordaker has piled up 977 kills and 365 blocks in 94 career matches as a Bulldog. Currently, there are nine players in the history of the program to have reached 1,000 career kills.
· Named GPAC Freshman of the Year in 2022, Keck has elevated her game to an even higher level in 2023. She enters the week leading the team with 94 kills for an average of 3.62 per set. She's hitting a sizzling .281 from the outside. The Kearney, Neb., native is also taking on a larger role while staying on the court in the back row. Keck contributed nine digs as part of the win over Midland. There are four other Bulldogs with at least 50 kills this season: Nordaker (84), Opfer (71), Paulsen (59) and Carly Rodaway (57). Among those attacking standouts, Nordaker owns the highest hitting percentage at .416.
The opponents
Doane struggled through an 8-25 (1-15 GPAC) season in 2022 and stands at 2-8 (0-3 GPAC) to begin 2023. Head Coach Jenna Jones is in her fourth season leading the program, which last reached the national tournament in 2016. In terms of accolades, the top returner for the Tigers is junior right side Taylor Sluka, who was named Honorable Mention All-GPAC last season. She paces the team with 103 kills (.220 hitting percentage) in 2023. As a team, Doane has been outhit by its opponents, .177 to .124. Concordia won both 2022 meetings with the Tigers and has triumphed in nine of the past 10 series matchups.
College of Saint Mary has roared to a 13-1 start with the lone loss coming at the hands of the current No. 1 team in the NAIA, Eastern Oregon University. The Flames are 2-0 in GPAC play with wins over Hastings (five sets) and Doane (four sets). Head Coach Rick Pruett's squad boasts one of the nation's best liberos in Rachel Cushing, a First Team All-GPAC honoree averaging 5.28 digs per set in 2023. With the help of Cushing, CSM has held opponents to a .124 hitting percentage. The Flames also attack their foes with four hitters with at least 100 kills: Kamryn Willman (147), Azaria Green (133), Grace Werner (126) and Lexie Langley (122). Pruett has led the program to the national tournament in three of the past four years and has another squad primed to play deep into November.
Next week
As part of homecoming week at Concordia, the Bulldogs will host Mount Marty on Sept. 20 and Dordt on Sept. 23. Concordia is 4-0 at home this season.