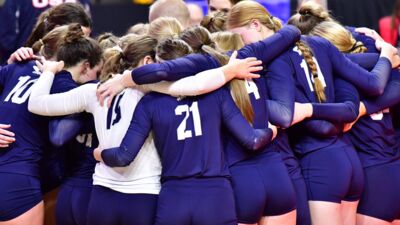 A 2022 season that came with sky high expectations started in Oregon and finished in Sioux City, Iowa, home to the final site of the NAIA Volleyball National Championship. While the campaign concluded sooner than anyone had hoped, the Bulldogs will reflect back on the campaign and know they gave it their best shot while continuing the momentum the program has built. Most importantly in the eyes of coaches Ben and Angie Boldt, Concordia stayed true to its values: love, trust, hard work and sacrifice.
Those values fed into larger themes of "embrace" and "lean in." One of the secrets to the success for Bulldog Volleyball the past four years has been the team's chemistry and focus on fostering a family atmosphere.
"This team was true to its core values," Ben Boldt said. "The core value this team chose at the beginning of the year was to 'embrace.' It meant playing for your teammates, embracing the moment and staying in the moment. I thought we did that to the end. We were playing for each other and that's what is really going to stand out to me – how well they connected and how well they embraced each other."
Said Angie Boldt, "This team is special because of the belief in and commitment they have to each other and this program. They truly committed to the process and rooted themselves in the core values of love, trust, hard work and sacrifice. We are grateful for the seniors who committed to a vision five years ago and helped make that vision come to life – a vision of family and championship culture."
The depth of talent and experience on the roster coming into the season led to the Bulldogs being ranked No. 11 in the NAIA preseason coaches' poll. Following runs to the national quarterfinals in 2020 and 2021, Concordia knew it was well-stocked with talent. The Bulldogs ended '22 at 25-6 overall while coming up one victory shy of a return to the national quarterfinals. Three Concordia players landed on the NAIA All-America list: middle Gabi Nordaker (second team), outside hitter Camryn Opfer (second team) and setter Bree Burtwistle (honorable mention).
There's no doubt about it, this program has become one of the nation's elites. During the four years Opfer and her fellow senior classmates have starred at Concordia, the Bulldogs have finished seasons with NAIA national rankings of 14th (2019), eighth (2020), sixth (2021) and fourth (2022). The rise to No. 4 this fall represented the highest national ranking in program history. Concordia was included in the NAIA top 10 in every poll released during the 2022 regular season. It also claimed 13 wins over teams that qualified for the national tournament.
Said Opfer following the team's NAIA opening round win over Florida College, "I think it says a lot about this program and the leadership and the culture that we've made throughout these past four years – and even before that. It's crazy how the culture has elevated so much. You can see that on the court. I can trust anyone on this team, and I think it shows."
A transfer from Midland, Burtwistle seamlessly took on the setter role after Tara Callahan had held down that spot for five seasons. 'Burt' wound up finishing fourth among all NAIA players for assists per set (11.21) while leading an attack that ranked second nationally in hitting percentage (.255). Offensive firepower and balance became an obvious strength. Four Bulldogs finished with more than 250 kills: Nordaker (328), Opfer (320), Ashley Keck (273) and Carly Rodaway (267). The Kearney Catholic High School grad Keck was named the GPAC Freshman of the Year. In 118 career matches, Opfer has racked up 1,268 kills, 1,341 digs, 175 blocks and 63 aces. On the program's all-time lists, Opfer ranks No. 5 for career kills and career digs.
So many others also had a hand in the team's success. Opfer headlined a class of fourth-year seniors that also included Bree Green, Kennedy VanScoy and Kalee Wiltfong. Each provided veteran leadership in addition to their on-court contributions. Meanwhile, Morgan Nibbe made a major impact in the middle as a super senior. In the back row, Rebecca Gebhardt, Lexie Kreizel and Cassidy Knust took steps forward as more experienced players. Gebhardt paced the team with 504 digs.
As Ben Boldt would tell you, none of those individuals were seeking accolades. Said Boldt, "It's awesome that they're recognized. They've put in a lot of work. It's a day-by-day process. We practice, we train, we recover and we go to school. When we do it at a high level, it's awesome to see that recognition. I'm really proud of all of our team. When I see those things, I feel like it's a team award. They would say those same things as well. We can't do it without the group mission in mind. We're really happy to be where we're at."
One of the season's highlights included a 10-0 start. As part of that run, the Bulldogs won three times in a pre-first semester trip out to Ashland, Ore., and also knocked off then ninth-ranked Viterbo University (Wis.). One of the more thrilling wins came in the GPAC semifinals when the Bulldogs outlasted third-ranked Midland in five sets in Fremont. Afterwards, the players made sure to acknowledge the 100th win for Ben and Angie at Concordia. All six of the season's defeats came against teams ranked in the top 15 nationally (four against the top five).
As a result of another season of national prominence, Angie Boldt was recognized as the AVCA West Central Region Assistant Coach of the Year. Said Ben, "Honestly I don't know why it's taken this long for her to get that recognition. She has her hands in everything that we do here. We've been on this coaching journey for a whole career. She's been the head coach at a previous stop. Now technically I'm the head coach, but we make decisions together. She's super organized. She is always thinking about how the program can be better. She really, really cares about our players and does everything at a high level. The recognition is a culmination of who she is and what she brings to the table every day."
The tears flowed for many players after being eliminated at the national tournament. They didn't want something so special to come to an end, especially the seniors. Thoughts from players on team help paint a picture of what it means to be part of Concordia Volleyball. As Ben Boldt put it after the loss at the national tournament, "One of our first team mottos was 'champions behave like champions before they become champions.' This team – they're champions. That was our message after the match. They've become who we want this program to be."
Burtwistle: "I think the culture is what makes the program so special."
Keck: "This is my first experience and having all the girls have my back, being there when I'm in those moments of struggle, is really helpful."
Nibbe: "The culture we have now has all of our core values really embodied in it: love, trust, hard work and sacrifice."
Wiltfong: "The team chemistry is just unreal. I never imagined playing with this tight of a team ever. They're all my best friends."
There are still some questions as to what the makeup of the 2023 team will look like. There is an opportunity for one or more of the seniors to use the 'COVID' year of eligibility. No matter the personnel comings and goings, the program already has a firmly established blueprint for success, both on and off the court.
"We're happy with where we're at, but we're not satisfied," Ben Boldt said. "We want to continue to get better. As a coach, you're always thinking in the future. You're not wired to think about there not being a game tomorrow. In reflection, I'm really proud of the team and all the work they've put in. I'm super thankful for the senior class. They've been a hallmark class for us in our time here. We've set a foundation and we want to continue to build on it."