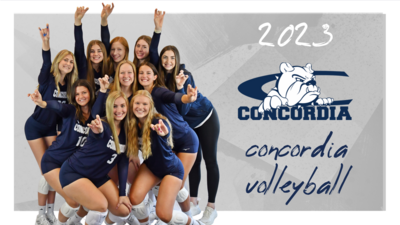 Head Coach: Ben Boldt (102-43, 6th year)
2022 Record: 25-6 overall, 12-4 GPAC; NAIA national qualifier
Key Returners: S Bree Burtwistle; DS Rebecca Gebhardt; OH Ashley Keck; DS Lexie Kreizel; MB Gabi Nordaker; OH Camryn Opfer; RS Carly Rodaway.
Key Losses: MB Morgan Nibbe; MB Kalee Wiltfong.
2022 NAIA All-America: Gabi Nordaker (Second Team); Camryn Opfer (Second Team); Bree Burtwistle (Honorable Mention).
2022 GPAC All-Conference: Gabi Nordaker (First Team); Camryn Opfer (First Team); Bree Burtwistle (Second Team); Carly Rodaway (Second Team); Rebecca Gebhardt (Honorable Mention); Ashley Keck (Honorable Mention; Freshman of the Year).
Outlook
Four-consecutive trips to the final site of the NAIA National Championships lead the Concordia Volleyball program into 2023, or the "Jordan Year," as the team has dubbed it. These Bulldogs aspire to compete with the fierce competitiveness of famed No. 23 Michael Jordan in pursuit of a championship season. With that in mind, it's time for Concordia to 'level up' and embrace its understandably lofty expectations.
There are achievements yet to be unlocked by a program that rose as high as No. 4 in the 2022 NAIA coaches' poll. The 2022 national tournament loss that kept the Bulldogs out of the national quarterfinals hasn't sat well this offseason. It's one of the reasons All-Americans Bree Burtwistle and Camryn Opfer are back this fall.
"For me it means to progress to the next level," says Head Coach Ben Boldt of the team's motto, level up. "It's a process-oriented type of goal. There's not necessarily a result that comes down to it. We talk about GPAC championship level effort and we talk about national championship effort. That's been a big goal of our team – to win a GPAC championship. It's been a standing goal since we've been here for five years. We want that to be our standard in what we do. I think our team has done a really good job of that."
In the NAIA's toughest volleyball league, there's little margin for error when it comes to taking home the GPAC crown. In the 2023 conference coaches' poll, the Bulldogs collected three first-place votes. In other words, Concordia is one of the teams expected to vie for first place. Burtwistle and Opfer seem determined to lead the program to such heights. Those two veterans have been influential in steering Ben and Angie Boldt's Bulldogs to back-to-back appearances in the GPAC tournament final and annual marches to Sioux City, Iowa.
When members of the team reported to campus on Aug. 7, it felt like Concordia had simply picked up where it left off with its battle-tested bunch. It's quite the luxury to say that all six All-GPAC award winners from last fall have returned. That group includes not only Burtwistle and Opfer but fellow All-American Gabi Nordaker in the middle, as well as GPAC Freshman of the Year Ashley Keck, Carly Rodaway and Becca Gebhardt. There's experience at every spot on the court. For the first time in the program's history, there are three returning All-Americans on the floor.
"This preseason has been super fun," Burtwistle said. "It hasn't been like a lot of other preseasons. It's a little different because I feel more confident, not only in my level of play but in how I am communicating with others on the team. Our overall connection has been different from years before. The freshmen who came in were immediately welcomed into the team. They acted as if they were Bulldogs the entire time, which has been super special."
Burtwistle (Stanton, Neb.) became a full-time starter at setter for the first time in 2022 and flourished. She twice was named the NAIA National Setter of the Week while quarterbacking an attack that hit .255 for the season (No. 2 in the nation). The Seward High School product Opfer may be the most experienced collegiate player in the country having rarely come off the court over the past four seasons. Opfer has accumulated 1,341 digs and 1,268 kills in 118 career matches while performing at a high level on the brightest of stages. Then in the middle, Nordaker (893 kills and 342 blocks for her career) is next in line to reach 1,000 kills. The group of Burtwistle, Opfer and Nordaker represents a dynamic trio.
What Ben Boldt appreciates is how purposeful Burtwistle and Opfer have been in zeroing in on what will be their fifth season on a college volleyball roster. Said Boldt, "They've been here before. I wouldn't want them to have been here without any purpose. They want to be here and they want to win championships. They've put in the work for it. They're motivated to be back. If they would have come back without any purpose, I don't think that would have been a good scenario, but they're back and they're motivated. I'm really excited to have them be part of the team."
As for the Omaha native Nordaker, she hit .353 in 2023. Boldt sees growth in her ability as a leader. Said Boldt, "It's coming down to leadership now. Over the spring, we have a leadership council with our seniors. She's getting to a point mentally where she can begin to use her voice. She loves volleyball and has a great mind for the game. She's had enough experience now where she's starting to use her voice and be a leader vocally. I've seen a lot of growth in that."
On the pins, Keck and Rodaway supply additional attacking/blocking weapons. Rodaway (Pius X High School alum) enters her third year in the program after hitting .228 with 267 kills from the right side last season. Meanwhile, the Kearney, Neb., native Keck pulverized 273 kills in her rookie season. They will be flanked by the likes of returners in Sara Huss, Addie Kirkegaard and Shelby Stark (recovering from surgery). Fans of the Bulldogs should also watch out for 6-foot-3 Washburn University transfer outside hitter Ella Waters, a former standout prep player at Norris High School.
There's no shortage of powerful Bulldogs at the net, but Ben Boldt will tell you that he gets just as excited about a great dig as he does about a booming kill. The back row, led by Gebhardt, is now teeming with experience. The unit of defensive specialists includes returning teammates Cassidy Knust, Lexie Kreizel, Addison Smith and Ashlyn Wischmeier. Gebhardt paced last year's team with an average of 4.67 digs per set (followed by Opfer with 3.81). Opposing teams were held to a .160 hitting percentage in 2022. Many of those DS's also contributed heavily to the team's service game with three notching at least 20 aces: Gebhardt (28), Wischmeier (21) and Kreizel (20).
Says Boldt, "They're like an offensive line or defensive line. People assume they're going to push people around and they don't get a lot of the accolades. We call it first contact. Our DS's in the back row are usually handling our first contact. When they keep us in system, it makes everything else run really well. There hasn't been a lot of hesitation in that position group. People are making plays. There aren't people out there wondering where to go and all that stuff."
In every rotation, and in every spot on the court, Boldt expects his players to fight with dogged determination. When asked what one word Burtwistle would use to describe this team, she replied, "competitive." There's a fire that burns when it comes to thinking about the things that have kept Concordia from achieving its ultimate goals in recent years.
"We're really tired of losing to Jamestown," Burtwistle says quite frankly. "We have a lot of respect for their team. They've always been super good and give us really good competition. We call it 'red card mentality' where you go after everything. If we don't get a call, that's okay. We have to go after that next point. I think that's helped as we try to 'level up.'"
Honestly, this is a group that doesn't want to just talk about it anymore. The season opens before the school year officially starts, and that's exactly what these Bulldogs want.
"We can talk about it all that we want to, but talking doesn't do anything," Boldt said. "We have to go out there and earn it. We have to go out there and do it. That's what level up means to me. We can't just have a goal without having it be in our heart and in our actions. We have to go out there and earn it."
Concordia will host McPherson College (Kan.) at 3 p.m. CT on Saturday, Aug. 19 in its 2023 season opener. The NAIA Volleyball Preseason Coaches' Poll will be released this coming Wednesday. To view the complete 2023 schedule, click HERE.