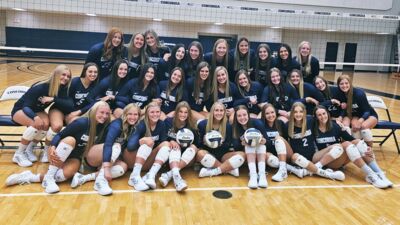 Head Coach: Ben Boldt (77-37, 5th year)
2021 Record: 19-12 overall; 9-7 GPAC (T-5th); advanced to national quarterfinals.
Key Returners: DS Rebecca Gebhardt; MB Gabi Nordaker; OH Camryn Opfer; RS Carly Rodaway; MB Kalee Wiltfong.
Key Losses: S Tara Callahan; RS Arleigh Costello; OH Erica Heinzerling.
2021 NAIA All-American: Camryn Opfer (Honorable Mention).
2021 GPAC All-Conference: Gabi Nordaker (First Team); Camryn Opfer (First Team); Tara Callahan (Second Team); Erica Heinzerling (Honorable Mention); Carly Rodaway (Honorable Mention).
Outlook
The program has never been a bigger player on the national stage than it is currently. The Bulldogs enter the 2022 season as one of just four programs in NAIA volleyball to have reached bracket play at the national tournament in each of the previous three campaigns. Due to the oddities brought about by COVID-19, Concordia actually advanced to the national quarterfinals twice in the same calendar year of 2021. Couple that recent success with the return of first team all-conference performers in Gabi Nordaker and Camryn Opfer and it's quite plain to understand why expectations are high.
Head Coach Ben Boldt's squad is "leaning in" when it comes to lofty goals for this fall. The Bulldogs landed at No. 6 in last season's NAIA postseason coaches' poll and begin this year at No. 11 nationally. Concordia broke through a barrier in 2021 when it overcame a series of tough five-set losses. That's way in the past at this point.
Says Boldt, "I want to have a gritty team and a team where they can look at each other and be fearless in the big moments. Hopefully we take away some lessons in that. We're going to get tested a whole lot before GPAC starts. We'll probably learn those lessons over again and hopefully we handle them in a good manner. We'll figure out who our best team is and how we can deal with all the challenges."
Ben and Angie Boldt are five years deep in their tenures leading a Concordia program that has come a long way in terms of its national perception. There's no backing down from it now. The Bulldogs expect to be among the contenders for the GPAC regular season championship. They landed at No. 4 in the league's preseason poll behind Jamestown, Midland and Northwestern. The league will be filled with landmines once again considering eight GPAC teams are either ranked or receiving votes in the NAIA preseason poll.
In addition to the presence of stars in Nordaker and Opfer, Concordia brings back an Honorable Mention All-GPAC right side in Carly Rodaway and is much more experienced in the back row than it was this time a year ago. Freshmen in 2021, Rebecca Gebhardt and Cassidy Knust both accumulated more than 200 digs and will battle for spots in the back. There's also a friendly competition at setter with the Brees, Burtwistle and Green, leading the way. As middles, Morgan Nibbe (returning for a fifth year) and Kalee Wiltfong have proven productive throughout their careers, and this could be Shelby Stark's time to shine on the outside.
With Burtwistle and Green being familiar faces inside the program, Opfer and her teammates have developed confidence in them. The Brees are ready to step in for accomplished five-year setter Tara Callahan. Said Opfer, "In practice I remember looking back and thinking, 'Oh gosh, where is Tara?' We're so close with Bree Burtwistle and Bree Green and they have been setting me since I was a freshman here too. I think that transition is smooth. We've been hitting off them and playing with them. It's feeling really good at practice. I'm excited."
Fast and powerful is the way Concordia will play, which is nothing unusual. Opfer (948 kills and 937 digs in her career) is at the heart of everything the Bulldogs do. Her 21-kill, 16-dig performance in last season's national tournament win over No. 2 Viterbo University (Wis.) won't soon be forgotten. Likewise, Nordaker has enjoyed plenty of her own big moments. The Millard West High School product came through with 17 kills and 12 blocks in the 2021 GPAC semifinal win at then fifth-ranked College of Saint Mary.
It won't hurt to have those types of standouts who thrive on pressure moments. However, Boldt knows that every year and every team is different. Said Boldt, "It's awesome to have those players out there. With Cam and Gabi having the success that they've had so far, other people can see that and gain confidence in knowing we have each other's back and can lean on each other. I'm really excited to see how others step up. We're a different team than we were last year. It's been fun to see these first couple of practices and how we're meshing together. It'll be a fun season for us to have the opportunity to 'be the woman' in big moments."
It wouldn't be a stretch to predict that Opfer and Nordaker will be the team leaders in terms of kills, but the Bulldogs have made life challenging on opponents with balance. In 2021, six Bulldogs produced more than 100 kills and six totaled more than 100 digs. Returners who met that mark for kills were Opfer (394), Nordaker (347), Rodaway (196) and Wiltfong (151). Returners with at least 100 digs last year were Opfer (389), Gebhardt (295), Knust (233), Burtwistle (162) and Kennedy VanScoy (155). In addition, Lexie Kreizel came on strong at the end of 2021 and posted 84 digs. In addition, multiple freshmen could factor into the equation.
The success of Concordia goes beyond the numbers. The Boldts have built a program based upon a family atmosphere that uses team brainstorming sessions to come up with words or phrases that help define who they are. The Bulldogs are going by the mantra of "lean in" for 2022. The rallying cry is a way to focus its energy and to keep mindful of the program's core values of love, trust, hard work and sacrifice. Concordia added to those values with "embrace" and "day-to-day" in 2022. The challenge is to keep living out those values.
There's a belief that the Bulldogs are ready to build upon the past three seasons. Says Opfer, "The energy that the Boldts create makes you want to succeed for them. I think everyone on our team would say that. We know that they love us and we're going to do whatever we can to help them succeed and keep building this program up … It's crazy how much of a family the volleyball program has created here. Every single one of them will be my friend forever. I care about all of them and would hang out with all of them any day."
Though many boxes have been checked under the Boldts, Concordia still has some unfinished business to tend to. Opfer believes the triumphs over early trials last season will give this team more confidence right out of the gate. She joked about being hopeful of playing in a GPAC championship match a little closer than eight hours from home.
But the Bulldogs will have to earn it. The nonconference slate includes matchups with No. 9 Viterbo University (Wis.), No. 19 Oregon Tech and four others who are receiving votes in the preseason national poll. Then will come the meat grinder that is conference play in the GPAC. This team is seasoned and ready to welcome the battles that await.
"I want to be successful and I want our players to have a great experience," Boldt said. "Part of that is winning but part of that is going through trials and tribulations. Some of my greatest joys have been overcoming tough obstacles. That's going to be something we're going to go through, but we're going to go through it together. We're going to figure out our problems as a team. We have big goals. We're going for a GPAC Championship. We're going for a national championship. I don't think that's out of the realm of possibility. I'm not guaranteeing that by any means, but that's something we're competing for and something that really motivates us."
The season's first serve is coming up Thursday, Aug. 18 when Concordia will take on Oregon Tech and Southern Oregon University as part of a two-day event hosted by Southern Oregon in Ashland, Ore. The Bulldogs will make their first home appearance as part of the Bulldog Bash (Aug. 26-27).