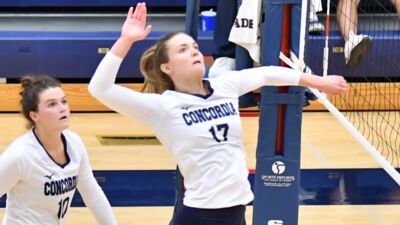 SIOUX CENTER, Iowa – In a matchup of two teams rated inside the NAIA top 15, the eighth-ranked Concordia University Volleyball team operated at the level of a national powerhouse. The Bulldogs hit better than .300 in every set and took care of No. 14 Dordt, 25-21, 25-17, 25-17, in Sioux Center, Iowa, on Saturday (Sept. 24). Camryn Opfer had herself a day with 14 kills and 15 digs and the Concordia middles were near unstoppable.
Head Coach Ben Boldt's squad has rattled off four GPAC wins in a row (all in straight sets), including two over top 15 foes. Seemingly every time Boldt challenges his Bulldogs (14-1, 5-1 GPAC), they deliver.
"I thought we served really well, which put our defense in good position," Boldt said. "We didn't block one ball in the first set, so that was the challenge going into set No. 2. We played a whole lot cleaner in sets two and three because the edges of our block were a lot cleaner. I was happy with our mentality and the resolve. Dordt hit over .400 in the first set – we were putting our hands in weak spots. We have to put our hands where we're strong. We did a lot better with that in games two and three."
Okay, so the blocking can get better, but what Concordia is doing right now is unprecedented when it comes to program history. After hitting .345 at Dordt, the Bulldogs climbed to No. 2 in the nation in overall season hitting percentage (.282). The Defenders tried to give Concordia a dose of its own medicine when it hit .429 with 13 kills in the opening set. It just couldn't match up with the Bulldogs, who thundered down 52 kills, led by double-digit totals from Opfer (14), Gabi Nordaker (11) and Kalee Wiltfong (10).
Nordaker hit .647 and Wiltfong bashed .476 for the evening. Reigning NAIA National Setter of the Week Bree Burtwistle earned credit for 46 assists and 10 digs. Meanwhile Ashley Keck and Carly Rodaway contributed eight kills apiece. In addition, libero Rebecca Gebhardt also turned in 14 digs for a back row that continues to grow. In service, Kennedy VanScoy landed a pair of aces.
Dordt (8-4, 2-2 GPAC) made a push in the first set after Concordia built a 22-15 lead. The Defenders got back within 22-19 before a key service error. The Bulldogs put it away with back-to-back kills from Rodaway and Opfer – and then the onslaught was on. Dordt, which owns wins this season over then No. 6 Park University (Mo.) and then No. 16 Dakota Wesleyan, got a team high nine kills from Allison Timmermans.
Said Boldt as part of his postgame comments on 104.9 Max Country, "Offensively, I was happy to see our middles do well. Cam had a really, really good game. Neither of our middles had any errors – that was awesome … They're having fun. It's a great group."
Concordia will have a bit of a break from action before welcoming Briar Cliff (5-8, 0-4 GPAC) to Seward for a 7:30 p.m. CT match this coming Friday (Sept. 30). Then on Saturday, the Bulldogs will celebrate senior day before taking on Morningside (6-13, 2-4 GPAC) at 3 p.m. Concordia is 4-0 at home so far this season.