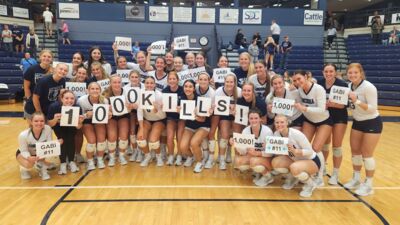 SEWARD, Neb. – Other than a blip in the second set, the second-ranked Concordia University Volleyball team controlled the action on Wednesday (Sept. 20) as an improved Mount Marty squad made its way to Friedrich Arena. All-American Gabi Nordaker recorded the 1,000th kill of her career and the Bulldogs celebrated a 25-9, 25-27, 25-13, 25-12, victory. Concordia hit .455 in the opening set while setting a tone for the night.
Head Coach Ben Boldt's squad stayed perfect at 12-0 overall (5-0 GPAC), equaling the longest unbeaten run during Boldt's six-year tenure. As the current frontrunner in the conference, the Bulldogs expect each of their opponents to play with their hair on fire.
"How we approach every game is important," Boldt said. "We're going to get everybody's best shot. We can make no assumptions on anything that we do. We have to go out and earn everything that we get. That's going to continue to be our message. When we get out on the court, we've got to be locked in and come bring it."
Fittingly, kill No. 1,000 for Nordaker came with authority on an attack the Lancers had no shot of defending cleanly. The Millard West High School alum had already swatted six kills in the opening set in a hot start for the Bulldogs. Showing no signs of a letdown coming off the road win over No. 9 College of Saint Mary, Concordia looked the part of a highly ranked team once again. The Bulldogs used another balanced effort as Ashley Keck powered down 16 kills followed by 15 from Nordaker and 10 from Camryn Opfer. The host outhit the visitors, .266 to .019, for the evening.
To Mount Marty's credit, it showed grit in the second set when it held off hard-charging Concordia. The Lancers' Julia Weber emerged with a kill and a block for point Nos. 26 and 27, respectively, in that set. Weber mashed a match high-tying 16 kills while Katelyn Chytka led her side's back row with 18 digs. The performance in the second set will give Mount Marty (9-9, 2-3 GPAC) a positive takeaway. The Lancers entered the evening with GPAC wins over Hastings and Doane.
Ultimately, the talent of the Bulldogs was too much. They owned large advantages in kills, 58-34, and in blocks, 11-3. Nordaker hit .556 and added five blocks to her stat line. Nordaker went ahead and got the 1,000th kill out of the way early in the third set. Once the ball pelted the floorboards, her teammates erupted. Said Boldt, "That was really awesome to see the crowd get into that when she got her 1,000th kill. It was one of those signature Gabi kills she hit it wrist away and really got a hold of it."
Said Nordaker of the moment, "I had no idea that the whole crowd had signs. Going out there, I was honestly about to break down, but I had to keep it together. Of course you want to cherish those moments. It meant a lot."
When the front row wasn't getting its hands on the attacks, the Concordia back row did a fine job. Becca Gebhardt piled up 25 digs (in addition to two aces) while Bree Burtwistle (16), Keck (15) and Opfer (14) also reached double figures in that category. As part of the tandem with Nordaker in the middle, Maddie Paulsen chipped in eight kills and three blocks. Winner of three GPAC Setter of the Week awards in a row, Burtwistle collected 44 assists and eclipsed 2,500 assists for her career.
For the Bulldogs, the second set was another reminder of the rigors of the GPAC schedule. Said Boldt of Mount Marty, "They're really tough defensively. They'll frustrate you. You'll get one of your best attacks and it doesn't go down, and that's a really frustrating thing. Hats off to them. They've been continuing to get better. They're scrappy for sure."
A homecoming week of action inside Friedrich Arena will continue on Saturday when the Bulldogs will welcome Dordt (1-10, 0-5 GPAC) to town for a 4 p.m. CT clash. Concordia won last season's lone meeting (in straight sets) contested in Sioux Center, Iowa. The Defenders remained winless in conference play with a five-set loss at Briar Cliff on Wednesday.