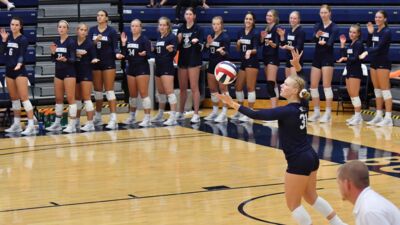 SEWARD, Neb. – After playing five matches this past week, the second-ranked Concordia University Volleyball team will play just once this week. It's one that will have plenty of hype attached to it as No. 9 Midland visits town on Wednesday. First serve of the varsity match is set for 7:30 p.m. CT from Friedrich Arena. Head Coach Ben Boldt's squad went a perfect 5-0 last week and sports an unblemished 8-0 season mark. The headlining victory of the week was a four-set triumph over sixth-ranked Park University (Mo.).
This Week
Wednesday, Sept. 6 vs. (9) Midland (5-4, 1-0 GPAC), 7:30 p.m.
--Max Country | Live Webcast | | Live Stats | Location: Friedrich Arena (Seward, Neb.)
By the numbers
· Concordia has started 8-0 for the fourth time in the six seasons that the program has been led by Ben and Angie Boldt. The most extended unbeaten runs during that time were 12-0 starts in both 2018 and 2019. The school record for longest winning streak to begin a campaign occurred in 2005 when then Head Coach Rachel Miller led the Bulldogs to an 18-0 record before their first defeat. As of the beginning of this week, there are 15 NAIA volleyball teams with undefeated records to this point in 2023. Bethel College (Ind.) tops that list with an 11-0 mark while No. 1 Eastern Oregon and No. 3 Northwestern are both 9-0.
· The No. 2 national ranking for Concordia is a new high watermark for the program. The first season of varsity action took place in 1972. The Bulldogs started 2023 at No. 4 in the preseason, which had equaled a program all-time best. The résumé for Concordia includes wins over three teams that were ranked in the NAIA coaches' poll released on Aug. 30: No. 6 Park, No. 21 Hastings and No. 24 MidAmerica Nazarene University (Kan.). Over the previous four seasons, the Bulldogs finished with NAIA national rankings of No. 14 in 2019, No. 8 in 2020, No. 6 in 2021 and No. 4 in 2022.
· Concordia is a team with aspirations of winning the GPAC regular season title. Earning the victory last week at Hastings was a good first step towards that achievement. The Bulldogs shook off a bit of a rough second set and won on the road, 25-19, 21-25, 25-18, 25-12. The Broncos put away an impressive 20 kills in the second set, but Concordia countered with some big energy plays from Sara Huss (three blocks) and with a dominant night from Gabi Nordaker in the middle. The All-American went off for 14 kills on 18 swings (.722 hitting percentage). Other leaders for the Bulldogs were Bree Burtwistle in assists (46), Becca Gebhardt in digs (13) and Huss and Carly Rodaway in blocks (three apiece). Burtwistle and Camryn Opfer both landed two aces.
· The weekend stay in North Sioux City, S.D., at the CSM/United Sports Academy Labor Day Classic included wins over Rocky Mountain College (Mont.) in three sets, Mayville State University (N.D.) in three sets, Kansas Wesleyan University in three sets and No. 6 Park in four sets. Over those four wins, Ashley Keck led the attack with 50 kills while hitting .252 from the outside. Concordia outhit its four opponents, .280 to .152, and Burtwistle averaged 12.23 assists per set and had eight aces. There were four other Bulldogs with at least 24 kills for the weekend: Nordaker (34), Rodaway (34), Maddie Paulsen (26) and Opfer (24). In the back row, Gebhardt totaled 50 digs. Up front, Nordaker tallied 14 blocks. The win over Park avenged last season's national tournament loss to the Pirates, who reached the 2022 NAIA quarterfinals. The Bulldogs won that match despite the absence of Opfer on Sept. 2. She attended a wedding.
· The Seward High School product Opfer moved up a couple of rungs to No. 3 on the program's all-time kills list as part of the action in North Sioux City on Sept. 1. Opfer's current kill total of 1,331 puts her just above Rachel (Kirchner) Miller, an All-American who tallied 1,315 kills in her standout career. Opfer is even at No. 3 with Paige Getz. The top two on that list are Becky Ernstmeyer (1,740) and Katie Werner (1,600). Opfer also ranks No. 6 in school history for digs (1,403). Another milestone to watch out for pertains to Nordaker, who enters the week with 969 career kills. The Millard West High School alum has also recorded 362 blocks in 93 career matches played.
The opponent
Midland had two particularly notable personnel departures from its 2022 team as NAIA First Team All-Americans in setter Hope Leimbach and outside hitter Taliyah Flores moved on. Despite those losses, Midland remains a highly ranked team led by an accomplished head coach in Paul Giesselmann. Entering this season, Giesselmann sported a record of 315-116 in his tenure with the Warriors. Midland went 28-6 overall last season and advanced to the national semifinals, where it was defeated in five sets by eventual national champion Jamestown. The Warriors stand at 5-4 (1-0 GPAC) this season while having played a loaded nonconference slate. That record includes a win over No. 7 Missouri Baptist University. Midland boasts a standout middle blocker of its own in Seward native Abbey Ringler. She leads the team with 101 kills and 44 blocks. In replacing Leimbach, the Warriors have used two setters: Brena Mackling and Brielle Power. Midland won two of the three meetings with Concordia last season. The Bulldogs earned a measure of revenge for the two regular season defeats by edging the Warriors in five sets in the 2022 GPAC tournament semifinals in Fremont.
Next week
Two more in-state opponents are coming up next week as the Bulldogs will host Doane on Sept. 13 and then make a visit to No. 12 College of Saint Mary on Sept. 16.