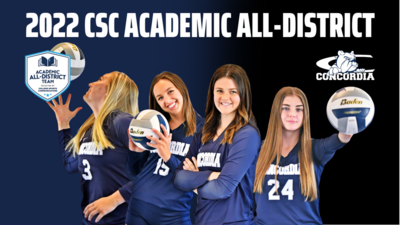 College Sports Communicators Academic All-District Volleyball Teams
SEWARD, Neb. – A program record number of Academic All-District® awards have rolled in for Concordia University Volleyball. As announced by College Sports Communicators (CSC), the following Bulldogs were selected to the 2022 NAIA Academic All-District® Volleyball Teams: Bree Burtwistle, Rebecca Gebhardt, Camryn Opfer and Carly Rodaway. Each student-athlete has had a hand in leading fourth-ranked Concordia to the national tournament final site while also earning high marks in the classroom.
The 2022 Academic All-District® Volleyball Teams, selected by College Sports Communicators, recognize the nation's top student-athletes for their combined performances on the field and in the classroom. Student-athletes must achieve a cumulative grade point average of 3.5 or higher in order to be nominated for this award. The CSC Academic All-America® program separately recognizes volleyball honorees in four divisions — NCAA Division I, NCAA Division II, NCAA Division III and NAIA — for each gender.
One of the top setters in the nation, Burtwistle (Stanton, Neb.) was twice named the NAIA National Setter of the Week this fall. The Biology major has accumulated 1,119 assists (11.19 per set) in addition to 263 digs, 35 blocks and 26 aces in 29 matches. Burtwistle ranks fourth nationally in terms of assists per set and quarterbacks an attack that ranks No. 2 in the NAIA in hitting percentage (.265). Burtwistle's high for assists in one match this season was 55 in the four-set win over Dakota State University.
In her second year as a libero, Gebhardt has stepped up her game. The Lutheran High School Northeast graduate and Norfolk, Neb., native has paced the team with 459 digs (4.59 per set) while passing serve receive at a 97.0 percent rate. She has also contributed 27 aces and 32 assists in 29 matches. Over two collegiate campaigns, Gebhardt has posted 754 digs and 43 aces. Gebhardt is studying Biology.
A key figure in four-straight national tournament appearances, Opfer has been named an all-conference award winner four times in her career. She garnered second team honors in both 2019 and 2020 and then first team accolades in 2021 and 2022. The Seward High School product has recorded 293 kills (2.99 per set), 356 digs (3.63 per set), 45 blocks and 18 aces in 29 matches this season. Opfer has reached double figures in kills 16 times in 2022. Early in the campaign, Opfer eclipsed 1,000 career kills. Heading into the national tournament, Opfer has achieved career totals of 1,241 kills, 1,293 digs, 171 blocks and 62 aces. She ranks fifth in program history for career kills. Opfer studies Accounting.
A Lincoln Pius X High School graduate, Rodaway has taken her game to a new level in 2022. On the year, Rodaway has totaled 250 kills (2.50 per set) while hitting .240 from the right side. She's also added 64 blocks (0.69 per set) and 69 digs in 29 matches. Rodaway enjoyed a stretch in October when she reached double figures in kills in five-straight matches. She notched 15 kills and hit .433 in the five-set win over then seventh-ranked Northwestern on Oct. 15. Rodaway was named Second Team All-GPAC this fall and studies Elementary Education.
Academic All-District® honorees advance to the CSC Academic All-America® ballot. First- and second-team Academic All-America® honorees will be announced in late December. The CSC Academic All-District® teams include the student-athletes listed at the links above.