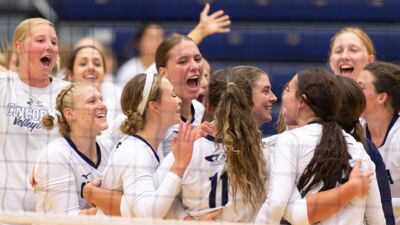 | BULLDOGS WIN!!! Here's match point as @cunevolleyball celebrates victory over Midland. pic.twitter.com/XwmEnKMJMy

— Concordia Bulldogs (@cunebulldogs) September 7, 2023
SEWARD, Neb. – A large and frenzied student body whited out Friedrich Arena in one of the louder home volleyball crowds in recent memory. The second-ranked Concordia University Volleyball team fed off that energy and wiped out visiting Midland in the renewal of a rivalry that's intensified in recent years. The Bulldogs hit .342 while turning away the ninth-ranked Warriors, 25-16, 25-22, 25-21, on Wednesday (Sept. 6). The freshman Maddie Paulsen shined under the spotlight with 13 kills in the middle.
Head Coach Ben Boldt's squad continues to run through its schedule like a team on a mission. Concordia remained unbeaten at 9-0 overall (2-0 GPAC).
"We played well. We played pretty clean," Boldt said. "The challenge that we gave our team was to stay aggressive and stay smart. Our hitting percentage was really good, so we were low error and we got kills. That's a good recipe. We were pretty locked in. I was proud of the focus for sure. When we were thinking about what we were going to tell the team, Angie (Boldt) says, 'This team is locked in.' We went about our business. We gave them a couple keys and they went out and executed."
In the eyes of the Bulldogs, it's their time. This was another chance for Concordia to flex its muscles while up against a perennial GPAC power. In the latest showdown, Midland was already forced to call its first timeout nine points into the match (7-2 Bulldog lead). It wasn't much of a contest in that opening set as the Bulldogs hit .395 and ended it on an Ashley Keck kill. Midland did manage to dig in and compete closely over sets two and three thanks to its own balanced effort.
It takes a special kind of effort, however, to knock off this Concordia team. Paulsen emerged in a big way with her 13 kills (on 18 swings) and three blocks. Keck added 12 kills and nine digs as she continues to see more action in the back row. There were also the usual steady performances from All-Americans Bree Burtwistle (40 assists), Gabi Nordaker (eight kills, three blocks) and Camryn Opfer (eight kills, 13 digs, two blocks). Named NAIA National Setter of the Week on Tuesday, Burtwistle keeps teeing it up for an attack that has a tendency to devastate its foes.
It was clear: Keck and her teammates were ready for this one. Said Keck, "Midland's a good team. We came out and we knew there was going to be a big crowd having a whiteout theme. I just think we wanted revenge, especially from when we played Midland at home last year and they beat us. It's really nice to sweep them tonight."
The Warriors (5-5, 1-1 GPAC) can no longer lean upon All-Americans Hope Leimbach and Taliyah Flores, but this is a program that is used to reloading. One of its biggest stars, Seward native Abbey Ringler, notched seven kills and two blocks on the night. She equaled Jacki Apel for a team high in kills. There were no real standout individuals who consistently hurt Concordia. Midland attempted to grit through the second and third sets and did manage to play the Bulldogs even in blocks, 7-7, and tight in digs, 50-46. The Warriors just weren't as clean, as 19 attack errors limited their hitting percentage to .177.
Concordia experienced a couple of lulls on Wednesday. It found itself down 12-6 in the second set and allowed a 5-0 Midland run in the third set. The Bulldogs quickly returned to form in both instances.
Said Boldt of the Warriors, "They're a well-coached team. They know what they're doing. They'll beat you in different ways. It was nice to see us be able to adapt to all those things tonight … We called timeout in the third set. I thought our energy dipped a little bit, so I challenged the team. Championship teams are steady all the way through. It's something we need to make sure we're doing and lifting each other up."
The Bulldogs will take this weekend off before hosting Doane (1-7, 0-2 GPAC) next Wednesday at 7:30 p.m. CT. Concordia won both of last season's meetings over the Tigers in straight sets. Doane finished last season at 8-25 overall (1-15 GPAC).