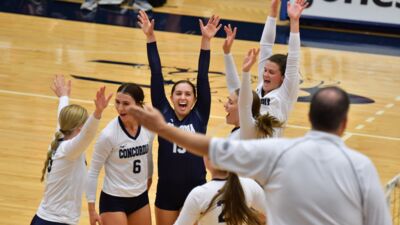 SEWARD, Neb. – The Concordia University Volleyball team retained the No. 2 national ranking in this week's NAIA coaches' poll – and it looked like a group worthy of that stature in putting away Doane with little trouble on Wednesday (Sept. 13). The Bulldogs hit .388 while taking care of the Tigers for the 10th time in the past 11 meetings versus the GPAC rival. Eleven Concordia players produced at least one kill in what amounted to a 25-11, 25-14, 25-14, rout of the visitors from Crete.
Head Coach Ben Boldt's squad has moved to 10-0 (3-0 GPAC) while reaching at least that mark for the fourth time in six seasons. The Bulldogs have dropped only three total sets all season.
"I think we came out focused. That was a big thing for us this week," Boldt said. "I thought we served really well. There are times where we have runs of service errors where we could lose our focus, but I don't think that happened today. We kept the pressure on. We asked them to stay aggressive and stay smart at the same time, and we did that tonight. I'm proud of them."
Setter Bree Burtwistle (35 assists) and company put on another fine show for the fans in attendance. Camryn Opfer and Ashley Keck bombed away from the outsides with nine kills apiece. For the second Wednesday night in row inside Friedrich Arena, freshman Maddie Paulsen (eight kills on 13 swings) displayed dominance in the middle. Over the three sets, Concordia posted kill totals of 19, 18 and 14, respectively. Whether in system or not, the Bulldogs' physicality at the net was too much for Doane.
It was another night of balanced statistical efforts from Concordia. Gabi Nordaker added six kills (now at 983 for her career) and Carly Rodaway notched five kills on only 11 swings. In the back row, four Bulldogs tallied at least eight digs: Keck (10), Cassidy Knust (nine), Opfer (eight) and Becca Gebhardt (eight). Knust also chipped in two aces. In service, Concordia posted six aces to only two errors.
On the other side of the net, Frankie Curren-Graff led Doane with seven kills. The Tigers (2-9, 0-4 GPAC) were held to a .104 hitting percentage and 24 kills for the night. Doane did manage to keep the ball in play, limiting its attacking errors to a count of 14. There just wasn't enough production to keep up. The Bulldogs were not seriously threatened in any of the three sets. The Tigers' 5-0 run late in the second set was its only real extended sequence of success.
The night ended with Kya Scott rising up for a match-point kill. Scott came in to post three kills. Also off the bench, Addie Kirkegaard was a perfect 3-for-3 on the attack. Addison Smith got into the fun with an ace in the final set.
Said Boldt, "I think we really earned our points. We killed 51 of those 75 points. That's a really high percentage of that. Doane didn't give us too many errors. I like earning points better than being given points."
The Bulldogs will be on the road on Saturday for a matchup with ninth-ranked College of Saint Mary (14-1, 3-0 GPAC). First serve from the Lied Fitness Center in Omaha is set for 3 p.m. CT. Concordia has won each of the past four meetings with the Flames. Head Coach Rick Pruett has led CSM to the national tournament in three of the last four years.