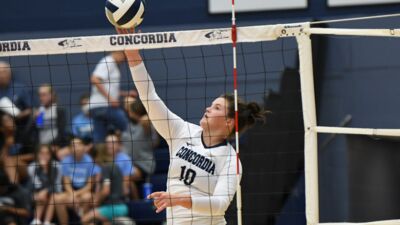 This Seward High School alum has already made a lasting mark. In one of those special performances that should never be forgotten, Camryn Opfer piled up 21 kills, including one for match point in last season's momentous five-set victory over second-ranked Viterbo (Wis.). Opfer was immediately met by a mob of jubilant teammates. It was the stuff of Concordia Volleyball legend.
Roughly seven months after it happened, Opfer can't hide a smile when she thinks back to what is most certainly one of the finest moments of her athletic career. With a spot in the 2021 NAIA national quarterfinals on the line, Opfer delivered.
"When we had one more point to win, obviously I was nervous," Opfer said. "I remember jumping and swinging as hard as I could – high and not straight to the ground. All the sudden, everyone was on the floor. My legs were under me, and I was like, 'owe, guys.' And then it was happy."
Bulldog Head Coach Ben Boldt won't forget what he saw that early December day. Said Boldt, "That was one of the best matches I've seen a player play. Cam does everything for us. That match she was getting kills for us almost at will. Every time we set her the ball, something good is going to happen. That's what we train our players to do – be big in the big moments. We had that mindset for the entire year. It was awesome to see them embrace that when it really mattered."
Those few seconds of pure joy transcended the mere thrill of victory. This was what Opfer wanted from a college experience. She just didn't think it would come at that familiar school within her hometown, at least not initially. The particular moment was made infinitely better because it was felt alongside some of Opfer's closest friends. The shared highs and lows will be what Opfer remembers more so than the two National Championship All-Tournament team awards, three All-GPAC mentions and 2021 All-America recognition.
In May of 2018, as a high school junior, Opfer had announced her commitment to an NCAA Division II school. Then in January 2019, Opfer posed for a signing photo while seated in between her father Ryan and mother Teri. Standing behind the Opfers was her high school coach Tom Pallas – and Ben Boldt. Yes, Cam was staying home.
As Cam explains, "I was the one in high school who said I would never go to Concordia because I wanted to experience something new. I thought being here meant that I would still be seeing the same people and having the same interactions. I wanted new ones. I didn't even give them a chance. I committed somewhere else. As it got closer and closer, it just didn't seem like I would fit in. I didn't think I would enjoy it. I de-committed and somehow got talking to the Boldts. They were great. They had a big impact on me coming here. I met a bunch of the girls and went out to eat. I got along with them so well. It became a no-brainer. I'm so glad I'm here because it's so different from high school."
Like many Seward High alums before her, Opfer has made this her big time. That name is not a new one at Concordia, a place where relatives like Seward Bluejay football coach Jamie Opfer spent their college days. Cam has only enhanced that name within the community. She was a driving force behind a Seward state tournament volleyball team that included sisters Rylee and Jaci. Cam was also a standout on the basketball court and even considered playing hoops in college.
But volleyball made the most sense. "It came down to what I thought I was better at," Cam says. Good choice. She can do it all on a volleyball court. Opfer never comes off the court and has established herself as one of the team's top passers and attackers. Entering her fourth season as a Bulldog, Opfer ranks among the top 10 in program history for career kills (948) and digs (937). According to available records, only three players in school history have ever reached both 1,000 kills and 1,000 digs. Opfer is about to become the fourth.
Whenever there is a big moment, it makes sense to find Opfer, who says her major focus this offseason is to continue to improve her leadership. She now has plenty of college experience to lean upon and the wisdom to guide younger players. She's been through the rigors of the GPAC – and two national quarterfinal runs during the same crazy calendar year of 2021. It's all been worth it.
"My teammates are just great. We want to do well for each other," Opfer said. "The energy that the Boldts create makes you want to succeed for them. I think everyone on our team would say that. We know that they love us and we're going to do whatever we can to help them succeed and keep building this program up … It's crazy how much of a family the volleyball program has created here. Every single one of them will be my friend forever. I care about all of them and would hang out with all of them any day."
Three-straight years of helping elevate Concordia Volleyball to new heights will represent just a piece of the legacy Opfer will eventually graduate and leave behind. This past year's team finished the season ranked No. 6 in the NAIA (best ranking in school history) on the heels of the win over second-ranked Viterbo. What Opfer has accomplished has not gone unnoticed within the Seward community. Enjoy it now. Opfer will be back with Concordia in 2022. That could be it – or maybe not, pending a decision on a potential additional 'COVID' season in 2023.
"It's pretty cool," said Opfer of playing in her hometown. "I was nervous about it at first. The other day I was on a walk and some older guy stopped me and was like, 'Are you Camryn Opfer?' 'Yeah.' He was super nice and said how he follows along. It's cool to see that you can have that kind of impact. I just play volleyball."
She does it well and in such a way that makes others want to be the next to wear No. 10, just like Cam. The expectations will be high in 2022 as Opfer operates alongside returning First Team All-GPAC middle Gabi Nordaker. Opfer's body language always seems to scream: bring it on.
"We train in working under pressure," Cam said. "I really work on staying calm and know that I practice all year for this. I just try not to let the pressure get to me. That seems to work out. Those are my favorite moments – under pressure. It's just crazy when things work out."
Just don't be shocked to see Opfer whistling kills that bring about more tension-releasing celebrations in 2022. As Boldt said following the unforgettable win over Viterbo, "That's who Cam is. It's no surprise to us."